Last of the Foundry Minis / Monkey Time Zoom
04.15.2020
That last of the batch of 10 Foundry Hitmen (and either Professionals or Detectives) primed in December now have a coat of paint. I've complained before about the quality of these sculpts. They're most likely not as bad as I make them out to be, they just don't jibe well with my level of painting skill. My new technique (for me) to try out this time was to finally switch brushes while painting a color/area based on need. Using a detail brush to swath the back of a coat wasn't doing the detail brush any favors toward longevity. I also tried to remember to work from the inside of the mini and out, instead of hitting everywhere the color on the brush was needed. This gave some better lines between skin tones and whatever they abutted to. For once, I did the heads last - and I'm not sure if it made a difference.
It's been long enough since the painting spreadsheet was updated it's hard to tell what's changed. Foundry, Buildings, and 6" tiles have all had progress marked since the last shown update of the spreadsheet.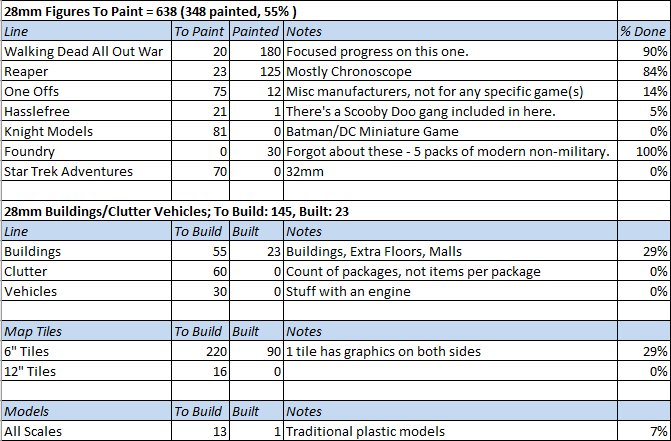 Next up on the hobby table: I don't know. Mall stores need furniture. I liked having primed minis to paint for when the painting mood hit, so I may go ahead and prime another batch. There's some 3D-printing associated things I need to do (mostly mall related).

Tangentially, in today's pandemic world, I've been working from home and staying sequestered like everyone else, or at least everyone else has been encouraged. As homelife is just me, my social interactions have been a Friday trip to the chiropractor (he's not just my chiropractor, he's my buddy!), avoiding people when I go to Publix, and a couple of Zoom meetings for work. Repeat this weekly for a month. I'm ok with the day-to-day living (or maybe isolation?) as I've geared myself to live mostly this way over the past couple of years. Within that, Jer pointed out that once our pandemic is less pandemicy, I need to make sure I force myself to get out and socialize.

This made me think of when he, I, and Keith worked together at whichever job it was at the time (I alternate riding their coat tails, so it's hard for me to keep up with when things happen). We developed a tradition of taking a break at 3:00 to grab a Coke. Thanks to Google, 3:00 is also The Hour of the Monkey, even though it's 2 hours long. 3:00 became Monkey Time not long after, and calls for Monkey Time would have us grab change and head to the vending machine. Keith also referred to this as Jingle Time, as a past job had a coworker who would walk by and jingle the change in his pocket as the sign for taking a break and grabbing a beverage.

Last week, thanks to Zoom, the 3 of us had a virtual Monkey/Jingle time.
That's now a recurring meeting on our calendars. Even if you're stuck at home, take some time to virtually socialize with your friends.

Permalink Foundry gaming miniatures random


Mall Is Ready For Tenants
04.12.2020
The final 5% of the outside of the mall ended up being 4%. The roof sections had a piece to add to cover seams. These were a little more straightforward than how I was interpreting the instructions. I can see Alabama humidity and the durability of Elmer's glue requiring some touch-up adhesion as time marches on.

There are notches at the top/bottom of the outer brick walls. I think these come into play when adding a second story - which is part of my long term plan. There are single bricks and vent covers to place over the notches, but I'm going to wait and see how the second floor attaches before going forward on that part. I'd hate to cover up a notch that's needed to keep something above in place.

For now, I'm calling the exterior of the mall done.
What does one do with an empty mall? Stock it full of store stuff! The kit came with various shelves, counters, and sellable goods. ½ the instructions are for putting all of that together. And that's what I'm going to do. Later. Next I'm going to take a mall-break and paint some more of those minis I primed in December.

Permalink 4ground 4ground-mall


Entranced Mall
04.09.2020
I'm not sure if it really took 2 weeks, but the mall now has entrances. I must admit, putting together the entrances was boring. I'm not really sure why, but I kept finding other things to do. Cutting 5 sheets of clear plastic into windows for roofs and doors may have been a bit part of it. Cutting clear plastic - not fun. Sandwiching little bits of that clear plastic between 2 pieces that make up a door - not too awfully bad. Repeating for 20 doors - back to not fun.

The basic (kit) mall is 95% done. There are some pieces that go on the roof sections that should cover up gaps. There's also some vents and little bits that go on the outer brick sides of the stores. At that point, I will have a little empty mall. There are still pieces in the kit to help fill the mall out - furniture and stuff for sale. Signage - there's signage to put up. That's where I'll have fun.

Permalink 4ground 4ground-mall


Covered Mall
03.24.2020
In the time of being socially distant while working from home and avoiding the plague, some more progress has been made on the 4Ground mall. The mall roof section is now done. The only hard part here was matching up the parts with the directions. There were 2 of everything, as there are 2 roof sections, and within each section there are parts that look awfully similar but are sized ever so differently.

I also managed a return to my resized map tiles. Nothing noteworthy to show graphics-wise, but my homemade vise for flattening out the tiles is working well. It's a couple of pieces of wood (shelf cut courtesy of Lord Ford) with some trigger clamps to bear down on everything. Between glue and humidity these things bow a lot, and this seems to help.

I also got the Anycubic Printer back to level and started cranking out interior clutter for mall stores - checkout stands, shelves, trash cans, etc. On Thursday I saw the spool of filament was getting low. I still had the unopened package of filament that came with the printer, but to be safe (in this age of socially distant plague) I went ahead and ordered a couple more spools as I've got a lot of printing planned.

With that said, there may now be a little printing break as I learn/figure out how to edit STL files in Fusion360. All the examples I've found so far are for earlier versions of Fusion with menu options that I don't have.

Permalink 3D Printer 4ground-mall hobbies


Professional Hitmen: Interlude One
03.19.2020
Back in December, I primed a batch of Foundry minis. A pack of Professionals and a pack of Hitmen. Honestly, it's hard to tell them apart. I guess they're Professional Hitmen. Knowing I'd need a break from all the buildings I've got lined up to put together, I just primed 10 minis with the thought of painting them here and there as the mood struck. After the deluge that managed to get 7 mall stores together, I ended up painting 4 of those 10 Professional Hitmen.

My big learning experience this time was different use of the Citadel texture paints. Usually I put texture paint on the base after the figure proper is painted, and then do things to the base. I have to be careful applying the texture paint to the base, because the mini is finished and I hate touching things up! This time, I added the texture paint and let the cracks settle in before priming. Then I played around with the base colors a little more. I've seen people online use some varying cobblestone coloring techniques. With that, I tried using some shades of red on one base, and blue/grey on another. I'm not sure if I like the end result, but I enjoyed changing it up.