Amazonian Bucks
04.01.2009
Back in October-ish I got an Amazon sponsored Visa card. I charge oodles of everyday purchases and limit my check writing to paying off the credit card at the end of the month, mostly because I refuse to balance my check book and this limits the number of entries. When I signed up for the card I read the blurb about how you get points (to trade in for crap later). I had been using a generic-point card from some other bank for years, so I understood the basic concept.

The Amazon sponsored card had a better point scheme than my other card. The previous card had a straight 1 point per dollar spent benefit. The Amazon card was the same, except you got double points for groceries and triple points for anything bought at Amazon. On top of that, they doubled all the points for the first 3 months.

I buy from Amazon every week. For 3 months I was getting 6X the point value. Even better (for me), was the main reward bonus to trade points in for were Amazon Gift Cards. The previous credit card reward system would let me get a $25 Amazon Gift Card for 3000 points. The Amazon sponsored card has a $25 Amazon Gift Card for 2500 points. In essence, I charge $500 less to get the same bonus. I'm all about that!

Time marches on and I accrue points. It's reaching a slow time in the Amazon shopping season, so I decide to cash in some points. Heck, I decide to cash in as many as I can. I've accrued tons of points. I go to cash in on some Amazon Gift Cards, and there I notice a funny thing. The gift cards are only available for $25. No other denomination. You can buy any quantity, but each card is only $25. I load up my cart with $25 gift cards. 4 days later, my mail contains a large, stuffed envelope. My cards! Gift cards may be a misnomer, because technically these are gift certificates with a 14 character code to type in. I've got 18 of them.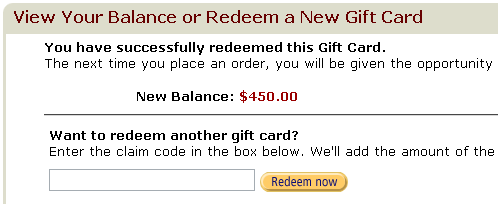 I enter all the codes in my Amazon account and see the total available credit tick higher. It was almost a fun little game. 14 characters, $25, ding!

Every time I get some Amazon credit, I usually go a little crazy and/or find some sale that I can't pass up to where the credit never lasts as long as I hope. I'm shooting for not spending any of my money in April and just using credit. We'll see how that works out.
Canuck Stoop Watch... ENGAGED!
07.05.2008
The Canadian Dollar is worth 98 US cents right now. Good for Canada, bad for anyone looking for deals north of the border. There are a couple of things I've been waiting to pop up on my Amazon radar: Bret Harts autobiography and season 2 of Joey (Don't judge me!). The Bret Hart book has been available in Canada for a while, and I've just been assuming sales for the first season of Joey were so poor that the studio didn't think it was worth the effort to release the 2nd season.

I found myself cruising some message boards and noticed a thread titled "Joey Season 2 UK DVD Release". Huh? After digging through a couple of threads, it seemed that not only was Joey coming out in England, but season 2 had been available in Canada for a few months via Canadian Amazon. Canada and the US share DVD region encoding, so it should all be compatible. I took this opportunity to fill up my cart with Joey and Bret Hart. Unfortunately, Canadian Amazon is treated as a separate business than normal Amazon, so my free shipping upgrade account didn't apply. Even worse, there was a $12 shipping charge due to changing countries, or something like that. But I think of this as one of those times I found what I wanted, so it's worth paying a little bit of a premium to get it.

After placing my order, I thought of checking out eBay to see if I could pick up the Bret Hart book and Joey DVD. Even with the international shipping charge, I still saved about $20 via Canadian Amazon from what eBay sellers were charging.
Amazon Loves Me?
04.10.2008
Found in my Inbox yesterday:
---
Amazon.com Special Offer: $50 Off a Future Purchase
Dear Amazon.com Customer,
As someone who purchased an HD DVD player from us before February 23, 2008,* you might like to hear about a special offer available from Amazon.com.
New technologies don't always work out as planned. We at Amazon.com value our customer relationships more than anything and would like to support customers who purchased these players by offering a credit good for $50 off any products sold by Amazon.com.** Just use promotional code ####-#####-##### when checking out. The code is valid through April 9, 2009, so you have plenty of time to use your credit. Purchases from third-party merchants on our site are not eligible.
---
Not that I blame Amazon for selling me an HD-DVD player mere days before the HD/Blu-Ray war was over - I blame myslef for that - but it's pretty nice of them to offer me $50 off. And it's good for anything Amazon sells, not just DVDs or players. Add that to the $300 in gift cards I cashed in from my credit card rewards program, and I'm having a good Amazon year so far!
UPS Tracking
03.07.2007
Today my weekly parcel from Amazon arrived via UPS. I've always thought that the Amazon/UPS package tracking feature was one of the best things ever made for the internet. There's been many a time when I went to view the tracking progress only to find that I should go look outside on the porch.
Today I was home when the UPS truck drove up, so I thought I would try to find out how long it would take the tracking information to update. My package arrived at 3:44PM. I went to the website to check the status. 3:45, still out for delivery. 3:48, the same. 3:58, still not showing up on my porch, even though I can see it on the porch!
I guess they don't have real time tracking. I checked at 5:00 and the status had been updated to delivered (at 3:44). I'm not sure how of the delay showing up was due to the data going from the truck to whatever magical place it updates, or from the magical place to the website, or the combination of that and more.
Still, any type of tracking update accurate to within 2 hours rates pretty high in my book.
Gas Vs Electricity?
01.11.2007
The 2007 Ford Mustang has a base price of $19,995.
The Ford Racing Arcade Game - Twin Unit from Amazon is normally $21,848.85, but is currently on sale for $18,999.00.
When did an arcade driving game suddenly cost the same as the car you're driving in the game?