Kickoff 2019 with some furniture
01.10.2019
Back during this year's Black Friday shopping (maybe), my Miniature Market order needed a little padding to reach the free shipping threshold so I tossed in the Plast Craft Games Urban Furniture set.
Plast Craft makes a nice little assortment of low-effort scenery. Slightly high density foam with pre-printed graphics along with laser cut wood accents for the buildings that I've gotten so far. Interestingly, for each building I've made I always do something wrong but manage to cover it up well enough. That kept true this time.
Compared to the cover pic, the 2 Bus Stops are mirrored from how they should be. My fountain is a little Pisa inspired. A couple of the wooden pieces on the benches didn't get cut very clean. Way to start off 2019!

None of this is horrible. I added my favorite water feature to the fountain, but I got air bubbles I couldn't completely get rid of. I can touch up the marred wood with some paint here and there and it will end up lookng fine. My real reason for making this my quick one-off project to start off the year is that now I'll force myself to make the 4Ground Playground pieces Keith gave me a year ago. The Potham City Park needs a child friendly area... for the zombies to find snacks?

Upcoming on the hobby front:
- This Sunday I take my first art class in decades as I follow through with "How to use my airbrush". I'll save whatever details there may or may not be until later.
- Next actual hobby project is a 1:48 Tamiya M1A2 Abrams Tank. I'm not sure when the last time I made an actual plastic model was. I picked this up on my trip to HobbyTown last July-ish.
- My map-tile making project has stalled out and I'm going to see why I've lost my gumption there.

Permalink gaming miniatures plastcraft


2019 Unto You
01.01.2019
It's that time of year to reflect back and plan forward. I like planning forward as having a goal helps to keep me from sitting like a knot on a log. But I shall start with looking back and checking off that reflection part.

This year Russellmania was more of a hobby blog than anything else. It helped hold me accountable for making progress on all the stuff I've accumulated to paint over the years. So how'd I do?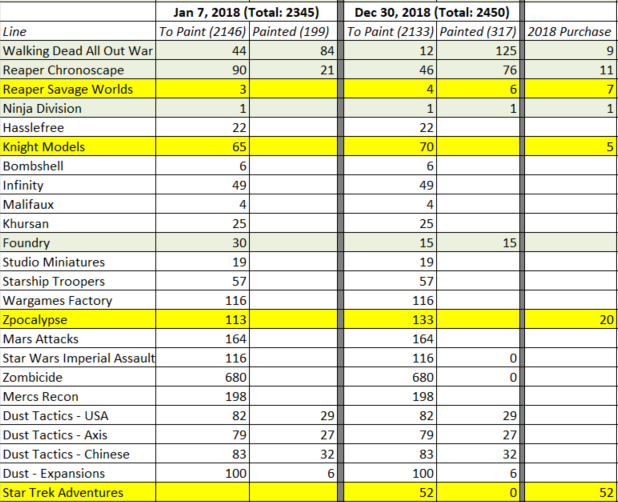 Green rows had more minis painted than I started the year out with; Yellow rows are the inverse; The other rows had no change
118 minis got painted.
105 new minis got bought.
Net gain: 13 minis painted.

That doesn't feel very productive.

The crux of those additions come from the Star Trek Adventures RPG game (52 new minis). A game I'll likely not play, but I do want to paint those minis. Zpocalypse might be a typo along the way, unless there was a good sale somewhere that I forgot about.

This doesn't include any of the scenery I made this past year. Scenery was something I didn't start out tracking so I don't really, at least easily, know how much progress I made there. I did make a lot of stuff, printed out a lot of stuff to go with it, and enjoyed it.

The rest of the 2018 - honestly nothing really stands out. I'm ok with that.

What does 2019 bring?

Hopefully more than a net gain of 13 minis painted. The first thing associated with that is that I'm going to look into taking a mini painting class at Lowe Mill which will force me to finally take the airbrush out of the box! I visited the place last week forthe first time, and think I would be comfortable learning from the folks there. The last time I took any type of art class would have been circa 1980. I'm still enjoying painting minis and scenery, so for now that's still going to be my hobby!

This is also a big year for me in other ways. I've had Russellmania.com registered for 20 years, and a bug chunk of that has been my blogging hither and yon. At one point I had all the old version of the site saved off where I could reach it/them, but to be honest I'm not sure where those burned cds have gotten stashed to. In March I'll turn 50, and although I have no big celebratory plans I'll no longer be able to joke about being old. I'm going to be old. A couple of months after that, I'm scheduled to make my final mortgage payment. Now that is seemingly a big deal. With luck, the house won't fall apart before then.

2019 also brought something I've been expecting for a year and a half. At 7:30 this morning, my wireless router died. Luckily, I had a replacement waiting in the garage since something happened in April 2017 that made me think the then-8 year old router was going to die.
The router ended up lasting a good 9 years. This morning while watching Supergirl on Netflix, the wireless connection went down and all the lights on the router were out. An hour later the new network was up and running. It took and extra hour and a half to get everything that's supposed to use the wireless network re-connected. Smart lights, Echo Dots, tablets - I just have lots of wirelessness. And I just remembered 2 laptops that have to be connected.

That was a good router though.

Permalink computers hate me gaming miniatures random


Toolbots
12.30.2018
It's been almost 2 months since showing anything on the hobby front. When I have a bad batch, which although on 1 out of 4 was really bad, it left a bad taste in my mouth for painting figures. The thing is, I wanted to paint some more figures and not vehicles/scenery/etc. The key here - what's something I couldn't screw up? Or at least have a hard time screwing up. Enter the Chronoscope Toolbots.

I have no need for little robots in anything I can see myself playing in the next half decade. Luckily that has no bearing most of the time in picking out what I'm going to paint. After scouring the interweb for some reference pics of how other people have painted these, the majority aren't painted very well. A low bar! That's perfect for the taste that's been in my mouth!

I found a color scheme I liked and decided to emulate at least parts of it. Each bot would be a different color, but little details like collars, visors, and knee joints would be the same color.

Like most of my painting, this batch was wrought with mistakes to cover up. I never do well with bright colors on top of grey primer (so why start that way?). Yellow is always too... streaky? Blue went on too thick. I used 2 shades of green on 2 bots, but they ended up looking the same to me. Metallic gold and silver went on a little thick sometimes, too.

I got to try some things that worked out too. The beveled bases got leveled out with Tamiya Putty, and a decent enough job for concrete-looking floors. The caution pinstripe tape I got at HobbyTown in Kinnesaw worked well on those floors, too. I tried out washes that matched the base colors - that might be why those 2 greens turned out more alike. I dipped into the fluorescent colors for neon green and orange, which I applied with a toothpick and holding it like a miniature pool cue to help steady it.

While not great, I don't think they suck. I used more paint than my normally successful prime + wash + drybrush method.
After a year, I discovered I've been calculating my Percent Complete incorrectly on my little spreadsheet. I've been using my total painted vs remaining unpainted, instead of total painted vs total (unpainted + painted). Just for consistency, the final tally for the year shows the old method while I'll kick off the "right" way with whatever is painted next.
Next time - maybe the Year In Review. Year End Review? 2018 Summary!

Permalink gaming miniatures reaper chronoscape


A Bloody Crusader and Really Bad Dodgeball
11.05.2018
Another batch of "taking too long to paint", with only 4 minis to show for it. There was another that I'm not naming and leaving "in progress" although I don't know if I'll ever finish it as it's more of an objective marker piece than a usable figure.

Today's batch is brought to you by "it was on sale". The first two are left over fantasy figures from the last batch.
Above is the wizard Juliette from the Reaper Dark Legends line. This one turned out to be the best of this batch, as I was able to keep to my working method of primer + washes + drybrush + actually paint a few bits of details. The base is hopefully suited to something dungeon-y. Not really sure why her cleavage looks like there's 3 boobs if you look closely. Go look closely, you can't un-see it now.
Last up from the Dark Legends line is the Crusader Justifier. Armored up with a big freaking sword. I didn't want shiny silver armor, and I read Kevin's Weathering Metal Armor Tutorial. I didn't follow said tutorial, as I decided to start winging it after the second step. Between washes, metallic drybrushes, more washes, and more drybrushes, a slathering of blood splatter made sure I didn't end up with "silver". I've gotten used to brushing on the glossy Citadel sealant where needed after a standard matte spray sealant, and it worked well on this one just to keep the cloth from being overly shiny. The base is 50% bigger than normal, as the stance for this mini is so blamed spread out it was needed. Another dungeon-y fitting floor base.
Back to the good old Chronoscape line, this time with the super heroine Incredible Woman. I had nothing specific in mind, other than testing out how to eventually paint Batman. Primer grey with 2 heavy Nuln Oil washes has been giving me a consistent look I like by bringing out the body highlights. The yellow at the collar (eventually for the bat symbol on the chest) gave me fits as my yellow is just ALWAYS too runny and streaks. Citadel's Cassandra Yellow wash works well for me, but it needs a white base/primer to work well on. I still need another good practice run before committing to a Batman. For fun, I topped this mini off with red hair - honestly the orange Citadel wash works great for hear - and I think it turns into a vaguely Black Widow style mini. Same style base as the other two, just because I was cranking them out to the end at this point.
My obligatory crap paint job that was due. I picked this one up on Amazon for $4.79, and I have no idea what the game is that it actually goes with, but Takoshi University - Dodgeball was, well, I could have done better. I covered up the details way too much, especially the face. My dodgeball turned into a soccer ball. The skin tone turned runny, I was trying for a yellow shirt but the shadows came out orange. She's standing in poop. With perfectly white shoes.

Sometimes you just have to realize there's no fixing something and say "eh, I don't have to use it" and file it away.

4 more doesn't feel like a big hit to the overall total, but I'm close to 50% on the realistically painted total.
This is another busy meeting week at work, topped off Thursday by getting a new windshield on the car. Friday, on the way to Florence for Maw-Maw's 91st B'day Extravaganza, an errant pebble found its way to the bottom corner of the windshield well enough to nick it. Over the weekend the nick grew about a foot. With the length and location, the windshield guys said it had to be replaced, and they would have to order the windshield. I had a windshield replaced on the Explorer so it's not my first windshield replacement, just damned annoying. Since there's a good chance of rain Thursday, I'm going back to the Safelite shop to have them do it there instead of wondering if the weather will mess it all up - and force me to take it to their shop anyway.

I think my next fun hobby thing will be to work on the 15" x 22.5" maps for my cityscape that I've had on my list, yet been putting of for a couple of months. It's all computer/Paint Shop Pro work, and usually I do hobby stuff to get away from the computer, but I'm at the point where I've been putting it off for so long that THAT'S starting to bother me the most.

Permalink gaming miniatures ninja division reaper chronoscape


Fantasy Figures 2K18
10.22.2018
I may, possibly, play Dungeons and Dragons with Daniel. I've played one-off games a couple of times since 1984. I played a nice little campaign, with 2 other people, when going to Calhoun back in the 90's. I don't know what the current rule set of D&D is, even though I've managed to get a hold of PDFs of whatever is current. The important part of any role playing game isn't deep understanding of the rules and proper commitment to playing the role. No, it's the minis.

Not really, but it's the most fun prep for me. It's been a while since I've painted something not zombie or (modern) building related. I hit Amazon for cheap Reaper fantasy minis and found some good ones in the $5-$7 range. I could get them cheaper elsewhere, but shipping always kills any deal for something this small. Small in both size, weight, and price. Thus, JeffyB wins my hobby money for this round. I wanted some women, both to practice painting and to see if when it comes time to play I don't go my normal route of "human fighter". Lady Magic User is un-me. Perhaps with a mini to inspire me I would pick such when it came time to crack open the rules.
Autumn Bronzeleaf, Female Elf Wizard - the purple and gold, wiggly wooden stick wielding magician. The purple wash on cloth was a given, and sure, I didn't completely cover up all the primer. But those are highlights from natural light! The gold highlights on the metal scroll (is that what's on the armor?) couldn't be drybrushed, so I had to make use of me fine tipped brush.
I took my time with this batch. I actually primed 2 more minis with these, but something got me started on these 4 and I just stuck with them. Basing was a little tricky. These minis come with part of the base attached to the feet, not the slotted bottom/base most minis have. Goldar was set in an oversized beveled base, while the girls went atop a standard (non-slotted) base. I aimed for a rocky style base except for Goldar. He was an experiment in Citadel's Martian Ironcrust, which got primed and heavily doused with at least 3 coats of earth wash. The red dress on the Strumpet was my first use of Vallejo Thinner. I've had problems in the past with yellow and red not covering very well. From now on, thinner is the way to go with light colors like that!

The Painting Spreadsheet (again) doesn't show much progress as I ended up buying new minis and immediately painting (most) of them. On the realistic list, 209/454 has gone to 213/456, which is ONE PERCENT PROGRESS.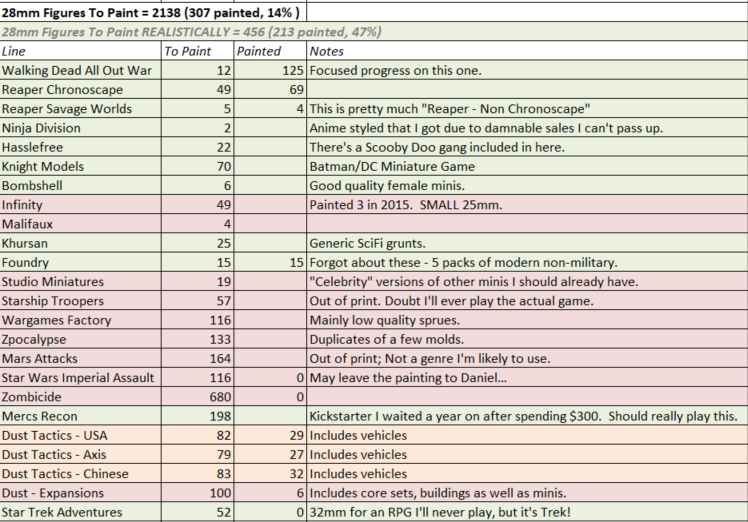 Next up is to paint the other 2 fantasy minis that got primed, which may or may not have a few other minis added if I get a wild hair. After this next batch, it'll be time for some more buildings or maybe start on the Antenocitis Workshop vehicles I got back in July.