BF2018 & Hobby Check-in
11.23.2018
Ah, another bout of quiet on the blog-front. Usually that means I haven't done anything hobby-worthy. That was indeed the case. To be honest, after the disappointment of the last batch of minis I wasn't all fired up to do something else. Oh, I had a list that didn't involve painting minis (more on that further down) but I lacked the gumption to follow through on any of it.

Thanks to Jer enjoying his gaming rig and regaling me with stories of adventure in Elite Dangerous, I managed to switch my free time focus to flashing back to my teen years and sat around playing video games. I'd tried playing Elite Dangerous before but just couldn't get the hang of the controls - I could never complete the 2nd dog-fighting tutorial. Thanks to some tutelage from Jer, I spent the better part of 3 hours customizing my controls to be more intuitive, and eschewed dog-fighting and instead stuck to delivery missions. Intergalactic UPS! It's been oddly fun.

I've also been prepping for Black Friday 2018. Much like last year, I started cutting back on my DVD ordering early and had a list of what to go after, with Skyscraper being at the top of my "This isn't worth $25, but I'd pay $10" list. Thanks to Amazon, Target, and Best Buy making more sale items available online starting Wednesday I was able to get all but 1 thing on my list by the time Black Friday actually rolled around. Season 2 of Lethal Weapon is avoiding sale coverage. It will be my grail item of the season!

Outside of DVD shopping, 4Ground had another 25% off coupon sale this year. I decided this was a good time to get some Mayberry-esque commercial buildings that would fit in with the rest of the scenery I've been making. RPGNow had downloads of Star Trek Adventures, for 25% off, rules that had been sitting in my wishlist for a while. While I was there, I picked up some maps that I've got plans for (more on that further down).

Outside the realm of game stuff, I took holiday sales as an opportunity to enter the realm of the smart assistant and got some Echo Dots. I've been using my Fire tablet to stream stuff when I go to bed, and the idea of a Dot had been appealing to me for a while. There was a good sale on a 3-pack, so now I have Dots in the bedroom, kitchen, and garage. I'll be a streaming fool! Or at the very least I can ask what the weather forecast is from 50% of the house.
---
This Is Further Down


My hobby list has plenty to do, but as stated before I've been lacking gumption. One of the things to do that keeps staying on the list is making maps to print via Poster Ninja. My standard map tile for Potham is 7.5" square. The specialty tiles I made for the mini mart and coffee shop were 22.5" x 15". Piecing together 6 pieces of paper together didn't work as well as I hoped. Enter poster size (affordable) printing! At Poster Ninja, I can use their 36" x 48" poster and fit four of my over-sized map tile layouts. If I get 4 of those posters, I reach the free shipping threshold. 16 special tiles. I can plan that!

The easy route is to alot half (eight) for full grass or asphalt coverage. The other half will be more specialized, or more than half if I need it. I printed sidewalks and driveways for houses, and glued those to thin sheets of plastic and cut to size. While it works, it doesn't look that good. With larger tiles, I can dedicate the sidewalk and driveway per house. The same with any commercial buildings and parking. To do it right, I should make the building(s) and have the proper footprint and know where sidewalks and driveways should go. That doesn't sound crazy.

Now, instead of trying to print off everything and then make the buildings, I'll make a building, measure, and set out the lot on the map. That sounds a lot more grown up than I intended. I'll start by setting up the buildings already made (phase 1) and go from there. Hobby path forward is set!

Permalink hobbies movies/tv/dvd


Hobby Break For Movie Time
10.09.2018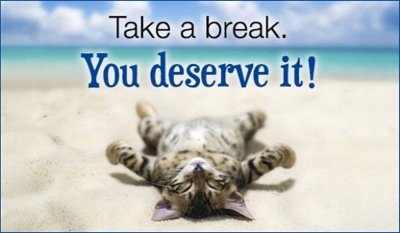 I'm taking a little bit of a hobby break. After wrapping up the gas station, and it taking as long as it did, I just haven't had the gumption to finish up, well, anything. I could force it, but a hobby is supposed to be something for fun, not because I have to.

I've been catching up on watching TV, which for me is Netflix and Amazon Prime. The great thing here is that I no longer feel guilty when I start to watch something and don't finish, after deciding I don't like it. On the other hand, I'm more likely to watch something I'm iffy about in case I like it. After wrapping up season 5 of Agents of SHIELD, I was in the mood to watch some movies. While this may not make sense to common folk, there are times I want to watch something that's a story encapsulated within 2 hours, and other time I'd prefer the serialized adventures of a TV show to develop characters and story. Also, there's a fresh batch of DC and Marvel shows on Netflix (7 shows, I think) to watch, and I while I don't binge I like to keep a steady trend of watching so I don't forget what's going on. I've taken breaks from Game of Thrones and Walking Dead to where I don't know if I could remember what's going on or who's doing what at the point I left off without going back and re-watching more than I really want to.

So with that, here's some of what I've seen recently.
Death Race 4: Beyond Anarchy - I like (watched) the Death Race movies. This one was supposed to be released on video, I think, back in February. Something happened the week before release, and then over the weekend I saw that Netflix had it. Lighter on the car mayhem than other Death Races, but on par with them. I can honestly say that now I like (watched) this one as much as the other Death Race movies.
I'm not just vegging out in front of the TV. Hard to tell with that list, I know. I'm reading Crucial Conversations in an effort to better myself while not biting the heads off people I think are trying to sass me. It's a good book, but I'm rueing my slow reading speed on getting through the 240 pages because I can really use this stuff at work!

This weekend also sees Dr Blondie turn 50. The first of my "school friends" to hit 50. I have to push down urges to give her hard time about her elderly status. Mainly because it's my turn in March.

Permalink movies/tv/dvd random


Old School <> Streaming
01.28.2018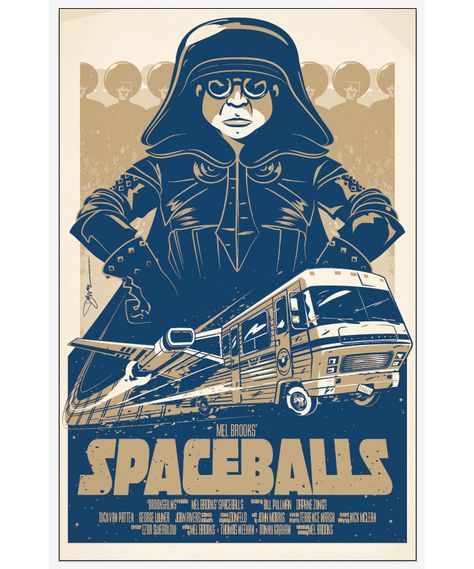 Back in the days when tv stations had numbers, tvs had knobs, and nothing could be watched on demand, the local Fox station (which was and may still be channel 54) would theme a block of movies on Saturday/Sunday afternoons if there were no weekend sporting events going on. A batch of 3 action or sci-fi movies was common. They were never the best movies, but if it weren't for watching during the weekend I may never have learned I actually liked the Robert Urich space epic Ice Pirates.

As most know I have plenty of movies taking up shelf space. I've got more than a handful purchased since Black Friday that I've not yet watched. My whole reason for buying movies has always been "when I'm in the mood to watch (whatever movie) I don't want to bother with going out and renting it, I want to just pick it up, put it in the player, and start watching." My penchant for buying physical discs doesn't hold as much merit these days since it's admittedly easier to just click a button to stream said movie, but a habit started in 1989 is hard to break. The supplementary reason for buying movies instead of renting them is that I will often watch a movie more than once. Back in the video rental days, if I watched a movie 3 times it was more cost effective to buy it than rent it. These days I've been training myself to wait for a good sale on a movie than rushing out and buying when it's initially released.

Enough of that rambling tangent. I still like movies I've seen plenty of times. Part of me misses the days of turning on channel 54 and finding "Hey, these are some good movies they've decided to show today". To the chagrin of my old boss when I was working at the video store, I would often leave the tv on 54 on Sunday afternoon that play movies to tempt people to rent - but it still worked, people would rent what they saw playing on broadcast tv anyway. The other day Spaceballs popped into my head for some unknown reason. Well that would be a fine movie to watch. Spaceballs was not present in my movie collection. I could stream it for free on Hulu. I could rent it for $3 on Amazon, or buy the digital version for $10. Instead of any of that, I bought the disc for $10 and had to wait for it to be delivered. Saturday, sandwiched between Wonder Woman and Spiderman: Homecoming, I watched Spaceballs. While not one of those channel 54 weekend movie blocks, it was still a good batch of movies to watch together.

Next weekend it may be time to revisit Ice Pirates.

Permalink movies/tv/dvd random


Salma + Underwear + Guns
02.04.2015
Last month I saw a trailer for a new Salma Hayek movie coming out in February entitled Everly. From the trailer, it looked like "Salma in underwear with guns." I can support that. Salma's 49. I don't care. Sure, this wasn't going to be an action packed blockbuster like Desperado, but any trailer that has:
... is going to grab my attention and I'll give it a chance. From there, I was looking forward to the release date of Feb 23.

But wait! In todays modern age, some movies are released on the line before they are released theatrically. It turns out this was one such movie. Even better, it was available through Amazon's streaming service. Even better than that, thanks to deferring rush shipping on a whole bunch of orders placed with my Amazon Prime account, I had enough screaming video credit built up that buying the movie, regularly $14.99, would cost me nothing through the use of those credits. Free Salma in underwear with guns. Sign me up!

I invited my good close personal friend Charles Jr over for the inaugural viewing. Expectations were set appropriately low (did you watch the trailer?) and away we went. 2 minutes in we were greeted with: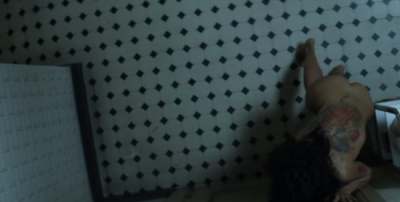 ... which gave me high hopes. I'm not a butt man, but Salma has a nice butt.

Unfortunately everything fell apart from there. It seems the plot was not Salma runs around in underwear with guns. The plot had something to do with bad Japanese acting and a director with a horror movie background that had watched Bound too many times and tried to mix it with the action of Shoot 'Em Up.

I watch a lot of movies, and I'll pretty much watch anything. While this isn't the worse movie I've seen (Ghost Rider 2 is the most recent bad movie I rememebr since it took weeks between starting and finishing due to the breaks I had to take) I doubt I'll ever watch it again. For me, that makes it an average movie, but on the low side of average.
Thanksgiving Shopping
11.30.2014
This year, due in large part to watching my spending due to lack of employment in August, I cut back on my DVD purchases. I watch a lot of movies, and over time I tend to watch them multiple times. When a new DVD was released that I could stand to not watch immediately, I would make a note on one of my Amazon wish lists to keep an eye out for a sale at a later date. One such movie on that list was little Tommy Cruise's Edge of Tomorrow. Normally I would have grabbed this movie on release day, but I went to the dollar movie and saw it. I thoroughly enjoyed it, but since I had seen the movie at the time of it's at-home release I could wait and try to catch a good deal - the Blu-Ray was available for $19.99 when it first came out, and normally a disk will stay that price the week of its release, then climb a couple of dollars the following month until eventually dropping below the new release price once random sales hit.

Thanksgiving/Black Friday was to count as one of those sales. Target's Thanksgiving Sale Ad showed the Blu-Ray Edge of Tomorrow for a great sale price of $6. Available in-store only. Starting at 6PM on Thanksgiving.

It had been a while since I put up with holiday shopping crowds, but this was a sale I had been waiting for. There were a hand full of other DVDs shown as being on sale that grabbed my eye - mostly TV shows. I decided I would brave the crowd and if I was able to grab the Cruise DVD I would grab whatever others I could find and make it as quick a trip as possible.

At 5PM Thanksgiving night I was in line at my closest Target in Madison. The line didn't seem too bad.
The line wasn't all the way to the end of the store (my cut-off point for where I was willing to wait in line), and although the line was long everything seemed organized to where it didn't feel too bad. After 20 minutes the line behind me grew.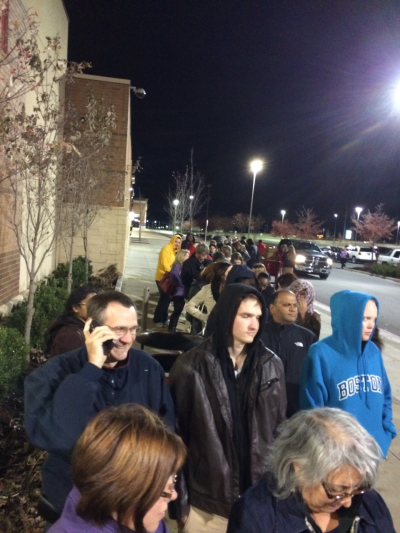 I struck up conversations with people around me and everybody was after a TV. 1 couple was also there for a vacuum cleaner, while a group behind me was there for an XBox 1 and iPod. Me, I just wanted DVDs.

At 6 the door opened at we were allowed in by random grouping, I'm guessing to give people time to get buggies and get out of the way. I made a bee- line for the DVD section and was greeting by a woman with a buggy containing a vacuum cleaner (not the one the couple I was in line with were after) and a growing pile of DVDs. I quickly found the auxiliary DVDs I was after, but little Tommy Cruise was evading me. I asked Buggy Woman if she had seen Edge of Tomorrow, and she quickly pointed it out to me. There it was, $6 - 3 slots wide worth of display for me to go right by twice! I grabbed a copy and quickly thought about wandering the store to see what else was on sale, but the fervor of people zooming by with TV laden buggies made me rethink this and I just headed to the checkout.

The checkout line was as organized as the line coming in. Had there been people in front of me I would have waited until steered to an open register, instead I was just steered. The girl that checked me out did a good job - I was the first person she had ever checked out unsupervised. I had my stack of DVDs and was in and out of the store in 10 minutes, having gotten what I wanted. The best part was that I spent $90 while saving $162.
I've been using coupons and counting my savings a lot lately (I've had to, I think). I've gotten to where I kind of like it. I'm slowly (re)learning that I don't need immediate gratification, it's ok to wait a little. Especially if waiting a little can save some big bucks.