Glorified Screenshot
04.09.2019
After being called out by Bob for lack of content, I provide a minimum of interesting content. Interesting to me, at least.

As part of Getting Shit Done, I'm trying to dedicate an hour per night to the menial tasks needed before I do something cool. An hour per night is really turning into an hour every other night.

One of my hobby projects is to re-do my map tiles I've been using for the Walking Dead game, which will realistically serve any 28mm game that comes along. Why re-do them? I have lots of reasons!

Originally I printed my tiles at 7½" square. Why? I have no idea, that's just how the first batch I'd printed ended up sized. They were supposed to be 6". The basis for them were 7" tilesets from Fat Dragon games, but there's a 1" row missing from the end print so I know that I tweaked and resized them. 7½", while I fine and usable size, does not scale well for modularity if you want to use anything but 7½". Case in point - I want to make bigger tiles for the MDF buildings that I'm adding in. Sure, I could just use 7½" and stick multiples together, but in the long run I'm lazy and would gripe and moan every time I had to pick out the right combination of tiles to fit together for this specific building.

As such, everything is getting resized to 6".

I've oft complained/admitted to my inability to cut a straight line. The foam core the 7½" prints are adhered to show that after enough of them are lined up. This is my chance to try and compensate. Instead of cutting foam core, I'm instead planning on mounting all of this on cake boards. Lots of cake board sizes! Let somebody else cut those straight lines!

I've currently got the basic road with sidewalk graphics files complete. Next is to add in some versions with ground clutter to spice it up. Also needed is the grass (instead of sidewalk) version of each which will get glued to the opposite side. I generally take my time tweaking graphics so even though all of this could be whipped out in an hour it'll likely take me a couple of weeks.

I'm not in a real big hurry. I'm supposed to be having fun with this!
Cowboys & a crappy shop
03.25.2019
The last time I showed any minis I'd painted was Dec 30th. Close to 3 months and nothing noteworthy to show on the hobby front. Sure, I've spent most of the last 3 weeks sick. But what kind of excuse is that?

Pitifully, it's a good enough excuse for me.

To quell this pitiful trend, a batch of Reaper cowboys were primed. Why cowboys? No real reason, other than I picked up a batch of cowboys however many years ago. Maybe my zombie apocalypse will have a time travel scenario? Maybe I'll turn the whole thing into a Westworld game? Most likely, I was just tired of flipping past them in the box of Reaper minis and thought it would be a good chance to lessen some of those I flip through later.
Overall all this batch came out about average. I could have done better. I could have done worse. Painting faces under cowboy hats is hard. The details on the minis didn't really pop for me - after the fact I feel that I should have gone back and touched up little details here and there, but honestly I'm not sure what they are.
On the overall painting progress chart I'm once again farther behind than when I started this batch. Thanks to a Miniature Market birthday coupon I caught up on the Walking Dead expansions I'd been missing/putting off. For the 5 I add to the Painted list above, there's 21 Unpainted Walking Dead minis added to the list.
In addition to these minis, 4Ground Tobacconists store came together. I had some issues getting this one together. One of the door pegs broke off as I was squeezing it into place. The windows and their cardboard frames fought me. I also wasn't paying attention in the beginning and glued one of the windows in backwards to where the text is facing inside the store. The door that fought me skidded around when I wasn't paying attention, and I ended up mounting the front door in the back. There's a good chance there might be a little fire/riot damage to this building before it gets any play use.
Another random 5 minis are sitting ready to be primed now - no cowboys this time.

Permalink 4ground gaming miniatures reaper chronoscape


11 Steps Backward
01.19.2019
Let's start off the the second hobby update of the year! By going backwards!

Well, crap.

With my net gain of 13 minis painted over the course of 2018 I move forward by updating the spreadsheet by adding 11 minis to the "To Paint" list. I can blame Daniel, as he wished to purchase Mecha Paint from Miniature Market, and I always have wishlist filler for free shipping thresholds.

Last week I took my first airbrush class at Lowe Mill without finding an excuse to put it off or not go! I learned how to take the airbrush apart and put it back together without breaking it. This was what I really wanted to learn. I painted dots, and dots, and lines. Hardly any were what I was trying to paint, but you've got to start somewhere. I did lots of things wrong. I may have done some things intentionally wrong so I could ask questions. In the end, I did a lot of stuff wrong and a couple of things right. Then I came home and practiced. At home I noticed all the stuff I didn't have that was making everything harder than it was during my lesson. A regulator coupler for the airbrush instead of fiddling with the compressor. Light. If I'm doing this at home in the garage, I need better light. And other stuff. Other stuff is always good too.

Stuff was ordered from Amazon. Stuff took a while to arrive, and 1 shipment is stuck in Mesquite, TX for an extra 2 days (so far) for no good reason.

Even though I'm still painting dots and lines on paper, there are now 5 primed minis from Zombicide to practice on. I have zero faith these will be usable in any way. They're for practice.

My painted mini spreadsheet doesn't include everything, so it may be a little misleading. I'm leaving off little, inconsequential scenery and scatter items. WizKids has pre-primed minis, and I'm drawn to their furniture because I think of all this gaming scenery as a glorified doll house! These blister packs have all sorts of little doodads. I've picked up a couple of library sets along with other miscellaneous furniture packs, some of which may be prime "how's this wood color airbrush paint work?" candidates.

This is also the week I'm going to start putting that model tank together. The box has been opened. The plastic bags have been split open and sprues of plastic are ready to have parts clipped and glued! I'm definitely getting my $35 worth out of this tank.

Permalink airbrush gaming miniatures


Kickoff 2019 with some furniture
01.10.2019
Back during this year's Black Friday shopping (maybe), my Miniature Market order needed a little padding to reach the free shipping threshold so I tossed in the Plast Craft Games Urban Furniture set.
Plast Craft makes a nice little assortment of low-effort scenery. Slightly high density foam with pre-printed graphics along with laser cut wood accents for the buildings that I've gotten so far. Interestingly, for each building I've made I always do something wrong but manage to cover it up well enough. That kept true this time.
Compared to the cover pic, the 2 Bus Stops are mirrored from how they should be. My fountain is a little Pisa inspired. A couple of the wooden pieces on the benches didn't get cut very clean. Way to start off 2019!

None of this is horrible. I added my favorite water feature to the fountain, but I got air bubbles I couldn't completely get rid of. I can touch up the marred wood with some paint here and there and it will end up lookng fine. My real reason for making this my quick one-off project to start off the year is that now I'll force myself to make the 4Ground Playground pieces Keith gave me a year ago. The Potham City Park needs a child friendly area... for the zombies to find snacks?

Upcoming on the hobby front:
- This Sunday I take my first art class in decades as I follow through with "How to use my airbrush". I'll save whatever details there may or may not be until later.
- Next actual hobby project is a 1:48 Tamiya M1A2 Abrams Tank. I'm not sure when the last time I made an actual plastic model was. I picked this up on my trip to HobbyTown last July-ish.
- My map-tile making project has stalled out and I'm going to see why I've lost my gumption there.

Permalink gaming miniatures plastcraft


2019 Unto You
01.01.2019
It's that time of year to reflect back and plan forward. I like planning forward as having a goal helps to keep me from sitting like a knot on a log. But I shall start with looking back and checking off that reflection part.

This year Russellmania was more of a hobby blog than anything else. It helped hold me accountable for making progress on all the stuff I've accumulated to paint over the years. So how'd I do?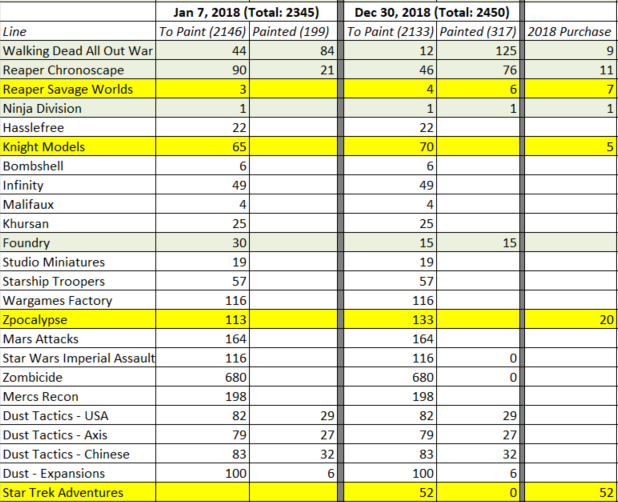 Green rows had more minis painted than I started the year out with; Yellow rows are the inverse; The other rows had no change
118 minis got painted.
105 new minis got bought.
Net gain: 13 minis painted.

That doesn't feel very productive.

The crux of those additions come from the Star Trek Adventures RPG game (52 new minis). A game I'll likely not play, but I do want to paint those minis. Zpocalypse might be a typo along the way, unless there was a good sale somewhere that I forgot about.

This doesn't include any of the scenery I made this past year. Scenery was something I didn't start out tracking so I don't really, at least easily, know how much progress I made there. I did make a lot of stuff, printed out a lot of stuff to go with it, and enjoyed it.

The rest of the 2018 - honestly nothing really stands out. I'm ok with that.

What does 2019 bring?

Hopefully more than a net gain of 13 minis painted. The first thing associated with that is that I'm going to look into taking a mini painting class at Lowe Mill which will force me to finally take the airbrush out of the box! I visited the place last week forthe first time, and think I would be comfortable learning from the folks there. The last time I took any type of art class would have been circa 1980. I'm still enjoying painting minis and scenery, so for now that's still going to be my hobby!

This is also a big year for me in other ways. I've had Russellmania.com registered for 20 years, and a bug chunk of that has been my blogging hither and yon. At one point I had all the old version of the site saved off where I could reach it/them, but to be honest I'm not sure where those burned cds have gotten stashed to. In March I'll turn 50, and although I have no big celebratory plans I'll no longer be able to joke about being old. I'm going to be old. A couple of months after that, I'm scheduled to make my final mortgage payment. Now that is seemingly a big deal. With luck, the house won't fall apart before then.

2019 also brought something I've been expecting for a year and a half. At 7:30 this morning, my wireless router died. Luckily, I had a replacement waiting in the garage since something happened in April 2017 that made me think the then-8 year old router was going to die.
The router ended up lasting a good 9 years. This morning while watching Supergirl on Netflix, the wireless connection went down and all the lights on the router were out. An hour later the new network was up and running. It took and extra hour and a half to get everything that's supposed to use the wireless network re-connected. Smart lights, Echo Dots, tablets - I just have lots of wirelessness. And I just remembered 2 laptops that have to be connected.

That was a good router though.