Latest Blog
Cowfolk of the Ancient West
07.03.2020
After more than a month of on again-(mostly) off again painting, there's a batch of western themed minis that are wrapped up. There's actually 2 more that didn't make the cut. On 1, I forgot to paint the base, and the other hasn't made any progress beyond getting primed. I'm not in a hurry, and I wasn't feeling a good paint scheme for this one.

Reaper Chronoscope has been my favored mini line for a long while. Quality for the price of their metal minis has been hard to beat, and I would just pick up whatever I could find along the way. Western figures? Sure, I have no idea what game they might fit in but they'll be fun to paint one day. Turns out I was right - although I took my own sweet time, they were fun to paint.

I did a little more prep work this time and scraped mold lines. I got a carried away on "Ellen Stone, Cowgirl", as what I thought was a chunk of errant metal was the stock of a shotgun that had gotten twisted up pretty bad. In the end, I tried painting the whittled stock as a strap to... something. It works if you stand far enough away. Far, far away.

My playing around for this batch was to weather dusters. Part paint, part weathering pigment. Down where the coats would drag and gather up grime I grimed it up. Luckily there were ample web pics of these minis for inspiration. The other play-around was Doc Holliday's stripes on his vest. I'm becoming a fan of brush tip pens for this sort of detail. The details stick as long as the final spray of sealant isn't too close (tends to water down the ink and make it run/disappear).

The painting progress chart shows, well, if you can track down the last time it was updated in April you would see no change overall, as some new releases for the Walking Dead game made it into the backlog to replace these cowfolk that qualify as Done.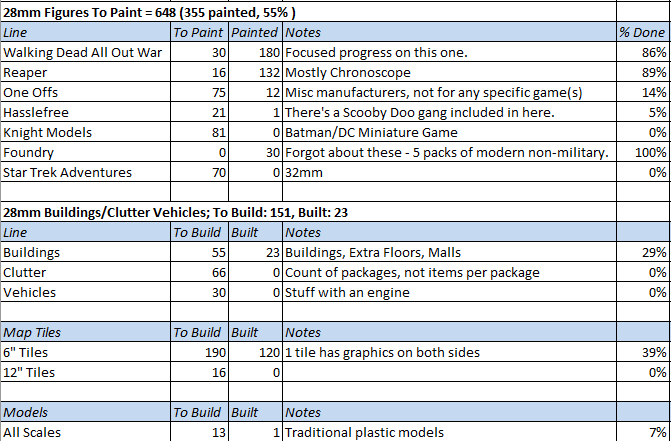 I have on my To Do list to wrap up 1 mall store with furniture. I'll see if that's what gets updated here next.