Latest Blog
More painting - Abraham and Friends
05.11.2019
When it comes to minis for the Walking Dead game, I try to find reference pics to paint by. I'm not good with color choices so going by what someone else has that already looks good helps. In addition, using a "good" template helps my skills along.

This time, I had 3 goals. The ever present first goal of "Don't glob on paint and make them suck" was foremost. Second was "try to make some eyeballs that don't look retarded." Finally, "Change up skin tones" was a direct result of the last batch needing too many coats of paint & wash to not look from pasty death to rotted death.

The packs of minis this time didn't contain 1 "Hero" and 2 zombies. I guess they've released enough zombies? Except for Zombie Duane, son of Morgan, Distraught Father, added in to Morgan's pack of 3, the packs I opened up all had 2 "Hero" minis.

Walking Dead reference pics (from Mantic Games) that I used for reference:
Over the course of 2 weeks, even though there were 9 minis lined up to paint, I eschewed the assembly line method of picking a color and using it on every mini that could use that color. Instead I did what (I've heard) works better - start at the bottom/hard to reach level of the mini and work up. Normally that means "skin". If a hand is holding something, that isn't necessarily true. I started with Abraham, for some reason I wanted this one to turn out the best, to make sure I took my time on. Skin, red/orange hair (easy to do with the Citadel orange wash), green camo clothes. Everything was something I'd done before, although camo painted uniforms were more of what I painted in the 80's and 90's.

Since I was trying to vary skin tones, thanks to the Juan Ton Soop incident of last month, there wouldn't just be a base skin tone and flesh wash applied. 4 black (African-whatever, I've never tried to be PC here, just ask Juan Ton Soop), 1 Latina (fine, a little PC), and the rest are normal white guys. I always have a hard time with black, as I'm wary of going too dark (covering up features) and often end up too light (hey, nice tan, bro). Even the white guys are normally too white, with me depending too much on the flesh wash.

Taking my time helped. When things didn't look right - of course the first 2 passes of my black guys were all too light - I tried to find a shade to LIGHTLY APPLY to see if it made things better. Most did. Some, of course, did not. By the time I was done, Jud was the only mini I wasn't at least halfway happy with. Jud's skin was too... sunburned is the best way to describe it. And there had been enough layers of paint and wash that he'd reached the tipping point of having enough detail showing to be presentable. When you don't make the cut, you get experimented on! Jud, welcome to the tattoo needle! The tattoo needle is really a pen tip, but that doesn't sound as ominous. Some light scribbles and Jud, whoever he is in the comics, is now a tatted up rough looking dude.

The rest stuck pretty close to the reference pics I was using. Abraham turned out the best, as I'd hoped. Eugene, holding a radio, ended up better than I expected. Almost everyone had eyes that ended up looking in the same direction. Morgan's eyes look a little weird, but I was trying to go for the "distraught/crazed" look and went a little too crazy. I knew my attempt to fix it would screw it up, so Morgan remains "super distraught and crazed".
For once I haven't noticed any obvious mathematical formula errors in the painting progress spreadsheet. I also haven't bought anything since last time. This means, for the first time in a long, long time, the spreadsheet shows PROGRESS! +9 painted! +1% progress!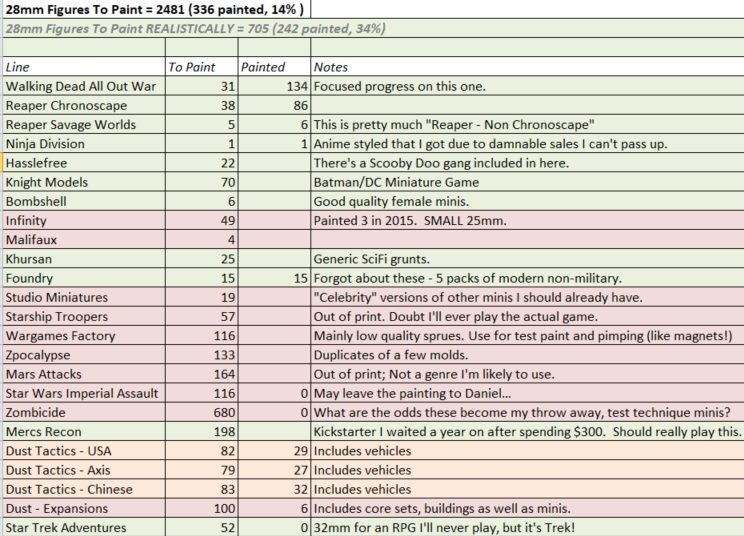 There's another batch of Walking Dead minis awaiting priming so they'll be ready to paint when the mood strikes. It's rainy, humid day and I've learned that priming when it's raining leads to runny primer covering details. In keeping with the Walking Dead progress, I pulled out the Greene Family Farm scenery expansion and thought it might be nice to make their barn. There's also plenty of other, prep-work tasks I've got to keep me busy so I can have something cool to show later. Plenty to do!