Latest Blog
Fantasy Figures 2K18
10.22.2018
I may, possibly, play Dungeons and Dragons with Daniel. I've played one-off games a couple of times since 1984. I played a nice little campaign, with 2 other people, when going to Calhoun back in the 90's. I don't know what the current rule set of D&D is, even though I've managed to get a hold of PDFs of whatever is current. The important part of any role playing game isn't deep understanding of the rules and proper commitment to playing the role. No, it's the minis.

Not really, but it's the most fun prep for me. It's been a while since I've painted something not zombie or (modern) building related. I hit Amazon for cheap Reaper fantasy minis and found some good ones in the $5-$7 range. I could get them cheaper elsewhere, but shipping always kills any deal for something this small. Small in both size, weight, and price. Thus, JeffyB wins my hobby money for this round. I wanted some women, both to practice painting and to see if when it comes time to play I don't go my normal route of "human fighter". Lady Magic User is un-me. Perhaps with a mini to inspire me I would pick such when it came time to crack open the rules.
Autumn Bronzeleaf, Female Elf Wizard - the purple and gold, wiggly wooden stick wielding magician. The purple wash on cloth was a given, and sure, I didn't completely cover up all the primer. But those are highlights from natural light! The gold highlights on the metal scroll (is that what's on the armor?) couldn't be drybrushed, so I had to make use of me fine tipped brush.
I took my time with this batch. I actually primed 2 more minis with these, but something got me started on these 4 and I just stuck with them. Basing was a little tricky. These minis come with part of the base attached to the feet, not the slotted bottom/base most minis have. Goldar was set in an oversized beveled base, while the girls went atop a standard (non-slotted) base. I aimed for a rocky style base except for Goldar. He was an experiment in Citadel's Martian Ironcrust, which got primed and heavily doused with at least 3 coats of earth wash. The red dress on the Strumpet was my first use of Vallejo Thinner. I've had problems in the past with yellow and red not covering very well. From now on, thinner is the way to go with light colors like that!

The Painting Spreadsheet (again) doesn't show much progress as I ended up buying new minis and immediately painting (most) of them. On the realistic list, 209/454 has gone to 213/456, which is ONE PERCENT PROGRESS.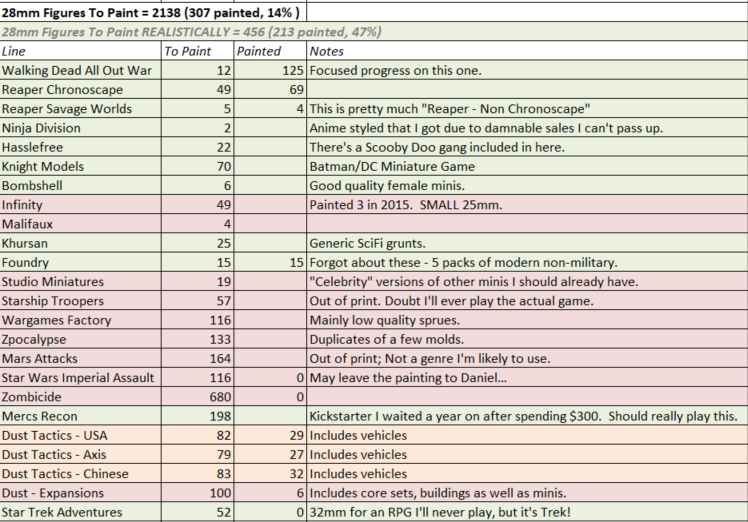 Next up is to paint the other 2 fantasy minis that got primed, which may or may not have a few other minis added if I get a wild hair. After this next batch, it'll be time for some more buildings or maybe start on the Antenocitis Workshop vehicles I got back in July.