Latest Blog
Not the post Bob is expecting
07.22.2018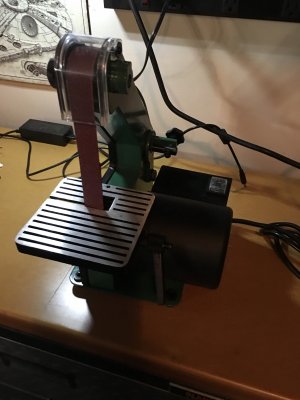 This weekend my goal was to paint some minis (Foundrey Wargames version of the A-Team). They're 90% finished, needing their weapons painted and whatever texture/terrain on the bases to dry and get the little details I enjoy putting in. I would have gotten them completely done except I spent too much time on Saturday running errands I didn't really need to run, and then I wanted to keep taking naps on Sunday. But that's part of a joy of the weekend. Procrastination!

One of those errands Saturday swung me by Harbor Freight where I picked up a cheap belt sander, as pictured above. Why do I need a belt sander? Well, obviously I don't. Why did I get/want one? For those times when I tire and bore of hand sanding! My first experiment in belt sanding, no I've never belt sanded before, will be to see what happens when you put a curved yet oddly solid piece of 3D printed plastic against 3400 RPMs of 120 grit sandpaper. The votes are evenly split between "melt" and "shatter" so far.

A-Team to be finished sometime this week!