Mitch Art
07.20.2016
For my birthday this year Rynn gave me a Mitch Foust print that she had picked up some point in the past couple of years at a convention. I'd never heard of Mitch Foust nor seen any of his art before Rynn presented me with my present. Once I saw the hot & sexy Avengers group he had (drawn/painted/arted up?) I quickly became a fan. I framed the Avengers pic and put it up in my office.

A little time went by and one day while looking at Mitch's Avengers I wondered if he made other female focused super groups. A google search led me to his Deviant Art page which held a plethora of his art, including a Super Friends and X-Men equivalent of his Avengers.

A little more time passed and I thought it would be awesome to have a super group collection hanging on my office wall, instead of just some Avengers that might get overpowered in an evil assault where I not paying attention. I managed to find my way to Mitch's website where his STORE page listed books and prints for sale.

Except none of the prints were of the aforementioned buxom super groups I was hoping to get.

My hopes were dashed and thus our story is brought to an end. No, that would make for a lousy blog post. Instead I grabbed Mitch's email and asked him if he had prints of his work shown on Deviant Art for sale. Much to Mitch's credit he quickly replied and told me he did indeed! In fact, shipping for 1 print was the same as shipping for 5 prints. I suddenly had an excuse to go crazy, so I picked out the 2 super groups, plus 3 more.

This images below come from Mitch's Deviant Art page.
A little coordination and I paid Mitch and he shipped the art. Except there was a hitch, it seemed it was taking a long time for the art to go from Memphis to Athens. There was a lot of back and forth email with Mitch setting all of this up (part of why I so easily call him Mitch), so I asked him if there was a tracking number or something similar since it seemed to be taking a while. A frantic Mitch quickly and apologetically replied that he thought everything had shipped but it seems his son had put my package behind some things that had been shipped to Mitch. I actually found that funny but Mitch was still sorry for the delay, and I know he felt worse about it all than I did. To help make up for it, he even threw in a very nice book of his art from an earlier Kickstarter.

Now to be honest, I told him he didn't have to do that but I'm really glad he did, because it's a cool book!!!! He even put a nice little note in it.

A few days later I get 5 wonderful pieces of Mitch Art. Planning ahead, I hit Hobby Lobby when frames were half off (they're not always half off) so I could get frames to match the one I had hanging. Except I got 14x16 instead of 16x20. I should measure before buying!

Another trip to Hobby Lobby for the right size, and hour or so cutting poster board for poor-man's mat board, and I've got everything framed and ready for the office. Once I get to the office, hammer, nails, and laser level at the ready, I realize I need to move some stuff around. The irony here is that it was announced we're moving to a new building around the first of October, so whatever I put up will only be there for a couple of months. But honestly, I don't care. I like my office to feel homey, or homey to me. So I pull down everything on the wall and hang it all back up, but better.
In October I'll do it all over again. I better have plenty of open wall space when they move me!

Permalink books/comics renovation/remodelling


Only 1 Fridge
11.24.2015
When I went to order my replacement refrigerator, I got a little carried away. On Friday I went on to the Home Depot site and started an order with the refrigerator and all the sundry items that would go with it (water line, haul way my old fridge, 5 year warranty) so I could see the price. On Sunday I went through the process again and picked a delivery date. When I got to the order summary, after paying, I noticed the total was double what I was expecting.

Crap. I looked at the order I placed. Yep, two of everything. My cart from Friday was still active when I added stuff on Sunday, and I wasn't paying enough attention to to notice.

A "Chat with Us" box was still on the page, so I opted to see if I could handle this with someone I hoped wasn't in India. I ended up having a nice chat with someone going by Michele who removed one of the refrigerators from my order and told me it would take 7-10 days for the credit to show up. I double checked that I was still going to have 1 refrigerator delivered Saturday, and she said I would, along with a smiley face.

Saturday comes and I'm first on the delivery list. (A single) new fridge arrives and the guys hook it up. I notice on the delivery sheet it says at the bottom:
@ haul away
@ haul away
Haul away is listed twice. This sheet has no prices. When Michele removed my extra refrigerator, did she remove all the extra stuff that went with it?

The delivery guys wouldn't know, so I went back to Home Depot Chat. Today I got Paul. I explained what originally happened with the multiple fridge order, how I got 1 fridge like I should have, but since haul way was listed twice I wanted to double check what had been credited since my lone invoice from my original order still showed what I had originally ordered (2 of everything).

Paul was helpful. More helpful than I would have thought ahead of time. He was even chatty and personable. In the end he told me that everything had been taken care of (as it should have been), and he would try to send me an updated invoice but their system had some limitations in what he could send. As someone who deals with nice and pretty front-end systems vs the hacked together parts of the back-end, I understood where he was coming from. It sounds like everything is just as it should be, I've just been a little paranoid since I initially screwed up and don't have anything documented that it's been fixed.

Mainly I've been pleasantly surprised by how well chatting with customer service has been. I think I (we?) have be conditioned to think any type of online/technical support will be a form of torture, where the person on the other end won't understand me or whose sole goal in life is to the exact opposite of what I want. But it's not that way. I need to not be so hesitant and belligerent-ready the next time I have to use customer service in that way.

Even better, I just checked my credit card account and Home Depot properly credited my account!

Permalink renovation/remodelling


Damn You, Garage Door!
10.05.2011
My garage door hates me. I hate it back. Yesterday when I got home from work the garage door wouldn't open. After entering through the front door, which is just wrong for me, I went into the garage and discovered the cable running to the drum on the tension spring was no longer attached to the drum. The door is stuck closed, which is what I prefer if it has to be stuck. The car is outside, the mower is inside. I need to mow, but can't. Awwww, shucks.

This has happened before, and I had to get Mike to fix it since it's more than I can manage with my set of hands, and if you look for instructions on the Google for how to fix such a problem every post/entry/suggestion you find will say "hire a professional to fix it or you'll kill yourself".

Over the past 13 years of living in this house, the garage door has broken 2 other times. The last time was the exact same problem (which Mike fixed a couple of years back). The other time was more traumatic, as the tension spring came out of the wall, causing the garage door to pretty much collapse since it's made of sections that are kept together by the tension. Even worse, the car was inside that time, so I was stuck at home until someone got the door fixed enough to open all the way. It was then I discovered how hard is is to get a garage door repair business to come to my house.

For as much of the house as I've renovated and replaced, I don't know what's keeping me from replacing the garage door. I hate that thing. Passionately, at times. Mike's supposed to come by tomorrow and take a look to see what it will take to fix (again). I'm going to see what replacement options I have.

Permalink random renovation/remodelling


I have a gaming closet.
10.17.2010
I enjoy getting things organized. I do. Not just for the sake of doing it - I tend to try to organize things in a useful way, or I at least like to believe it's useful. That's what led me to my latest organizational task. I've got lots of gaming crap stuff. Lots. I like collecting games, mainly because I like reading rules and seeing how somebody can make up a world (or city, or battle) with rules that both make sense and are hopefully balanced. Over the past few years I've started getting into miniatures-based games, and with those types of games come lots of little components to keep track of. I've stored various parts of all the games here and there throughout the house, but it was getting hard to find something once I started looking for it. Enter my mad organizational skillz.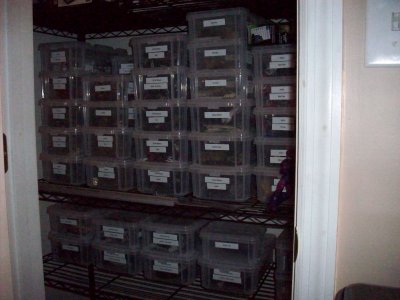 Now in my closet I have roughly 35 shoebox sized nicely labeled containers of playing pieces for:
Heroscape
Axis & Allies Miniatures (stored by faction)
Axis & Allies War at Sea
Star Wars Miniatures (stored by faction)
Star Wars Starship Battles (stored by faction)
ActionClix - Halo
HeroClix
Battletech/MechClix
Battlefield Evolution (I think I was the only person that ever heard of this one)
Yes, that's a lot of crap stuff. I didn't even know I had ¼ of it. Now that it's divvied up I not only know I have it, but it's easier and faster to get to a specific piece for playing. Theoretically.

I still need to work on making sure I have all the rulesets - Wizards didn't renew their Star Wars License this year, so they're no longer hosting a copy of the rules on their website. I didn't see a copy of the War at Sea rules, so I'll have to make sure to download a copy (I'm pretty sure that should be up on the Wizards site).

Permalink boardgames renovation/remodelling


Pics, yes, PICS!
05.21.2010
I haven't posted any non-Warcraft pictures since February. What a boring blog this must be... I'll have to cram different families of pictures into this post to make up for it.

Pictures Part I: Orange Beach
2 weeks ago I took Gina down to the beach. Here's proof!






Pictures Part II: Kitchen
The big thing waiting for me upon my arrival back home from the above beach was this year's home renovations. Last year was redoing the master bedroom and turning what was then "the junk room" into the spare closet that all the chicks envy. Once again I called Handyman Mike to come do all the work, and since I had the above vacation planned out he decided that would be the best time to do the renovating. I like work being done to the house when I'm gone - it minimizes the mess I have to live through.

In years past I've had some little thing for Mike to fix (last year I think it was something to do with the kitchen ceiling) and then we throw in something for fun. This year nothing was broken, but I made up for it with what all I ended up getting done. The first part, the "must do" item, was to replace the kitchen counter top. The counter top was green, which matched back when there was white and green linoleum in the kitchen and dining area, but that left years ago. It was time to complete my grown-up-ness and update the kitchen. After talking with Mike we added in that this would be the time to replace the appliances if I was going to do it, so that got added in. Mike also likes to play with lighting, so of course we had to redo the lighting!






Pictures Part III: Patio/Landscaping
The patio from 2 years ago also needed some landscaping. I wasn't using it because there was just nothing out there. I had gone by Lowes and picked up some furniture, plus I put together the hammock & stand Gina got me for Christmas last year. I had suggested to Mike that we put in a rock border around the fence - mainly to keep me from tearing up the PVC fence posts with the weed eater.



Obviously we got a little carried away from "rock border". It's a nice spot to go lay in the hammock and read a book though.