Team TSR Minis
01.01.2020
Starting off the new year with the last things I painted in the last year. The first is the 2nd Walking Dead web exclusive Abraham that I received. 2nd because Elvis at Mantic didn't have the stats cards in stock when I originally ordered everything, and I told him to go ahead and send the model and, at his suggestion, they could ship the card later. They did indeed ship the card later - with the mini. I bet it's easier to just keep everything together, but it's still nice to think I got a little bonus.

The other things painted were Sara's Xmas present to me for this year. Last year she gave me a cross-stich of Tyler, her, and me. That combo we have affectionately referred to as Team TSR, no copyright lawsuits yet, for the past couple of years. Sara is all about Christmas. She was excited months ago when she "found the perfect gift". I'm impossible to gifts for. I loved the cross-stitch from last year because it came from the heart. I really doubted she could outdo that one.

Well, she did. There was a small box upon my desk. When I opened it, it was from Hero Forge. 3 minis from Hero Forge. Tyler. Sara. Me (sans glasses - I mean, come on!).

Hero Forge's print quality has gone up since they first came on the scene, and especially considering what I'm used to with my home printer. There were good details in these prints! The challenge for me was going to be painting them up as people I knew, and people that would see themselves. Yeah. No pressure.

The suited Tyler mini was ripe for a Christmas Suit. Tyler got such a suit last year and always talks about how comfortable it is, especially for a $20 suit. Since Sara, lover of Christmas, camps out in front of Hallmark movies for the silly season, she would get appropriate sweatshirt. And for me... well I would wing it.

Primer was primed. Paint was painted, and touched up, and painted. Tyler and I got grey highlights in our hair. Facial hair was drawn on. Clothes became Chrstimasized with decals.

And that's where things screwed up. I have the worse luck with clear decals. Decals which are mostly red and green, laying on top of Tyler's green paint and Sara's red paint. Well.... hell. That's the best way to sum it up. Tyler ended up with more of a camouflaged suit then Xmas suit. While I knew the text would be too small to read for Sara's shirt, all you really notice is a black smudge from the back of the truck & tree. I couldn't think of a way to salvage this save for pulling off the decals. I added the decals after sealing the minis, so the paint should have been fine, but I didn't trust it. And I really didn't want to paint everything over - I wasn't sure I could do that well again.

But there we have the last batch of 2019. Not as good as I'd hoped, but overall about in the middle of the quality that I expect.
The progress list.

It's time for me to go back and do a proper inventory of what I've got left to paint. While updating the spreadsheet for this painted batch, I notices I had more unopened Walking Dead boosters than I thought there should be. There were 2 that weren't included in the spreadsheet. Those 2 give me 6 more minis to paint. On my overall progress, the 4 minis I painted increased the total count by 6.

As such, one of my New Years Resolutions is to get organized. I love me some organization! Really. No sarcasm there at all.

I also have projects for 2020. That's going to be the next blog post, as the projects fall into the organization aspect.

Permalink gaming miniatures Hero Forge walking dead


Lee & Clem
12.29.2019
Part 2 of Primer Gone Wrong has the web exclusive pack from the Mantic web store - Lee & Clementine from the Walking Dead Telltale game (series?). This booster was originally a convention exclusive, but sometimes it shows up in the Mantic web store as a chance to redeem all those (proof of purchase) points I've been racking up by getting all the boosters. I originally bought this from a guy in the UK via one of the gaming Facebook groups, but the package never made it to me. Adding up the cost of lost packages, price of all the boosters to get the needed points to qualify for purchase, and whatever else was needed for the purchase - I can't remember now if this was points-only or points-plus-fee - this has turned into an expensive set.

An expensive set that I hosed down with runny primer.

This was my chance to concentrate on 2 figures, 3 if you count a zombie with an animal I didn't recognize at first. Lee and Clem have a pretty standard color scheme thanks to the video game. Blues for Lee, pinks for Clem. Red hues don't normally cover well for me, so this would be a good test. One thing I've started to do while painting is going back and touching up errant smears, usually by (re)painting white. And then I smear the white, so I go back over it with the color I was trying to apply. And of course I smear that, so back with a line of white. Eventually I decide something is good enough. Clem's backpack was the example of this exercise this time. Most of Clem got repeated paint applications. In the end, there's no telling how many times I equivalently painted that one.

With Lee, I tried a customized brown for his skin. It was a half-accident. I had 2 shades of brown on my pallet and a section of each streamed into a mix. Wondering what the worse that could happen might be, I mixed them properly and had a pleasant surprise as to how well it worked. Lee's supposed to have a Fire Axe. Given that I was fighting my "cover with reds" on Clem, I didn't want to wage that battle on another front, so Lee got an old fashioned regular-metal axe.

The poor, forgotten zombie was chowing down on a deer. When I first looked at it, I didn't see a deer. I saw a boar/pig. Pigs have bright pink flesh, so that was the first coat on the poor animal. It wasn't until the flesh coat was completely on that I saw how it didn't look right. Nope, not a pig. It's a deer. I suck at painting animals! How am I supposed to salvage a deer from a pig? About 4 shades of brown of varying thickness will cover up that I have no idea what I'm doing. Also, I was applying the 2nd shade before I noticed the deer-was-pig had a stub of leg resting on top of the zombie leg. That wasn't a piece of the zombie!

Deer-pig with leg-hoof I thought was part of another body. To be honest, anything that qualified as "passable" in the end would be good enough for this one.

And in the end, everything worked out ok. Not my best work, but not my worse. Overall: average.
The painting progress chart... well, I think it's still a little screwed up. Every time I update it, I come across a box that has 3 minis instead of 2. Or 2 boxes I never counted. 2020 may be the year of a proper inventory.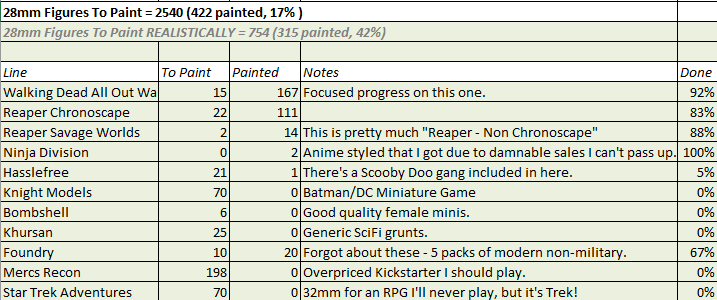 I may get 1 more batch of minis painted before the new year. Next year will have a plan for what to hobby. Should have a plan. Might have?

Permalink gaming miniatures hobbies walking dead


Web Exclusives
11.03.2019
I didn't mean to paint anything. Not really. I wasn't planning on priming a batch and then spending the week working through them all and trying to get them done. And I didn't do that. I primed some stuff I thought would be interesting to paint, and then I painted a little here and there when I thought about it. I didn't worry about "I have yellow on the brush, what all needs to be yellow?". I didn't rush through the final color that a mini needed to be called finished. Just some nice, relaxing painting.

I had purchased some "web exclusives" from the Mantic website. I'd shown my batch of points I sent in previously on a post I'm too lazy to link to. A special Abraham and Negan were bought. There was also Rick's Badge to replace the cardboard 1st player token - I play solo, so why do I need a 1st player token? A bag of guns rounded out the web exclusives. Those last 2 just sounded like they would be fun to paint. What else am I going to spend Mantic Points on?

I've been grabbing Zombicide minis for test painting (those details are really too boring to go into). Amidst all that grabbing I came across a couple of clutter minis. Mattresses piled on top of random crap. The cast was good enough to actually tell the distinct parts in the pile. Those could be fun to paint! As such, they made it into the batch to be primed.

Even though it's been rainy and humid, I really wanted to prime everything up to paint. I waited until the rain had quit for a day, but even then you can see that the primer ran and pooled a little. Some day I'll find the right patience to wait until the weather cooperates, or I'll switch to airbrush priming.

Over the course of a week I painted a little here and there. Taking my time, plus my $10 magnifier glasses from Amazon, really makes a difference. The 2 clutter minis were 95% contrast paints. The badge went through a few transitions of Tin and Gold before ending up with whatever it is now. The letters on the badge were fun. The letters are recessed and I just filled them with Nuln Oil and a properly small-tipped brush.

I've got to learn to work better with light colors, especially white. The white I put on for t-shirts is too thick. Thin layers weren't sticking to cover errant color strokes underneath. Thick (enough) layer shows mottled brush strokes. Going over the thick layer with just a wet brush helped, but it's still something I need to work on.

This is my 1st try at a new camera setup. There's likely to be lots of iterations on tweaking before settling on something for a while.
Normally I would mention something about progress here, but to be honest I've done more than what shows up on my little spreadsheet with things that don't count toward the progress I track. The case in point is that I painted parts of almost a dozen Zombicide minis as color tests for Star Trek Adventures. I've got a painting guide, but I don't trust it 100%. I don't even trust it 80%. For my peace of mind, I decided to test (and DOCUMENT!) color options before committing to the Trek figures. This is something that I wanted and needed to do, but I've got nothing shareable to show for it. Eventually there will be some Trek minis to show, but not now.

The 4 Walking Dead minis shown above were added to the Painted total, but they weren't in the To Be Painted total before. I believe that is a net gain of 0.


Permalink gaming miniatures hobbies walking dead zombicide


House Trio Wrap Up
09.24.2019
After mentioning it 2½ months ago I'm finally done with the trio of Woodbury houses that I started. Not finished, but done. This turned into a nice little exercise of (1) finding out what my creative limits that I can actually accomplish are, (2) it's completely possible to bit off more than I can chew, yet still grind away at that gristle to where I can swallow, and (3) admit that I can be tired of looking at a project to the point of saying "ehhh good enough" and store it away to (maybe) finish tweaking some other time.

I may repeat myself from an earlier post, but most of a calendar season has passed.

Once I started working on 3 of the 4 Woodbury houses that I had picked up during a good sale, I decided the basic kits were too plain. I went my tried route of using paint sample cards from Home Depot to use as glorified wallpaper and thus not worry about actually painting the silly things. Except I still end up painting the outside of the houses. I tested out some new things on the first house: 1mm felt (from Hobby Lobby) actually works as carpet! The clearance on the doors has to be tweaked a little, but it works. I made ample use of the printer and Home Depot, adding shutters, blinds, air vents, light switches, and electrical outlets.

By that point, I was tired of looking at the house. That was only 1 house. There were 2 more houses left.

In addition, I didn't like the cardboard roofs that came with 2 of the houses. The roofs reminded me of fast food/convenience stores. I'll try my hand at making roofs! A combo of foam core for support and cardstock for the actual roof. I was going with cardstock instead of all-foamcore because the MDF top of the buildings had a small lip everything had to fit withing, and I don't trust the exactness of my cutting skills. This turned into an omen, as everything fit. Fit, but only by the barest of definitions.
In the end, I've got 3 more houses done enough to fit into the modern/zombie apocalypse landscape. Like the Tobacconists shop I'll probably come back later, when I'm not sick of looking at these houses, and add some features and quirks. It's easy to tell I just gave up on the other 2 houses and was ready to be done with it all. Next I'm going to do something not building-related. Some figures, that's it! I have to see how much mini-painting I've forgotten.

Permalink gaming miniatures hobbies walking dead


3 Houses May Be Too Much At Once
07.07.2019
Today is a little bit works in progress, a little bit random/behind the scenes. This is what happens when projects get a little carried away and look to take longer than intended.

The hobby project that's turning into a big hobby project has been a trio of MDF houses. There's a 4-house set for Walking Dead of which I picked up 3 during a sale at some point or another. As my theater project got delayed (more on that some other time) I thought I'd just whip out these 3 houses. My method of whipping takes a while.
I've long been hesitant to paint MDF as stories of it drinking up paint are legendary. I've not really experienced it myself, but I've really been limited what I paint. The kits as they come are fairly plain. I went my favored route for home and instead of trying to paint interior walls, I went by Home Depot and picked up paint sample cards for Behr paint. These specific cards are really good for what I need. They're sized to cover most walls. There's a variety of colors. Nobody in Home Depot seems to notice or mind when I grab 4 samples of 10 colors and merrily walk out without buying anything.

I've learned the method that works best for me is to glue the card to the wall and then cut and trim the excess. Before this, I dry-fit everything together (this will come in important on that theater project story for some other time) to make sure I get rooms with the same color. Once the glue dries, excess is trimmed so the walls will fit flush, or as flush as I can make them, with each other and the floor. I tend to get a little overboard with the color choices. My house has tan (Gourmet Mushroom) walls throughout, but here I pick a different color for every room. It's colorful, if nothing else.
Interior window openings have been tricky in the past, with lots of mistakes learned. Just a square opening, thank you square hole punch, doesn't look right. Windows have trim. I tried a couple of craft-stick, fine - square toothpick - frames with 45 ° corners, but my Chopper wasn't making consistent, flush cuts. Being lazy, I opted for and old fashioned square frame with longer top and bottom, and the sides are trimmed to fit between. With transparency film cut to fit the window and glued in before the paint card, it all makes for a decent window.

With the walls dry-fit into the base, I went ahead and glued all the walls together with some wood glue and let it all set for a day. Now it's ready for the next step. Ah, the next step. What is the next step? Notice the lack of doors? Part of not gluing walls to the base is so the doors can still be added - and this time I took extra care to make sure the holes for the door hing/axis are on the correct sides. I learn from my mistakes! Sometimes. The outer doors have openings for windows, so I'll likely go the transparency film + toothpick frame route for those. The interior doors are very plain. I'm currently planning on printing out some door textures and gluing them on. Door textures may not be the proper term. There's some nice pics of interior doors on the Home Depot website that I'll likely be cropping and printing. I use Home Depot a lot for this stuff. Maybe I can get a sponsorship?
There's some other little details I'm going to print out and see how they look, but I'll save further explanation until we see if it's worth it. The one part I will mention is how the floors of these 3 houses work horribly for house floors. While I'm tempted to just print out floors, which is Plan B, I'm going to see how 1mm felt works as a carpet replacement. That's crazy, you say. Home Depot doesn't have 1mm felt! That's true. Hobby Lobby has felt!

Seeing as it took the better part of 2 weeks to get walls covered in color and glued, I'm not really sure how long to expect this next phase to take.

Segueing from Home Depot, it's clearance time of year. While I always drop in for coupon usage on Tamiya Primer I'll also wander the aisles looking for anything with a red sticker that I might one day use. This year that included some Brier Patch flock and a couple of water effects. I've yet to do much with water effects but if I keep watching Luke Towan I'm going to try something or other before long. I picked up some random odds and ends while roaming the aisles, too. I was starting to run out of the Sand & Mud pigment that I use, so instead of using my coupon on primer I picked up pigment. I also picked up a couple of random packs of wood pieces, because sometimes I just need random wood pieces.
After watching way too many videos on the pros and cons of contrast paints I decided to pick some up. Most people talk about how these paints work well for painting lots of minis quickly, although the colors tend to come out flat and in pastels. The thing I noticed is that these paints seem to work well with skin tones and fabric. I paint a lot of skin tones and fabric! Contrast paints are described as a thick wash. I like to paint with a wash!

I made a list of the colors I would be most likely to use and headed out to The Deep to get what I could. They had 7 colors in stock. 5 of them were colors I wanted, so I picked them up. From there I went to the Warhammer Store, and discovered they were closed on Tuesdays. Luckily, Adam at work mentioned a Warhammer sale of some type at JCs House of Cards. I thought they were mainly a Magic The Gathering & card games of that ilk shop. Facebook listed Warhammer in their stock, so I took advantage of social media and asked if they carried/had in stock any contrast paint. They replied "yes, we have them all". That afternoon, I saw they did indeed have them all. And then I may have left with too many. But they had them all!
I'm going to practice with these on some Zombicide minis that will never see the light of day, just to get a feel for how they work.

With all the Walking Dead minis I've gotten over the past couple of years, I've been racking up Mantic Points/Proof of Purchase. The Mantic web store had some more things in stock, so I finally got my points together and placed an order. I needed 40 pts, which I managed to get together - I had to raid a couple of not-yet-opened boosters. I'm not sure I've ever mailed anything to England, but I visited my local USPS to ensure I had everything packed, addressed, and properly paid. Sometime in the next 3 weeks they should receive my points. Hopefully in the ensuing 3 weeks I'll get my point paid booty.