Nothing New To See Here
11.21.2021
The only true, new addition(s) to the 4Ground mall is an elevator (or lift, as they say on the product page), stairs, and support/pillars to help hold up the 2nd floor walkway & bridge. The real reason all of this came together was to check if there was anything I needed while 4Ground is having a "25% off for November" sale. It turns out I need more bridges. Honestly I thought I initially bought more than 1, which is just what I do.

While everything (that's not in progress) was setup, why not take some pics and make a filler blog post?
And yes, those are meddling kids loitering (from Foundry) in the mall.

Permalink 4ground 4ground-mall Foundry


Last of the Foundry Minis / Monkey Time Zoom
04.15.2020
That last of the batch of 10 Foundry Hitmen (and either Professionals or Detectives) primed in December now have a coat of paint. I've complained before about the quality of these sculpts. They're most likely not as bad as I make them out to be, they just don't jibe well with my level of painting skill. My new technique (for me) to try out this time was to finally switch brushes while painting a color/area based on need. Using a detail brush to swath the back of a coat wasn't doing the detail brush any favors toward longevity. I also tried to remember to work from the inside of the mini and out, instead of hitting everywhere the color on the brush was needed. This gave some better lines between skin tones and whatever they abutted to. For once, I did the heads last - and I'm not sure if it made a difference.
It's been long enough since the painting spreadsheet was updated it's hard to tell what's changed. Foundry, Buildings, and 6" tiles have all had progress marked since the last shown update of the spreadsheet.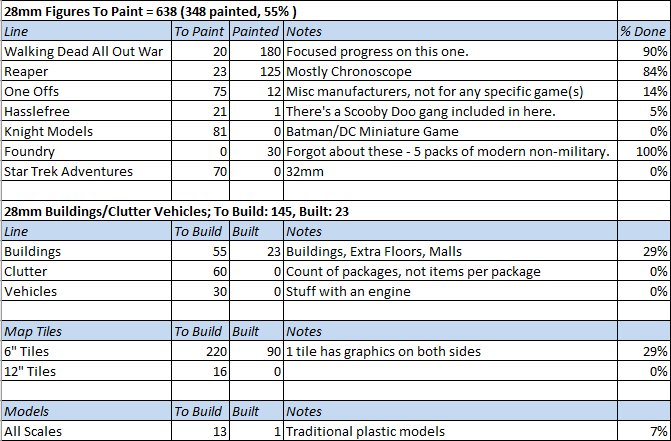 Next up on the hobby table: I don't know. Mall stores need furniture. I liked having primed minis to paint for when the painting mood hit, so I may go ahead and prime another batch. There's some 3D-printing associated things I need to do (mostly mall related).

Tangentially, in today's pandemic world, I've been working from home and staying sequestered like everyone else, or at least everyone else has been encouraged. As homelife is just me, my social interactions have been a Friday trip to the chiropractor (he's not just my chiropractor, he's my buddy!), avoiding people when I go to Publix, and a couple of Zoom meetings for work. Repeat this weekly for a month. I'm ok with the day-to-day living (or maybe isolation?) as I've geared myself to live mostly this way over the past couple of years. Within that, Jer pointed out that once our pandemic is less pandemicy, I need to make sure I force myself to get out and socialize.

This made me think of when he, I, and Keith worked together at whichever job it was at the time (I alternate riding their coat tails, so it's hard for me to keep up with when things happen). We developed a tradition of taking a break at 3:00 to grab a Coke. Thanks to Google, 3:00 is also The Hour of the Monkey, even though it's 2 hours long. 3:00 became Monkey Time not long after, and calls for Monkey Time would have us grab change and head to the vending machine. Keith also referred to this as Jingle Time, as a past job had a coworker who would walk by and jingle the change in his pocket as the sign for taking a break and grabbing a beverage.

Last week, thanks to Zoom, the 3 of us had a virtual Monkey/Jingle time.
That's now a recurring meeting on our calendars. Even if you're stuck at home, take some time to virtually socialize with your friends.