Breaking Ground on the Mall
03.04.2020
This year I've had so little going on I've barely posted once a month. Now I'm at my third post in as many days. A productive spurt!

I FINALLY got around to starting on the mall from 4Ground. I picked a generic store and followed the directions, without taking shortcuts or things I thought would be easier for my fat fingers at an earlier time than suggested. Overall, it worked well. There's an alignment problem on the front wall, but that came from not knowing how everything was supposed to fit together and should (hopefully) not happen again.

Disregard the order of the pictures, but after finishing the first store faster than I expected (less than a day), I opened up the "starter" bundle. 6 ground floor stores with 2 entrances. There were 29 pages of instructions. That was needlessly daunting, as only the first 8 pages are instructions for the stores, entrances, and roof. The rest is graphics for stores (signs, products for sale) and instructions on how to put it all together (lots and lots of shelves and counters). The way the bundle was cut/burned lends itself to an assembly line style. Instead of 6 ground floor store kits, like the first one I made, the set is optimized so 1 sheet has all 6 front entrance walls, another sheet has all the back walls, etc. Having just made a store, I think the assembly line method will work for me. I just have to remember not to get in a hurry.
Using the 123-blocks with the clamps helped keep my walls/floors at right angles. That's what those blocks are supposed to do! I also used some canopy glue for the plastic windows. I've had problems with the plastic fogging or showing some glue-induced fingerprints in the past so I thought I would try something new since the bottle jumped out at me at Hobby Lobby. It's a very thin glue, which may be all it really is, but I didn't notice any glue splotches on the windows in the store. I'll keep using it going forward.

Now to see how far I get through building the basic bundle before, honestly, I get bored.

Permalink 4ground 4ground-mall scenery


2020 Hobby Prep
01.10.2020
2020, the start of a new year, the chance to get shit done anew, and the chance to dwell on what I didn't get done last year. Well, not dwell too much. My joy of hobby organization and progress is the spreadsheet I've been maintaining for the past couple of years. My pseudo bane is how the details of what I've been tracking kept popping up as incorrect every couple of months. I halfway joke that I've got so much to paint and build I'm not going to get it all done before I die. The truth is I've accumulated more stuff over the years that I'm not interested in doing anything with, and don't really want to do anything with it in the foreseeable future. With that, the 2020 Hobby Project list has gotten pared down to what I want to work on, conceivably, over the next year or two. Maybe three or four.

I spent a weekend and looked at what I've been working on, what I think I will continue to work on, and the things I'd like to work on. From there I tweaked a copy of my hobby spreadsheet to include only those things, and then I double checked the count (my bane) on those things. Now, I've got a list I can trust!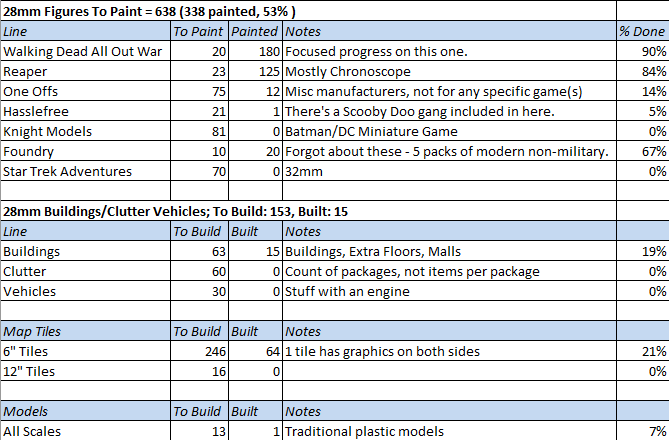 The new 2020 tracking list! Walking Dead, Knight Models, and Star Trek are still on the list. Most other things have gotten combined. The Reaper count is now Chronoscope + the other lines I get random assortments of. One Offs is for the brands that may not go with a game, or I get 2 minis from some company.

This is to be my year to focus more on buildings and scenery. Normally I've been tracking this stuff half-assed by manufacturer, as I was doing minis. Once again, I decided to combine into meaningful categories. Buildings, Vehicles, and Clutter. While Clutter can be almost anything, I've bought some packs of clutter over the years and found out I'd forgotten I even had about half of them. A lot of the clutter goes along with buildings - there's a pack of bank accessories for the TT Combat library that I was planning on turning into a bank.

The last 2 things listed are mainly so I don't forget that they're there. My project in converting my 7½" map tiles to 6" map tiles keeps stalling out - because I forget to do it. The same goes with plastic models. I've been picking up models I think would be fun to make over the past couple of years. I've made 1 - a tank - shortly after I got my airbrush last year. I used to crank out a model in a couple of hours when I was 10. While I don't have to speed build, don't leave stuff in a closet in the shrink wrap for years at a time!

For fun, here's how some of the worksheets are laid out.


Subset of the building list: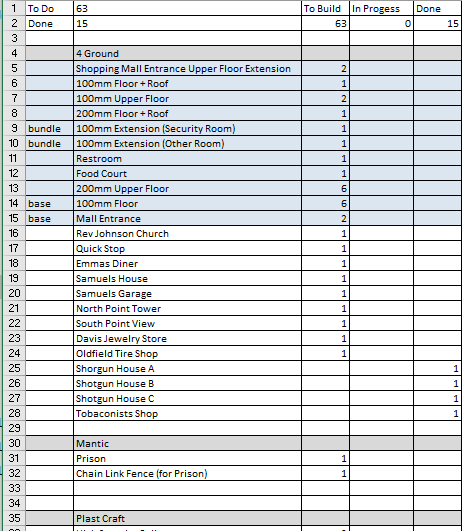 Foundry minis, mainly showing because the last batch to complete these is primed:


Plastic models: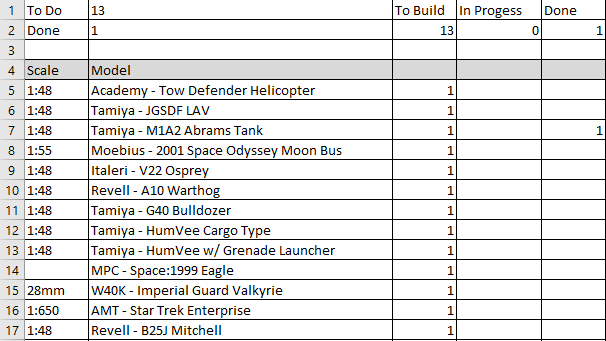 Subset (I think) of the One Offs, formerly a bunch of worksheets with a few entries on each: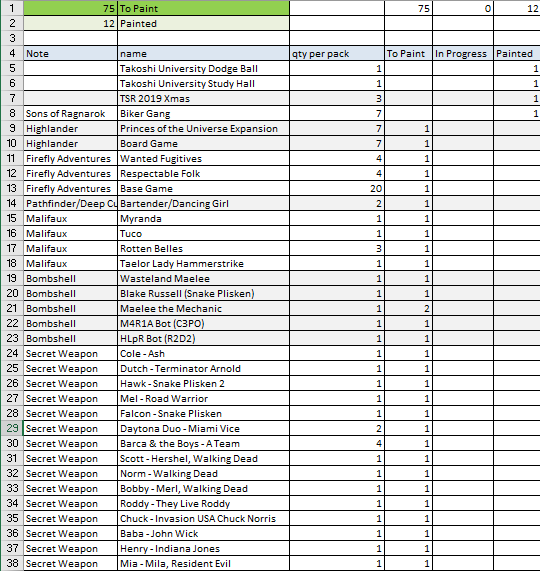 Most of what's left on the various Reaper lines. There's a couple minis that are pretty well dedicated to being technique/color tests that will never get finished: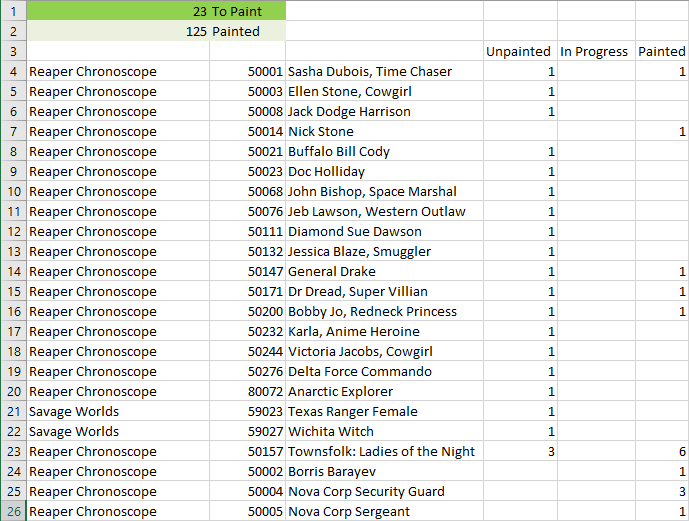 Vehicles:

Remainder of Walking Dead boosters:

My big project for the year is the 4Ground Mall. Between 2 sales I acquired enough mall-stuff to build a 2 foot long mall with 2 stories. The bundle 4Ground sells for the mall creates a 1 foot, single story mall. I'm ambitious, it appears. More than half the fun is going to be branding the stores. Instead of printing out and gluing in the graphics that 4Ground provides, I'll scour the internet looking for a Chess King sign to replicate.
Since this, all of this, is for fun and not supposed to be a chore, I whipped up a fun little blueprint for the mall as an alternate way to track what I build along the way. Additionally, I had to go over measurements for what the 2nd floor needed as support just to make sure I'd gotten the right kits to make.
There's other things on my "fun in free time" list. Jerry and I are using Gaslands Refueled as an excuse to play & pimp Hot Wheels cars. I finally played a video game besides GTA and enjoyed it. I have plenty of video games through Steam I've never played, many of which I attribute to a steep learning curve. I've invested enough in base game + dlc that it's time I finally commit to conquering that curve on Arma 3 and Cities: Skylines. A good FPS and another Sim City replacement.

There's other things on my plate for fun, but those are the biggies I've mapped out for the year. Or four.

Permalink 4ground 4ground-mall gaming miniatures gaslands hobbies reaper chronoscape


The Mall & Black Friday
12.17.2019
It's been quite a few years since I switched from playing games

Wait, wait, wait. A little honesty here.

It's been quite a few years since I switched from collecting new games and leaving them in their shrinkwrap on a shelf TO painting minis and making scenery.... for games sitting on a shelf in their original shrinkwrap.

I've oft remarked about my boardgame hoarder tendencies (got to get it before it goes out of print... and all the expansions... I might want to play it one day!) and although I've drastically cut back on buying games I still buy more minis than I can probably finish painting before I croak. That being the case, I've done the sane thing and stopped buying new stuff to paint and/or construct.

Oh hell no.

Turning 50 this year gave me a few bucket list items.
Pay off the house as scheduled. Done
Get as big a tv that will fit in a remodeled living room. Done

And then there was the purchase I was waiting for a Black Friday sale to cooperate on. A car? A super computer? A developer license for the GTA game engine?

Nope. the 4Ground 28mm Shopping Mall. I didn't win the contest in the linked video, but ever since seeing the mall I've wanted it. Just the primal, want of it. On Black Friday, thanks to notice via Facebook, 4Ground had the 25% off sale I was waiting on - which was the sale they had last Black Friday.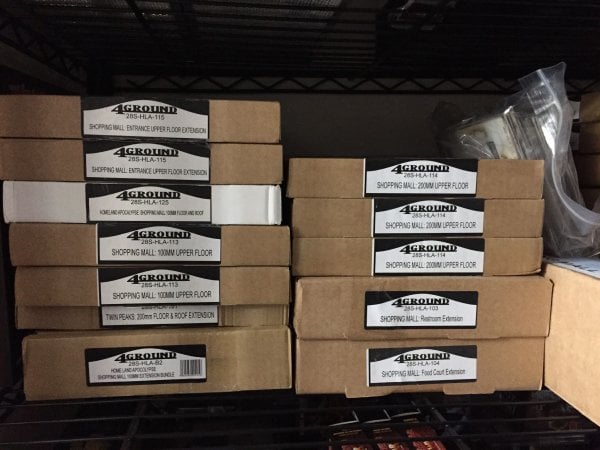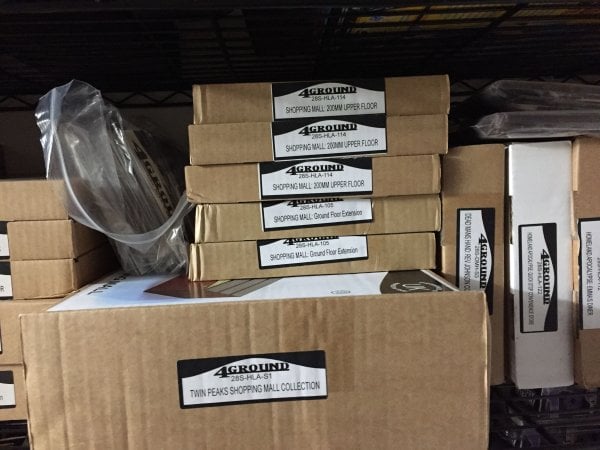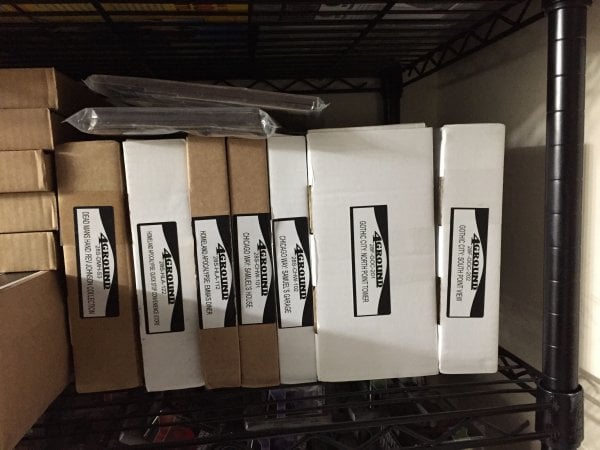 And that is my 4Ground Shelf. Some of those boxes are from the last 2 Black Fridays and not mall associated. In the end, I've got enough for a 2 story 600mm deep mall. Rounding up, that's 2 feet.

I don't know how long it's going to take to put it together - I'm not in a hurry. I don't know where I'm going to store it afterward.

My want is now satiated. Now on to putting the @#%$ thing together!
Made To Suffer - Expansion Name or My Painting Technique?
05.27.2019
Since the last batch of Walking Dead turned out pretty well, I decided to try the same route on another batch. 9 more primed, mainly 5 from the Made To Suffer expansion which WAS NOT ON MY PROGRESS SPREADSHEET. For someone who prides himself on organizational skills, that spreadsheet has been my bane.

I strayed from keeping to reference pics this time. This is obvious when looking at Bruce, who I neglected to make black. Besides not noticing, I still have a problem with those brown skin tones so I don't feel too guilty. In trying to up my painting game after becoming a little more confident with my "eyes looking close to the same direction" technique, I tried to give everyone eyebrows. Face detail, that's what I'm working on. Mixed results on that front.

Martinez, with the headband, was my hero to focus on this time and he turned out well. There was an errant dab of paint on his elbow when I was touching up something - I have no idea what. Instead of trying to get the skin tone to match back up, that dab turned into a recent wound with some extra blood laced scratches around it. I'm all about covering up mistakes with grime and gore, after all.

Dr Stevens was the one that turned out better than I expected. I tried to keep his coat Primer White, and mostly did, although one of the final steps on him was to apply an off-white drycoat to cover up some bleeding from other colors. Plus, the stark whiteness of the primer was a little too much.
It's never until I take pictures and look at the details that I see just how much better most people's painted minis look. If nothing else it shows that I'm looking at the right people to learn from.

A while back I posted a few pics of the 4Ground Tobacconists Shop that I wasn't very happy with. Nothing wrong with the kit, I just did a horrible job on it. This bothered my subconscious enough to ponder what to do, and after nigh on 2 months I have an improvement I'm not as disappointed in. The shop is now a semi-derelict building for lease. It even has graffiti (applied via clear mailing stickers). It's still not something I'm proud of, but now I'm not ashamed of it.
Over on the progress spreadsheet, taking into account that 5 of the minis from the expansion weren't present previously, there was another gain of 1% on the Realistic list. 251 painted minis, and 345 total. Mostly for the fun of painting. Why let games get in the way?
Next up - continuing progress on the Walking Dead minis, the Fear The Hunters expansion is up for priming. There's 5 minis in the expansion, so that leaves some room to see what else catches my eye to reach the target of 9 things to prime.

Permalink 4ground gaming miniatures hobbies walking dead


Cowboys & a crappy shop
03.25.2019
The last time I showed any minis I'd painted was Dec 30th. Close to 3 months and nothing noteworthy to show on the hobby front. Sure, I've spent most of the last 3 weeks sick. But what kind of excuse is that?

Pitifully, it's a good enough excuse for me.

To quell this pitiful trend, a batch of Reaper cowboys were primed. Why cowboys? No real reason, other than I picked up a batch of cowboys however many years ago. Maybe my zombie apocalypse will have a time travel scenario? Maybe I'll turn the whole thing into a Westworld game? Most likely, I was just tired of flipping past them in the box of Reaper minis and thought it would be a good chance to lessen some of those I flip through later.
Overall all this batch came out about average. I could have done better. I could have done worse. Painting faces under cowboy hats is hard. The details on the minis didn't really pop for me - after the fact I feel that I should have gone back and touched up little details here and there, but honestly I'm not sure what they are.
On the overall painting progress chart I'm once again farther behind than when I started this batch. Thanks to a Miniature Market birthday coupon I caught up on the Walking Dead expansions I'd been missing/putting off. For the 5 I add to the Painted list above, there's 21 Unpainted Walking Dead minis added to the list.
In addition to these minis, 4Ground Tobacconists store came together. I had some issues getting this one together. One of the door pegs broke off as I was squeezing it into place. The windows and their cardboard frames fought me. I also wasn't paying attention in the beginning and glued one of the windows in backwards to where the text is facing inside the store. The door that fought me skidded around when I wasn't paying attention, and I ended up mounting the front door in the back. There's a good chance there might be a little fire/riot damage to this building before it gets any play use.
Another random 5 minis are sitting ready to be primed now - no cowboys this time.