This counts as the August update
09.07.2020
The past month has not seen me be productive from a hobby standpoint. If I tried to pick a reason for the lack of anything content-worthy over the past month, it would be "lack of artistic gumption". There were some things I started, but decided not to continue/finish. Things I worked on took way too long for the end result. But hobbies are for fun, so I shouldn't be worried that I don't have much to show for August.

I thought I would make a good, old fashioned model - an A-10 Warthog that I picked up no telling how long ago at Hobby Lobby. The last model I made was a tank last year. For the A-10 I started with paint details in the cockpit, and then started to put the body of the plane together. At that point I both wasn't sure what to do next (prime what I had, add more parts, what about painting more details?) AND I just kind of lost interest. I don't remember getting to the point of a hobby project and just saying "eh, I don't really want to do any more." Again, since hobbies are supposed to be for fun, I didn't force it and just decided to put aside what I'd done.

From there I went to the old stand-by of I Can Paint Some Minis. As the Reaper Chronoscope batch was getting ever smaller, I pulled out a couple of blisters to prime. Of the 6 ladies I saw I was going to paint, I'd painted 4 of them before.
Townsfolk: Ladies of the Night - third set of this trio of ladyfolk one might find along a darkened street corner. Evidently I think my miniscape has certain needs.
The painting was uneventful beyond trying out some new skin tones. I faltered when it came to working on the bases - this is when the lack of inspiration really hit me. Usually I enjoy bases the most, but at this point I was just ready to be done with it all. I tried giving one of the bases a rain/wet/puddle look, but I don't think it works unless you know what it's supposed to be.
6 more minis down on the Completed column. On the Chronoscope side, I think the ones I have left to paint are all duplicates.

On the "what next" front... I don't know. Over the next 6 weeks I'm taking a bootcamp course for Salesforce Developer certification which should eat up a lot of free time. This is one of those things I've been putting off since April so I really need to bare down and study. There's plenty of hobby stuff for me to do, but for the next few weeks I need to find things I can spin up and then put away (when needed) quickly. With that in mind, there's a couple of computer/graphic centered things I can put on the list, but I don't know how well my hobby mood will align with sitting in front of the computer.

I've also been enjoying GTA with Jer. We play a couple of times per week. Sometimes we grind away at missions, other times we do goofy stuff. It's been a good way to get my mind off, well, everything.

Permalink gaming miniatures hobbies models reaper chronoscape


Last of the Cowfolk
07.15.2020
Here are the last remnants of cowfolk, which is really just 1 since not everyone that wears a hat is from the Ancient West.

First up is Jack Harrison, Adventuring Hero. I didn't realize this was Indiana Jones. Even when the assortment of left arms included a whip. Jack here was my first foray into using Citadel's Liquid Green Stuff. I should have watched the linked video first, because my green stuff wasn't liquidy. For whatever reason, it was half-solidified. I did my best to fill in the gaps when attaching the arms, but it didn't work out too well. In the end, I tried to compensate by painting toward a "ripped sleeves" look. I'm not sure how well that works without me pointing it out, but I've always got to try something new to cover up mistakes. There was a gaping hole in the back of his right armpit, which was begging to become a wound.

I also went with a more dirty, grungy, mayhap "trudging through the wild" look. I went back and forth trying to give the sword/machete/big knife a rusted look. In the end I just quit going back and forth and left it in whichever state it was in.

Number 2 was the true last of the western minis, Texas Ranger Female. Experimentation here was to play around with mixing my own colors, and using a Glaze Medium instead of Thinner. From what I've read, this is basically what Citadel's contrast paints are, and I like those contrast paints. Overall, this one turned out pretty good.




Painting progress chart gets to slide 2 to the Painted column of Reaper minis. And, I didn't get anything new to add to the list so overall progress accomplished! Sure, it's only been a week since the last update, but not accruing more stuff to paint in any time frame can be looked at as a fiscal win.




Another 6 Chronoscope minis have already been primed for when the painting mood strikes. These are all duplicates of previously painted minis. Not sure if I'll have the confidence to compare these against my original paintings to see which direction my skills have gone.

The 3D printer has been running the past few days making improved store front signs for the 4Ground mall. I've gotten the sweet spot on the print bed dialed in - how a glass bed bows up ever so slightly I'm afraid to know. Temperature and humidity are mostly cooperating, although 90° and 85% humidity is cutting it close. I went through the boxes of mall stores that I acquired from last years Oct and Black Friday sales - 25 stores in need of signage. I never go overboard, right?

The end of this week will see an announcement from Mantic Games regarding their next Terrain Crate. Preview pics show hospital furniture, store furniture, and some camping stuff. I'm going to look into the store furniture options. Did I mention 25 mall stores?

Permalink 3D Printer reaper chronoscape zombie mall


Cowfolk of the Ancient West
07.03.2020
After more than a month of on again-(mostly) off again painting, there's a batch of western themed minis that are wrapped up. There's actually 2 more that didn't make the cut. On 1, I forgot to paint the base, and the other hasn't made any progress beyond getting primed. I'm not in a hurry, and I wasn't feeling a good paint scheme for this one.

Reaper Chronoscope has been my favored mini line for a long while. Quality for the price of their metal minis has been hard to beat, and I would just pick up whatever I could find along the way. Western figures? Sure, I have no idea what game they might fit in but they'll be fun to paint one day. Turns out I was right - although I took my own sweet time, they were fun to paint.

I did a little more prep work this time and scraped mold lines. I got a carried away on "Ellen Stone, Cowgirl", as what I thought was a chunk of errant metal was the stock of a shotgun that had gotten twisted up pretty bad. In the end, I tried painting the whittled stock as a strap to... something. It works if you stand far enough away. Far, far away.

My playing around for this batch was to weather dusters. Part paint, part weathering pigment. Down where the coats would drag and gather up grime I grimed it up. Luckily there were ample web pics of these minis for inspiration. The other play-around was Doc Holliday's stripes on his vest. I'm becoming a fan of brush tip pens for this sort of detail. The details stick as long as the final spray of sealant isn't too close (tends to water down the ink and make it run/disappear).

The painting progress chart shows, well, if you can track down the last time it was updated in April you would see no change overall, as some new releases for the Walking Dead game made it into the backlog to replace these cowfolk that qualify as Done.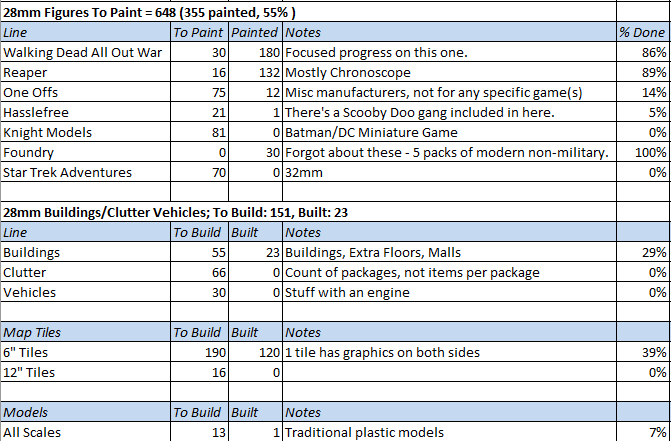 I have on my To Do list to wrap up 1 mall store with furniture. I'll see if that's what gets updated here next.

Permalink gaming miniatures reaper chronoscape


2020 Hobby Prep
01.10.2020
2020, the start of a new year, the chance to get shit done anew, and the chance to dwell on what I didn't get done last year. Well, not dwell too much. My joy of hobby organization and progress is the spreadsheet I've been maintaining for the past couple of years. My pseudo bane is how the details of what I've been tracking kept popping up as incorrect every couple of months. I halfway joke that I've got so much to paint and build I'm not going to get it all done before I die. The truth is I've accumulated more stuff over the years that I'm not interested in doing anything with, and don't really want to do anything with it in the foreseeable future. With that, the 2020 Hobby Project list has gotten pared down to what I want to work on, conceivably, over the next year or two. Maybe three or four.

I spent a weekend and looked at what I've been working on, what I think I will continue to work on, and the things I'd like to work on. From there I tweaked a copy of my hobby spreadsheet to include only those things, and then I double checked the count (my bane) on those things. Now, I've got a list I can trust!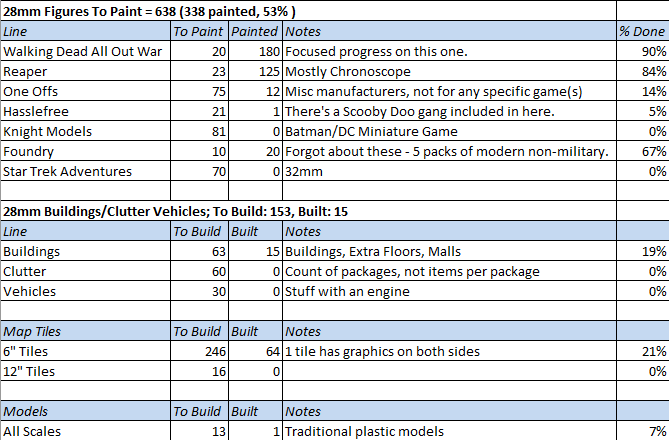 The new 2020 tracking list! Walking Dead, Knight Models, and Star Trek are still on the list. Most other things have gotten combined. The Reaper count is now Chronoscope + the other lines I get random assortments of. One Offs is for the brands that may not go with a game, or I get 2 minis from some company.

This is to be my year to focus more on buildings and scenery. Normally I've been tracking this stuff half-assed by manufacturer, as I was doing minis. Once again, I decided to combine into meaningful categories. Buildings, Vehicles, and Clutter. While Clutter can be almost anything, I've bought some packs of clutter over the years and found out I'd forgotten I even had about half of them. A lot of the clutter goes along with buildings - there's a pack of bank accessories for the TT Combat library that I was planning on turning into a bank.

The last 2 things listed are mainly so I don't forget that they're there. My project in converting my 7½" map tiles to 6" map tiles keeps stalling out - because I forget to do it. The same goes with plastic models. I've been picking up models I think would be fun to make over the past couple of years. I've made 1 - a tank - shortly after I got my airbrush last year. I used to crank out a model in a couple of hours when I was 10. While I don't have to speed build, don't leave stuff in a closet in the shrink wrap for years at a time!

For fun, here's how some of the worksheets are laid out.


Subset of the building list: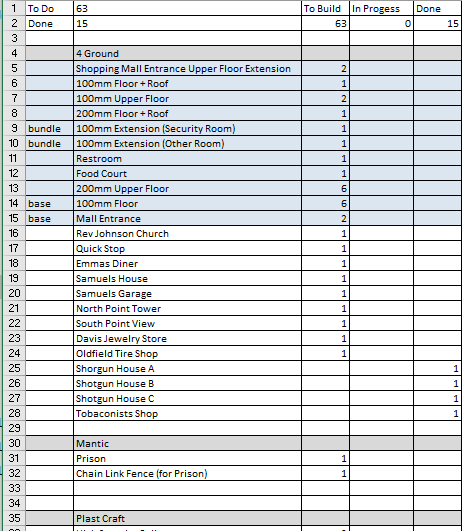 Foundry minis, mainly showing because the last batch to complete these is primed:


Plastic models: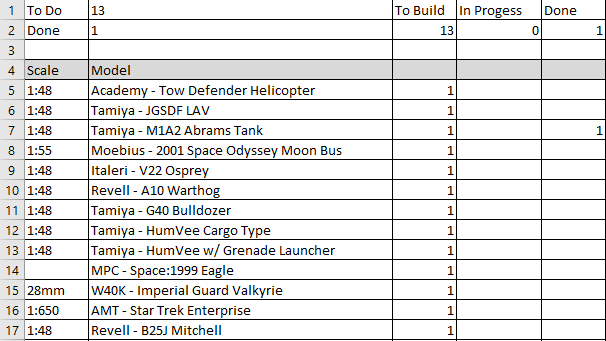 Subset (I think) of the One Offs, formerly a bunch of worksheets with a few entries on each: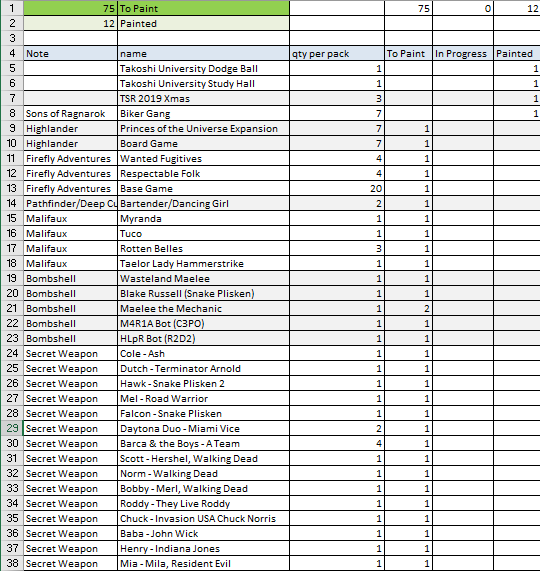 Most of what's left on the various Reaper lines. There's a couple minis that are pretty well dedicated to being technique/color tests that will never get finished: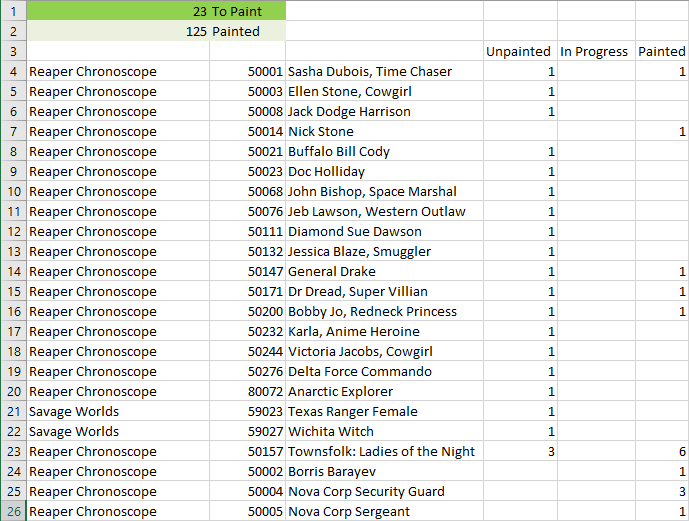 Vehicles:

Remainder of Walking Dead boosters:

My big project for the year is the 4Ground Mall. Between 2 sales I acquired enough mall-stuff to build a 2 foot long mall with 2 stories. The bundle 4Ground sells for the mall creates a 1 foot, single story mall. I'm ambitious, it appears. More than half the fun is going to be branding the stores. Instead of printing out and gluing in the graphics that 4Ground provides, I'll scour the internet looking for a Chess King sign to replicate.
Since this, all of this, is for fun and not supposed to be a chore, I whipped up a fun little blueprint for the mall as an alternate way to track what I build along the way. Additionally, I had to go over measurements for what the 2nd floor needed as support just to make sure I'd gotten the right kits to make.
There's other things on my "fun in free time" list. Jerry and I are using Gaslands Refueled as an excuse to play & pimp Hot Wheels cars. I finally played a video game besides GTA and enjoyed it. I have plenty of video games through Steam I've never played, many of which I attribute to a steep learning curve. I've invested enough in base game + dlc that it's time I finally commit to conquering that curve on Arma 3 and Cities: Skylines. A good FPS and another Sim City replacement.

There's other things on my plate for fun, but those are the biggies I've mapped out for the year. Or four.

Permalink 4ground 4ground-mall gaming miniatures gaslands hobbies reaper chronoscape


Do minis have estrogen?
10.09.2019
This batch is tagged "CleavageFest 2019" since Daniel pointed out "that's a lot of cleavage". 3 of them have no cleavage at all.

Yet again I've managed a "all but 1 from Reaper Chronoscope" batch. This time I was going to focus more on taking care of finer details (ie don't rush through whatever paint color is on the brush) and play around a little with the bases. If ever my theme of "finding minis to paint regardless of ever using them in a game" was present, I'm pretty sure it's here.
Takoashi University Study Hall - The last of the Ninja Division sale. I'm not sure if I missed it in the package or it wasn't included, but this mini is missing half a right arm. I didn't even notice until I was 95% done and started wondering how those books were magically sticking to her front.
Natalia, Female Secret Agent - I like this one so much I purchased 2 of them and didn't know it until I was pulling minis to paint.
Gretha, Female Sniper - the gun's as big as she is, but the sculpt reminds me of a 3D figure I was using for Workshop Games. I have to remember to go through old images and see if I'm making that up.
Bonnie, Futuristic Heroine - I've done one of these before (I think) with more of a Milla vs Zombies feel.
Dee Dee, Astro Girl - instead of going the obvious route of white and/or shiny cloth, I just stuck to my "wash as paint" method.
Farrah, Sci Fi Heroine - I thought I would try my non-white realm of skin tone on a mini named "Farrah",
Rosie Johnson, Chronotech - armed with a wrench.
Veronica Blaze - for some reason I think she's got scavenged Stormtrooper armor.
My focus on this batch was going to be "doing better". I think my skill level is up to mediocre, where on average my minis look fine from about 4 ft away. Now to challenge myself to raise my skill to where they look fine from 3 feet away. The first thing that's going to help with that is Glam Hobby h6902B Head Mount Magnifier with LED Head Light Bracket and Headband, 5 Replaceable and Interchangeable Lenses: 1.0X, 1.5X, 2.0X, 2.5X, 3.5X. That's what's it called - I've just been calling them magnifying glasses. I've tried various magnifying helpers in the past and none have worked for me until this pair (set?). I've stuck in the 3.5x lenses and I can see a lot better when holding things up close to paint. They fit just right for me where I can shift my view above/below the lenses and see that I need to (paint, water to splash the brush in). I'm honestly amazed at all the spots I can see where I've been missing the first coat of paint along with those spots that could really use a 3rd coat of paint. And I can finally see where to put those black dots for eyes!!!! Holding my hand steady enough for that is a whole 'nother story.

Technique-wise, I used mostly Citadel Contrast paints and various washes that I normally stick to. I found, to my chagrin, that I tend to have the best luck using a Citadel brush for detail work - I may end up getting a couple more of various types just to see if I found a magical brush or if their line is just better suited to me. I used some Secret Weapon bases for a few of these minis. "Not on cracked earth" bases are the ones to keep an eye out. For the cracked earth, instead of glopping it on after the mini was painted I opted to try out adding it in before priming. Oh, and water effects. I do so love adding water to stuff, so I tried filling in some gaps on bases with water and I like the way it ended up. There's 1 leaky pipe, with rust.

The true test mini of the batch was the anime-styled Takoashi University Study Hall. This was especially true once I noticed half an arm was missing. Weird, Joker-inspired color scheme on the clothes so I could test out washes + contrast paint overlaying differently. I wondered if I could make "sand" with the base - sand doesn't crack so "kinda" would be the answer there. Still keeping with playing with water, I went for a gentle wave settling on the beach - and got another "kinda". Even though this mini will likely never again see the light of day, I consider it a testing success as I tried some things out and didn't completely hose it over to the point I'm ashamed.

Along with "doing better", looking at endless pictures on gridded cutting mats is boring. As I thoroughly enjoy Christian's pics I thought it about time to change up my background. I've got plenty of stuff to use as background. Enter an Infinity building that I'm pretty sure I purchased on Black Friday 2015, and then managed to paint at some point in the last 2 years.
Continuing on the progress chart:
- Painted 294 to 303 (+2%)
- Reaper Chronoscope Painted 103 to 111
- Ninja Division 100% complete (all 2 of them)!

Next up to be primed is a batch that won't make the above progress chart. Miniature Market had a sale on a biker game expansion from a game I'd never heard of. The minis looked cool so I got them. Now, instead of letting them be forgotten on a shelf for a couple of years, Last In First Out rules come into play. Until next time (maybe a week or so)!