Cowfolk of the Ancient West
07.03.2020
After more than a month of on again-(mostly) off again painting, there's a batch of western themed minis that are wrapped up. There's actually 2 more that didn't make the cut. On 1, I forgot to paint the base, and the other hasn't made any progress beyond getting primed. I'm not in a hurry, and I wasn't feeling a good paint scheme for this one.

Reaper Chronoscope has been my favored mini line for a long while. Quality for the price of their metal minis has been hard to beat, and I would just pick up whatever I could find along the way. Western figures? Sure, I have no idea what game they might fit in but they'll be fun to paint one day. Turns out I was right - although I took my own sweet time, they were fun to paint.

I did a little more prep work this time and scraped mold lines. I got a carried away on "Ellen Stone, Cowgirl", as what I thought was a chunk of errant metal was the stock of a shotgun that had gotten twisted up pretty bad. In the end, I tried painting the whittled stock as a strap to... something. It works if you stand far enough away. Far, far away.

My playing around for this batch was to weather dusters. Part paint, part weathering pigment. Down where the coats would drag and gather up grime I grimed it up. Luckily there were ample web pics of these minis for inspiration. The other play-around was Doc Holliday's stripes on his vest. I'm becoming a fan of brush tip pens for this sort of detail. The details stick as long as the final spray of sealant isn't too close (tends to water down the ink and make it run/disappear).

The painting progress chart shows, well, if you can track down the last time it was updated in April you would see no change overall, as some new releases for the Walking Dead game made it into the backlog to replace these cowfolk that qualify as Done.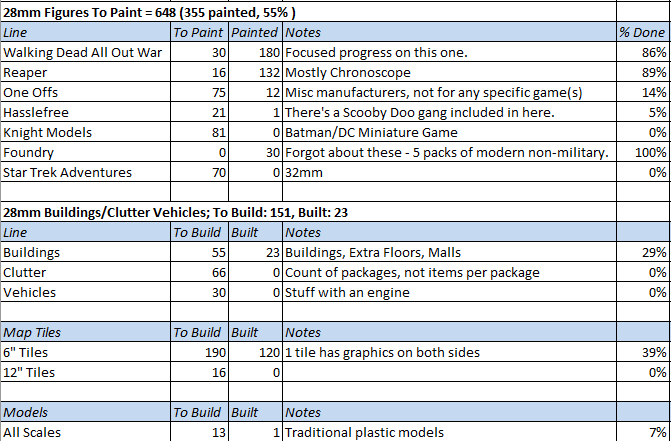 I have on my To Do list to wrap up 1 mall store with furniture. I'll see if that's what gets updated here next.

Permalink gaming miniatures reaper chronoscape


2020 Hobby Prep
01.10.2020
2020, the start of a new year, the chance to get shit done anew, and the chance to dwell on what I didn't get done last year. Well, not dwell too much. My joy of hobby organization and progress is the spreadsheet I've been maintaining for the past couple of years. My pseudo bane is how the details of what I've been tracking kept popping up as incorrect every couple of months. I halfway joke that I've got so much to paint and build I'm not going to get it all done before I die. The truth is I've accumulated more stuff over the years that I'm not interested in doing anything with, and don't really want to do anything with it in the foreseeable future. With that, the 2020 Hobby Project list has gotten pared down to what I want to work on, conceivably, over the next year or two. Maybe three or four.

I spent a weekend and looked at what I've been working on, what I think I will continue to work on, and the things I'd like to work on. From there I tweaked a copy of my hobby spreadsheet to include only those things, and then I double checked the count (my bane) on those things. Now, I've got a list I can trust!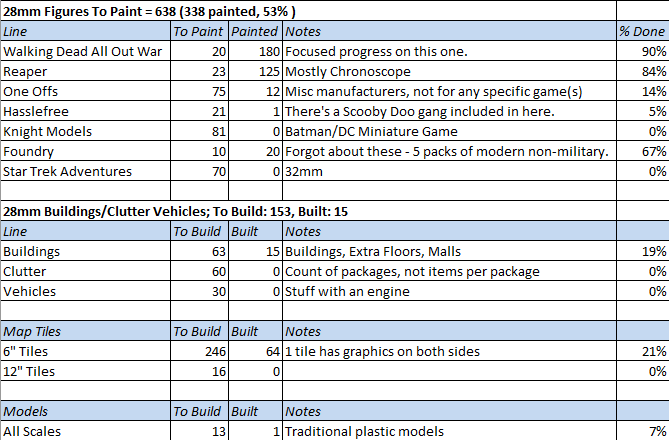 The new 2020 tracking list! Walking Dead, Knight Models, and Star Trek are still on the list. Most other things have gotten combined. The Reaper count is now Chronoscope + the other lines I get random assortments of. One Offs is for the brands that may not go with a game, or I get 2 minis from some company.

This is to be my year to focus more on buildings and scenery. Normally I've been tracking this stuff half-assed by manufacturer, as I was doing minis. Once again, I decided to combine into meaningful categories. Buildings, Vehicles, and Clutter. While Clutter can be almost anything, I've bought some packs of clutter over the years and found out I'd forgotten I even had about half of them. A lot of the clutter goes along with buildings - there's a pack of bank accessories for the TT Combat library that I was planning on turning into a bank.

The last 2 things listed are mainly so I don't forget that they're there. My project in converting my 7½" map tiles to 6" map tiles keeps stalling out - because I forget to do it. The same goes with plastic models. I've been picking up models I think would be fun to make over the past couple of years. I've made 1 - a tank - shortly after I got my airbrush last year. I used to crank out a model in a couple of hours when I was 10. While I don't have to speed build, don't leave stuff in a closet in the shrink wrap for years at a time!

For fun, here's how some of the worksheets are laid out.


Subset of the building list: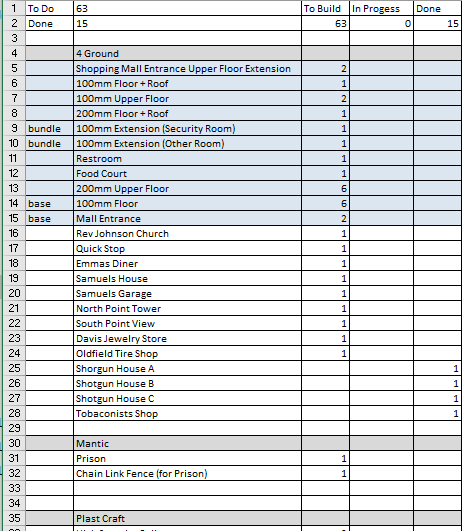 Foundry minis, mainly showing because the last batch to complete these is primed:


Plastic models: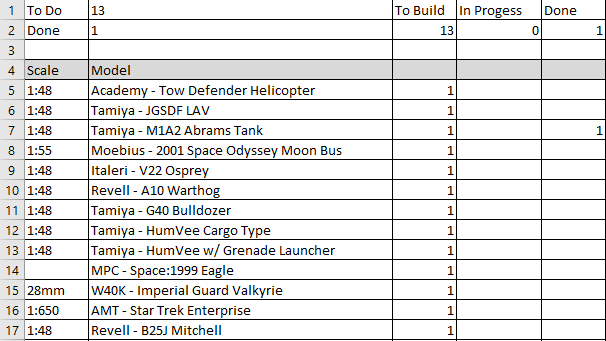 Subset (I think) of the One Offs, formerly a bunch of worksheets with a few entries on each: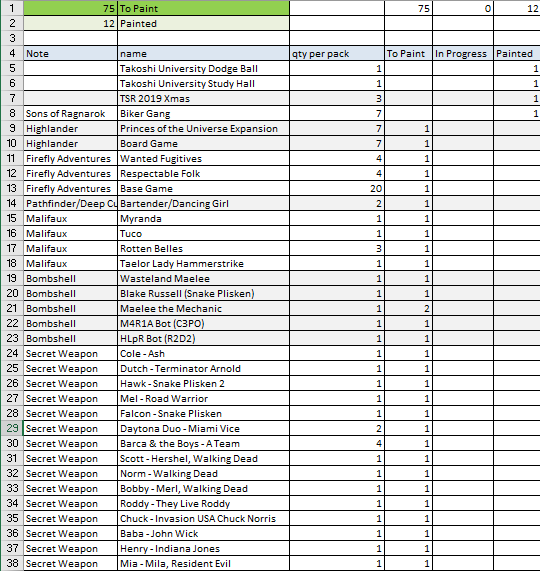 Most of what's left on the various Reaper lines. There's a couple minis that are pretty well dedicated to being technique/color tests that will never get finished: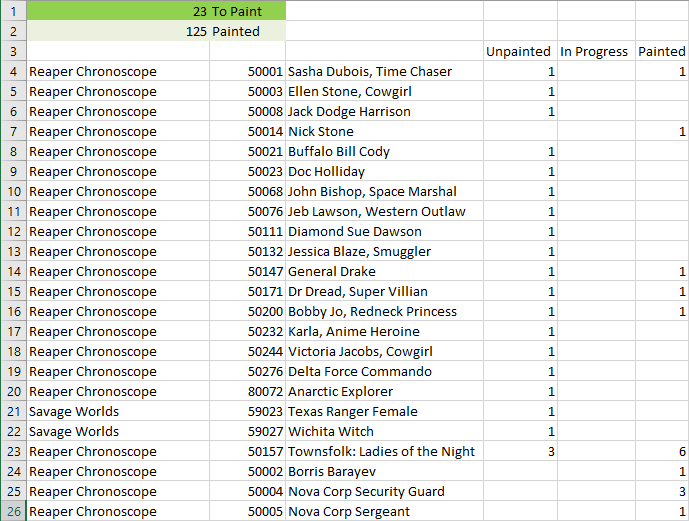 Vehicles:

Remainder of Walking Dead boosters:

My big project for the year is the 4Ground Mall. Between 2 sales I acquired enough mall-stuff to build a 2 foot long mall with 2 stories. The bundle 4Ground sells for the mall creates a 1 foot, single story mall. I'm ambitious, it appears. More than half the fun is going to be branding the stores. Instead of printing out and gluing in the graphics that 4Ground provides, I'll scour the internet looking for a Chess King sign to replicate.
Since this, all of this, is for fun and not supposed to be a chore, I whipped up a fun little blueprint for the mall as an alternate way to track what I build along the way. Additionally, I had to go over measurements for what the 2nd floor needed as support just to make sure I'd gotten the right kits to make.
There's other things on my "fun in free time" list. Jerry and I are using Gaslands Refueled as an excuse to play & pimp Hot Wheels cars. I finally played a video game besides GTA and enjoyed it. I have plenty of video games through Steam I've never played, many of which I attribute to a steep learning curve. I've invested enough in base game + dlc that it's time I finally commit to conquering that curve on Arma 3 and Cities: Skylines. A good FPS and another Sim City replacement.

There's other things on my plate for fun, but those are the biggies I've mapped out for the year. Or four.

Permalink 4ground 4ground-mall gaming miniatures gaslands hobbies reaper chronoscape


Do minis have estrogen?
10.09.2019
This batch is tagged "CleavageFest 2019" since Daniel pointed out "that's a lot of cleavage". 3 of them have no cleavage at all.

Yet again I've managed a "all but 1 from Reaper Chronoscope" batch. This time I was going to focus more on taking care of finer details (ie don't rush through whatever paint color is on the brush) and play around a little with the bases. If ever my theme of "finding minis to paint regardless of ever using them in a game" was present, I'm pretty sure it's here.
Takoashi University Study Hall - The last of the Ninja Division sale. I'm not sure if I missed it in the package or it wasn't included, but this mini is missing half a right arm. I didn't even notice until I was 95% done and started wondering how those books were magically sticking to her front.
My focus on this batch was going to be "doing better". I think my skill level is up to mediocre, where on average my minis look fine from about 4 ft away. Now to challenge myself to raise my skill to where they look fine from 3 feet away. The first thing that's going to help with that is Glam Hobby h6902B Head Mount Magnifier with LED Head Light Bracket and Headband, 5 Replaceable and Interchangeable Lenses: 1.0X, 1.5X, 2.0X, 2.5X, 3.5X. That's what's it called - I've just been calling them magnifying glasses. I've tried various magnifying helpers in the past and none have worked for me until this pair (set?). I've stuck in the 3.5x lenses and I can see a lot better when holding things up close to paint. They fit just right for me where I can shift my view above/below the lenses and see that I need to (paint, water to splash the brush in). I'm honestly amazed at all the spots I can see where I've been missing the first coat of paint along with those spots that could really use a 3rd coat of paint. And I can finally see where to put those black dots for eyes!!!! Holding my hand steady enough for that is a whole 'nother story.

Technique-wise, I used mostly Citadel Contrast paints and various washes that I normally stick to. I found, to my chagrin, that I tend to have the best luck using a Citadel brush for detail work - I may end up getting a couple more of various types just to see if I found a magical brush or if their line is just better suited to me. I used some Secret Weapon bases for a few of these minis. "Not on cracked earth" bases are the ones to keep an eye out. For the cracked earth, instead of glopping it on after the mini was painted I opted to try out adding it in before priming. Oh, and water effects. I do so love adding water to stuff, so I tried filling in some gaps on bases with water and I like the way it ended up. There's 1 leaky pipe, with rust.

The true test mini of the batch was the anime-styled Takoashi University Study Hall. This was especially true once I noticed half an arm was missing. Weird, Joker-inspired color scheme on the clothes so I could test out washes + contrast paint overlaying differently. I wondered if I could make "sand" with the base - sand doesn't crack so "kinda" would be the answer there. Still keeping with playing with water, I went for a gentle wave settling on the beach - and got another "kinda". Even though this mini will likely never again see the light of day, I consider it a testing success as I tried some things out and didn't completely hose it over to the point I'm ashamed.

Along with "doing better", looking at endless pictures on gridded cutting mats is boring. As I thoroughly enjoy Christian's pics I thought it about time to change up my background. I've got plenty of stuff to use as background. Enter an Infinity building that I'm pretty sure I purchased on Black Friday 2015, and then managed to paint at some point in the last 2 years.
Continuing on the progress chart:
- Painted 294 to 303 (+2%)
- Reaper Chronoscope Painted 103 to 111
- Ninja Division 100% complete (all 2 of them)!

Next up to be primed is a batch that won't make the above progress chart. Miniature Market had a sale on a biker game expansion from a game I'd never heard of. The minis looked cool so I got them. Now, instead of letting them be forgotten on a shelf for a couple of years, Last In First Out rules come into play. Until next time (maybe a week or so)!

Permalink gaming miniatures hobbies reaper chronoscape


Hasslefree Tony Represents
09.28.2019
Now for the "after knocking the rust off the paint brush on the previous batch, how'm I doing" batch of minis. Or "I'm enjoying vacation."

After some previously painted duplicates in the last batch, this batch of Reaper Chronoscope (plus a Hasslefree sculpt) minis was still an eclectic assortment that would never make sense in the same game, yet would give me a good mix of easy + test out my skills.
I mentioned last time about Reaper plastic sculpts not only not needing primer, but not working well with most primers. I didn't read that little tidbit of information until after I had already primed this batch. Normally I use white Fine Detail Tamiya primer. On Reaper plastic this primer covers with a gloss, pools into too many details, and the gloss keeps the follow up paint from sticking like I'm used to. In this batch, Agatha Fox was primed white and looks like crap. The Physician was also primed white, but turned out a little better - maybe because I mainly stuck to using Citadel Contrast browns? I went the some route with John Watson, a metal figure, and the results look about the same. Maybe it's got something to do with how small the Agatha Fox mini is? The Innkeeper got grey primer which seemed to work out ok.

The bases on these plastic sculpts is a little annoying. The base is part of the sculpt, and looks like it should be a pile of dirt/rocks/uneven ground. For some extra stability I glue these on cheap, plastic 1" poker chips which also gives me a little more base to work with when it comes time to finish off the mini. I didn't know what to do with the Innkeeper - he's cleaning a glass, so he shouldn't be outside in the grass or standing in mud.

This batch also gave me a chance to play around some. I tried to get something besides "white guy" skin on the sumo. I didn't mean to go to Trump Orange, but I knew from previous experience that once my skin tones skew to oranges it's not going to get any better. I tried a little more Not White Guy on the Innkeeper and the Psychologist. I'm not sure how much they'll count as Black Guys....

Borris & Sasha got my post-apocalyptic juices flowing - leather and metallic what-not! Lobo Sanchez was my surprise favorite. I found a reference pic where people were doing really good jobs on patterns on the blanket draped over his shoulder. Had I planned out a pattern it might have ended up better, but eyeballing what was working AND not working, it turned out better than I expected.
Over on the painting progress chart:
- Painted 281 to 294 (+1%)
- Reaper Chronoscope Painted 98 to 103
- Reaper Savage Worlds Painted 7 to 14 (a couple of old painted minis got skipped on the updates in the spreadsheet)
- Hasslefree finally has 1 painted!!!!


After painting nothing for almost 3 months, I get busy during a weeks vacation and finish 19 minis, with another 9 primed - and I doubt I'll finish them before going back to work on Monday. While these 2 batches weren't perfect, they weren't overly frustrating. They were just the amount of fun they needed to be!

The next batch, already primed, is all Chronoscope, all metal, all female. I picked up a pair of magnifier glasses that I'm going to try out and see if they help with seeing all these details I notice I'm missing after the fact. I haven't had much luck with magnifying glasses in the past, but these were recommended by multiple people in some Facebook group posts. We shall see how it goes.

Permalink gaming miniatures Hasslefree hobbies reaper chronoscape


9 Minis, and the Start of Some Contrast Paint
09.26.2019
After inadvertently taking the summer off, I finally picked up a brush and painted some minis! I took the opportunity to take a week off from work and decided that would take a staycation and do lots of little things around the house that I've been putting off, yet wanting to do. At the top of the list: Paint Some Minis!

I knew there would be a little rust on my techniques, so I grabbed some random Reaper Chronoscope "ehhh, I think I may have already painted a copy of this". Nothing special about this batch, save a couple were plastic instead of metal. From the Reaper website:
I've mentioned the Reaper plastic minis because I learned something much, much after the fact (so far after the fact that I've almost completed the next batch of painting where I could have really used this tidbit of information). Reaper plastic minis do not have to be primed. In fact, they don't like to be primed. I now know why my primed plastic Reaper minis are ungodly shiny, and the primer doesn't hold paint like it should. IT'S NOT SUPPOSED TO.

Beyond that, this was a nice batch to get back into painting with. No color guides to hold true to. Nothing I could really do "wrong". This was my first use of Citadel Contrast Paints - and I'm still figuring them out. While I've managed to get a really good technique of painting 90% of a mini with washes, that same technique doesn't work with contrast paints. Not yet, at least.

Something I learned which I don't want to admit is that I tend to do better detail work with the Citadel Detail brush. I've tried cheap brushes, over priced brushes, and way overpriced brushes, but never really given Citadel brushes a chance. After painting the mostly-red varsity jacket (red paint is hard for me to work with) and the Christmas-flavored Baron LaCroix, I've got to say I like that Citadel brush. I'm not even sure when or where I got it, but I might have to pick up another.

Nothing really noteworthy stood out with this batch. I half-assed it on the bases while trying for something different. I don't really like what this different turned out to be. But that's ok - I know not to try this again.
It's been long enough that it's time to introduce a couple of new tweaks to the paint progress spreadsheet. The rows are reorganized to just show what I might actually work ok. The real spreadsheet still has it all, but no need to keep copying 20 rows that never change. For fun, I added a % Done for each category. Once again the base numbers changed a little - this is really a set of 3 and not 1 mini, oops. This also skewed the numbers on some previously painted minis. Overall an increase from 37%(269) painted to 39%(281) painted.
I really need to make some type of "progress over time" chart to show progress at a glance.

I mentioned another batch almost finished, so another update should be happening in the next couple of days - base, flock, and sealant drying takes 1/2 the time. And I might have another batch teetering on the brink of priming after that.