Food Court
12.07.2021
The 4Ground Mall now has a food court! No tables to eat at, but there's a food court!

Now that the actual building (of buildings?) for the mall is nearing the end, the food court got details included during the build instead of just walls and windows. This worked out well, as my meaty man fingers would have had a lot more problems gluing signs in kitchen areas once the walls were glued together.

In keeping with "things I remember from malls" motif, the 3-kitchen food court features Chick Fil A, a food court staple around here. A Sbarro, which I only recently learned also exists outside of malls. Burger King made the cut because I still end up going there when I go to Opry Mills. I haven't been to Opry Mills since Feb, 2020 but I'm pretty sure BK is still doling out double cheeseburgers without me.

I tried to have a little fun with the entrance sign. The obviously-Googled "Food Court" logo is printed on vellum and glued (around the edges) to a wooden nickel, courtesy of Hobby Lobby. I was trying to see how much of the wood would show through the vellum, and I think it's "just enough" to make it interesting.

I left the columns and support beams in the dining area un-glued. Thinking again of my meaty man hands, when time comes to play it would be a lot easier to just move that stuff out of the way. The slots they fit in are tight enough for support and to keep things from falling over.

The one thing, or things, left for later are the dining area table and chairs. From past experience I know the 4Ground table and chairs, and furniture in general, requires patience. With 4-7 tables, and 4 chairs per table, to glue together, I need to save up some patience before I start.


The lone remaining mall building to make is the bathrooms. That one may get finished by the end of the year, but realistically I'm in no rush to get it all done. My Black Friday order of extra stairs/elevator/walkway bridges arrived too.

And then there's all of those stores that are in need of some clutter to sell...

Permalink 4ground-mall gaming miniatures hobbies


This counts as the August update
09.07.2020
The past month has not seen me be productive from a hobby standpoint. If I tried to pick a reason for the lack of anything content-worthy over the past month, it would be "lack of artistic gumption". There were some things I started, but decided not to continue/finish. Things I worked on took way too long for the end result. But hobbies are for fun, so I shouldn't be worried that I don't have much to show for August.

I thought I would make a good, old fashioned model - an A-10 Warthog that I picked up no telling how long ago at Hobby Lobby. The last model I made was a tank last year. For the A-10 I started with paint details in the cockpit, and then started to put the body of the plane together. At that point I both wasn't sure what to do next (prime what I had, add more parts, what about painting more details?) AND I just kind of lost interest. I don't remember getting to the point of a hobby project and just saying "eh, I don't really want to do any more." Again, since hobbies are supposed to be for fun, I didn't force it and just decided to put aside what I'd done.

From there I went to the old stand-by of I Can Paint Some Minis. As the Reaper Chronoscope batch was getting ever smaller, I pulled out a couple of blisters to prime. Of the 6 ladies I saw I was going to paint, I'd painted 4 of them before.
Townsfolk: Ladies of the Night - third set of this trio of ladyfolk one might find along a darkened street corner. Evidently I think my miniscape has certain needs.
The painting was uneventful beyond trying out some new skin tones. I faltered when it came to working on the bases - this is when the lack of inspiration really hit me. Usually I enjoy bases the most, but at this point I was just ready to be done with it all. I tried giving one of the bases a rain/wet/puddle look, but I don't think it works unless you know what it's supposed to be.
6 more minis down on the Completed column. On the Chronoscope side, I think the ones I have left to paint are all duplicates.

On the "what next" front... I don't know. Over the next 6 weeks I'm taking a bootcamp course for Salesforce Developer certification which should eat up a lot of free time. This is one of those things I've been putting off since April so I really need to bare down and study. There's plenty of hobby stuff for me to do, but for the next few weeks I need to find things I can spin up and then put away (when needed) quickly. With that in mind, there's a couple of computer/graphic centered things I can put on the list, but I don't know how well my hobby mood will align with sitting in front of the computer.

I've also been enjoying GTA with Jer. We play a couple of times per week. Sometimes we grind away at missions, other times we do goofy stuff. It's been a good way to get my mind off, well, everything.

Permalink gaming miniatures hobbies models reaper chronoscape


Mall Signs Up
05.15.2020
Since my store sign test went well enough, I decided to go ahead and make all the signs for the first 6 stores that came with the mall bundle. I'm not sure id I've stated it here before, but my goal for these sign frames was to have something non-permanent so I could both switch out store names, plus when I come up with a better idea for how to display store signs I won't have to tear everything apart since these are just held on with sticky-tack.

The store names are mixture of third tier chains you might find in the dwindling days of a mall's existence, plus shops from Grand Theft Auto. For whatever reason, that just felt right.

I learned that the plastic for the larger mall entrance signs was a little too porous for the Elmer's glue I was lopping on. The paper sign ended up with a bit of the wavy, "too much glue" finish. Next time I'll add the glue to the paper instead of the plastic. Since this is all printed in paper and plastic, printing up another batch of each just takes a little set up and time.

Adding in the Mod Podge Dimensional Magic, or "e-z clear resin", really helps to keep these from looking like paper in a plastic frame. I was printing the images on glossy paper, but with the Mod Podge on top I don't think I have to do that as the resin gives the glossy look.

Overall, I'd mark this as a nicely decent first pass at signs.

Permalink 4ground 4ground-mall hobbies


Covered Mall
03.24.2020
In the time of being socially distant while working from home and avoiding the plague, some more progress has been made on the 4Ground mall. The mall roof section is now done. The only hard part here was matching up the parts with the directions. There were 2 of everything, as there are 2 roof sections, and within each section there are parts that look awfully similar but are sized ever so differently.

I also managed a return to my resized map tiles. Nothing noteworthy to show graphics-wise, but my homemade vise for flattening out the tiles is working well. It's a couple of pieces of wood (shelf cut courtesy of Lord Ford) with some trigger clamps to bear down on everything. Between glue and humidity these things bow a lot, and this seems to help.

I also got the Anycubic Printer back to level and started cranking out interior clutter for mall stores - checkout stands, shelves, trash cans, etc. On Thursday I saw the spool of filament was getting low. I still had the unopened package of filament that came with the printer, but to be safe (in this age of socially distant plague) I went ahead and ordered a couple more spools as I've got a lot of printing planned.

With that said, there may now be a little printing break as I learn/figure out how to edit STL files in Fusion360. All the examples I've found so far are for earlier versions of Fusion with menu options that I don't have.

Permalink 3D Printer 4ground-mall hobbies


2020 Hobby Prep
01.10.2020
2020, the start of a new year, the chance to get shit done anew, and the chance to dwell on what I didn't get done last year. Well, not dwell too much. My joy of hobby organization and progress is the spreadsheet I've been maintaining for the past couple of years. My pseudo bane is how the details of what I've been tracking kept popping up as incorrect every couple of months. I halfway joke that I've got so much to paint and build I'm not going to get it all done before I die. The truth is I've accumulated more stuff over the years that I'm not interested in doing anything with, and don't really want to do anything with it in the foreseeable future. With that, the 2020 Hobby Project list has gotten pared down to what I want to work on, conceivably, over the next year or two. Maybe three or four.

I spent a weekend and looked at what I've been working on, what I think I will continue to work on, and the things I'd like to work on. From there I tweaked a copy of my hobby spreadsheet to include only those things, and then I double checked the count (my bane) on those things. Now, I've got a list I can trust!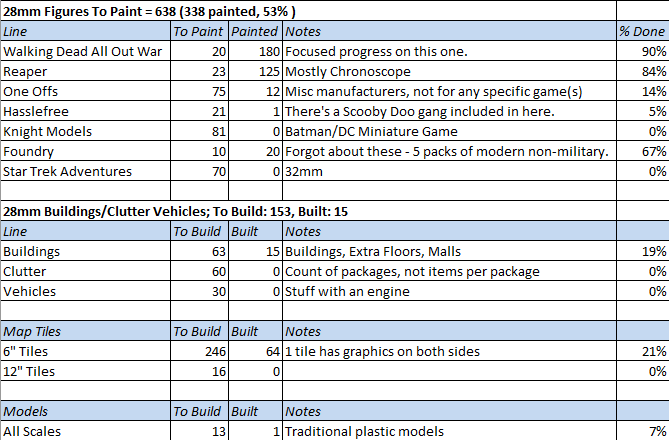 The new 2020 tracking list! Walking Dead, Knight Models, and Star Trek are still on the list. Most other things have gotten combined. The Reaper count is now Chronoscope + the other lines I get random assortments of. One Offs is for the brands that may not go with a game, or I get 2 minis from some company.

This is to be my year to focus more on buildings and scenery. Normally I've been tracking this stuff half-assed by manufacturer, as I was doing minis. Once again, I decided to combine into meaningful categories. Buildings, Vehicles, and Clutter. While Clutter can be almost anything, I've bought some packs of clutter over the years and found out I'd forgotten I even had about half of them. A lot of the clutter goes along with buildings - there's a pack of bank accessories for the TT Combat library that I was planning on turning into a bank.

The last 2 things listed are mainly so I don't forget that they're there. My project in converting my 7½" map tiles to 6" map tiles keeps stalling out - because I forget to do it. The same goes with plastic models. I've been picking up models I think would be fun to make over the past couple of years. I've made 1 - a tank - shortly after I got my airbrush last year. I used to crank out a model in a couple of hours when I was 10. While I don't have to speed build, don't leave stuff in a closet in the shrink wrap for years at a time!

For fun, here's how some of the worksheets are laid out.


Subset of the building list: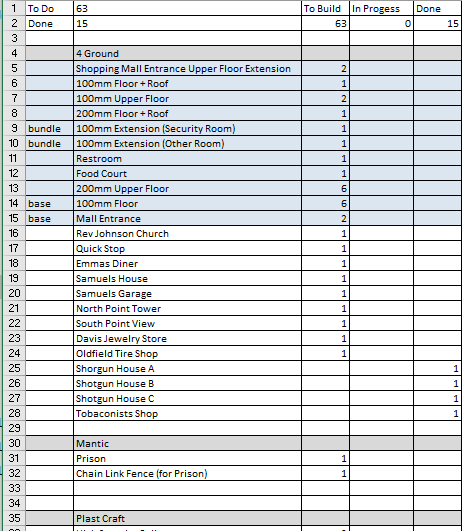 Foundry minis, mainly showing because the last batch to complete these is primed:


Plastic models: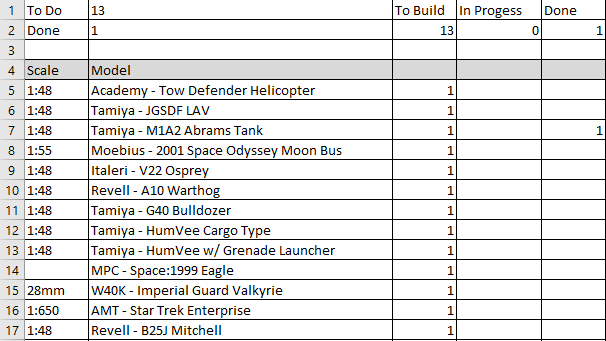 Subset (I think) of the One Offs, formerly a bunch of worksheets with a few entries on each: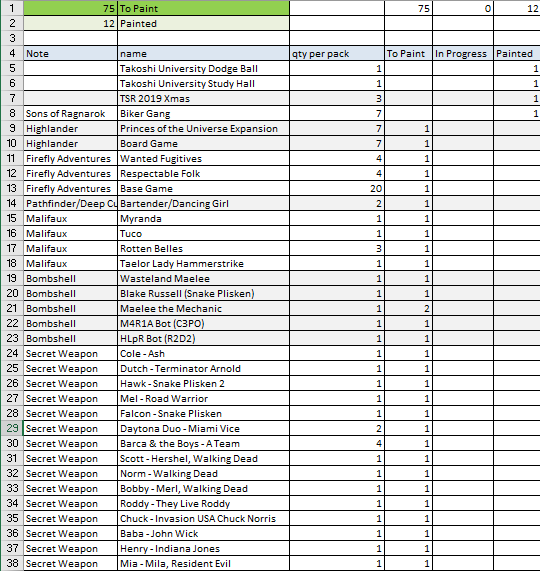 Most of what's left on the various Reaper lines. There's a couple minis that are pretty well dedicated to being technique/color tests that will never get finished: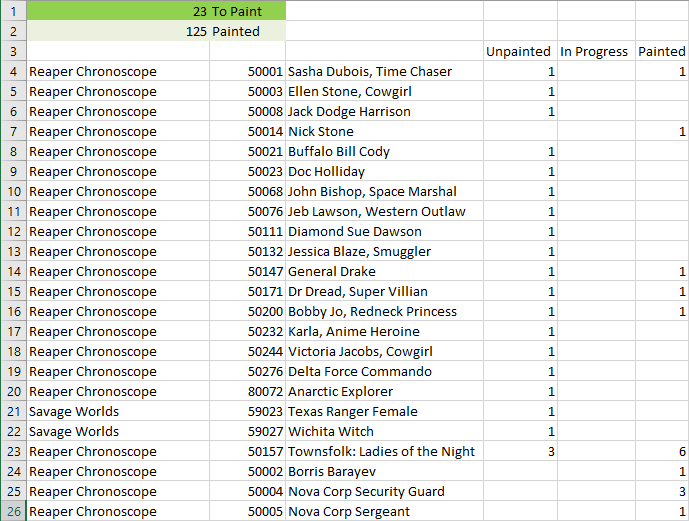 Vehicles:

Remainder of Walking Dead boosters:

My big project for the year is the 4Ground Mall. Between 2 sales I acquired enough mall-stuff to build a 2 foot long mall with 2 stories. The bundle 4Ground sells for the mall creates a 1 foot, single story mall. I'm ambitious, it appears. More than half the fun is going to be branding the stores. Instead of printing out and gluing in the graphics that 4Ground provides, I'll scour the internet looking for a Chess King sign to replicate.
Since this, all of this, is for fun and not supposed to be a chore, I whipped up a fun little blueprint for the mall as an alternate way to track what I build along the way. Additionally, I had to go over measurements for what the 2nd floor needed as support just to make sure I'd gotten the right kits to make.
There's other things on my "fun in free time" list. Jerry and I are using Gaslands Refueled as an excuse to play & pimp Hot Wheels cars. I finally played a video game besides GTA and enjoyed it. I have plenty of video games through Steam I've never played, many of which I attribute to a steep learning curve. I've invested enough in base game + dlc that it's time I finally commit to conquering that curve on Arma 3 and Cities: Skylines. A good FPS and another Sim City replacement.

There's other things on my plate for fun, but those are the biggies I've mapped out for the year. Or four.

Permalink 4ground 4ground-mall gaming miniatures gaslands hobbies reaper chronoscape