Last of the Foundry Minis / Monkey Time Zoom
04.15.2020
That last of the batch of 10 Foundry Hitmen (and either Professionals or Detectives) primed in December now have a coat of paint. I've complained before about the quality of these sculpts. They're most likely not as bad as I make them out to be, they just don't jibe well with my level of painting skill. My new technique (for me) to try out this time was to finally switch brushes while painting a color/area based on need. Using a detail brush to swath the back of a coat wasn't doing the detail brush any favors toward longevity. I also tried to remember to work from the inside of the mini and out, instead of hitting everywhere the color on the brush was needed. This gave some better lines between skin tones and whatever they abutted to. For once, I did the heads last - and I'm not sure if it made a difference.
It's been long enough since the painting spreadsheet was updated it's hard to tell what's changed. Foundry, Buildings, and 6" tiles have all had progress marked since the last shown update of the spreadsheet.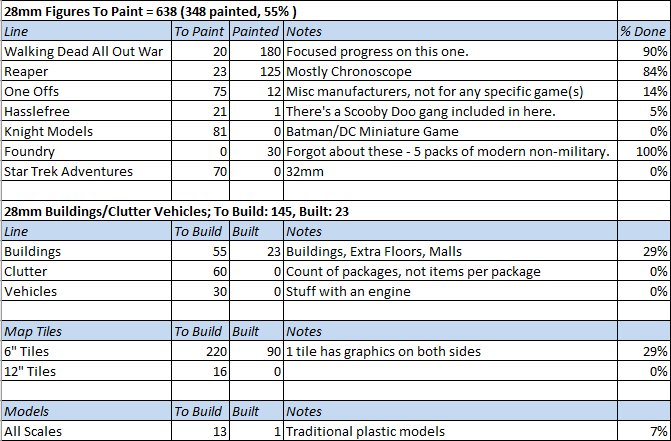 Next up on the hobby table: I don't know. Mall stores need furniture. I liked having primed minis to paint for when the painting mood hit, so I may go ahead and prime another batch. There's some 3D-printing associated things I need to do (mostly mall related).

Tangentially, in today's pandemic world, I've been working from home and staying sequestered like everyone else, or at least everyone else has been encouraged. As homelife is just me, my social interactions have been a Friday trip to the chiropractor (he's not just my chiropractor, he's my buddy!), avoiding people when I go to Publix, and a couple of Zoom meetings for work. Repeat this weekly for a month. I'm ok with the day-to-day living (or maybe isolation?) as I've geared myself to live mostly this way over the past couple of years. Within that, Jer pointed out that once our pandemic is less pandemicy, I need to make sure I force myself to get out and socialize.

This made me think of when he, I, and Keith worked together at whichever job it was at the time (I alternate riding their coat tails, so it's hard for me to keep up with when things happen). We developed a tradition of taking a break at 3:00 to grab a Coke. Thanks to Google, 3:00 is also The Hour of the Monkey, even though it's 2 hours long. 3:00 became Monkey Time not long after, and calls for Monkey Time would have us grab change and head to the vending machine. Keith also referred to this as Jingle Time, as a past job had a coworker who would walk by and jingle the change in his pocket as the sign for taking a break and grabbing a beverage.

Last week, thanks to Zoom, the 3 of us had a virtual Monkey/Jingle time.
That's now a recurring meeting on our calendars. Even if you're stuck at home, take some time to virtually socialize with your friends.

Permalink Foundry gaming miniatures random


...And A Month Goes By
02.21.2020
After the printing frenzy from last month, I would have thought I would have been productive and have something to show on here. But nope, nada. That's not to say I've been doing nothing, it's just for the things I've been doing I've nothing to show. Hence, it was time for a traditional "not dead" post.

My big hobby projects have large "I need to do stuff on the computer" components. For the 4Ground Mall, I've got to scrounge, resize, and print graphics. More importantly, I've got and idea for switchable store-front signs that involves not just the 3D printer, but making the model for the 3D printer. Even with my years and years of playing around with Poser and some intro training to 3D Max when I started working at Westar, I still don't know how to make a 3D/Printable model. Thanks to a recent sale, I found a starting from scratch tutorial series that I thought I would give a try - and so far I'm enjoying it. There are plenty of free tutorials out there, but I like the way Vladimir teaches. Halfway through the course and I'm not lost yet.

I'm taking the Old Man approach to these lessons, which is something I found worked well for me when I was trying to learn Unity programming. Although it would be fairly easy to binge and run through all the lessons, that only teaches me to parrot what I see and not understand why I'm doing things - and more importantly why NOT to do some things. With the Unity tutorials, I would watch a video - not follow along and write code, not skip the parts I thought I already knew - and then after watching I would replay the video and follow along writing code (or whatever I needed to do), trying to use the video more as a reference to see how well things soaked in. It worked well - in later videos the instructor might make a mistake and I would pick up on it before he corrected it better than half the time. And here's the important part of my approach - I only watch/attempt 1 lesson/day. At some point I read about trying to learn too much at once, and how the brain and subconscious needs time to sort and absorb what you take in. It sounded like New Age hullabaloo, but I've found since then that I retain better using this approach. It takes a little longer, but I'm in no real hurry.

Slow tutorial learning - that's been the crux of the past month. Add in cold weather is still keeping me from doing anything with the printer in the garage, and the big things I had lined up to do just have nothing to show. While I've still got a batch of minis primed, I've not thought about painting anything. Not sure if that's good or bad. Maybe I'll pull out the paint this weekend and see how my skills have dulled?
Can I Support Those Digital Copies?
11.01.2019
I've been buying movies for a long time. The first movie I bought, on VHS, was 1989's Batman. In 1997 I started getting DVDs (Starship Trooopers was the disc I bought). Being elderly, I like having a physical copy of a movie. It's come in handy those times when, living in the boonies, my internet decides to take a vacation. Over the past year, I've been purchasing fewer physical movies. The prices don't drop as fast as they used to, and the prices are going up a little bit (about $3 from what the average new release week prices were a few years ago). Stores are carrying fewer and fewer discs. I went into Target this past week and found the DVD section was now 1 aisle. 2 years ago, it was 4 aisles.

I've been watching more streaming video, like everyone else. Amazon Prime and Netflix have become the "stations" that I watch. Movies that I'm traditionally on the fence about purchasing, or waiting for a good sale, often end up streaming on one of these. For the past few years I've had a "wait for a $10 sale" movie list. Amazon's streaming service has managed to put a lot of those movies on my wait list on sale for $10. At that point, why not spend $10 for the digital version and not worry about storing the physical disc?

I've got a lot of dedicated space for those discs. With the living room remodel, an impressively rough estimate of 9'x13' of wall space is now covered in Ikea shelves just to hold those discs. In my quirky way of keeping track of things, with the latest purchases of XMen and Spiderman I now have 2256 DVD titles. That number doesn't include all the extra discs of TV shows. Running a quick query, I've got 506 seasons of shows. Conservatively, if a season fits on 1 disc (and not 7, like season of Star Trek: TNG takes 7 discs) when add on 506 discs to 2256 titles. Granted, that 2256 includes 1 entry per TV show, but I think there are more multi-disc seasons than not so it's still a conservative average. 2756 discs. That definitely takes some room.

As such, I'm trying to embrace purchasing digital/streaming copies and ignore the voice in my head that says "what if the place hosing the movie goes under?" I almost exclusively buy from Amazon which means that shouldn't be a problem. But the voice with the question is still there.

Movie formats change. DVD, HD-DVD, Blu-Ray, 4K/UHD. I'm not sure if today's streaming format will be supported in 5 years. I still pop in that 20+ year old Starship Troopers disc on occasion, so it's something I actually worry about. I've gotten screwed twice with apps I enjoyed that were no longer supported due to my device being too old to support the upgrades (stupid 1st gen iPad) or whatever place was hosting the server, and a server was required because it was an app, shut down.

All of that is out of my control. I hardly ever rent a movie because I'm traditionally more apt to watch something I like more than once. It's a $10 purchase vs $3 rental that I gamble on and most likely lose money on in the long run. Maybe this is the time to convince myself to switch to renting more streaming movies instead of purchasing everything outright. Can I make a New Years resolution in November? That sounds like a good one.

Permalink movies/tv/dvd random


I Am A: Chaotic Evil Human Wizard (7th Level)
10.25.2019
I was cleaning up bookmarks while moving to a new everyday-laptop and came across a still-active link with 100+ questions that would tell me what D&D character I am.

I Am A: Chaotic Evil Human Wizard (7th Level)

Ability Scores:
Strength-12
Dexterity-13
Constitution-13
Intelligence-14
Wisdom-16
Charisma-11

Alignment:
Chaotic Evil A chaotic evil character does whatever his greed, hatred, and lust for destruction drive him to do. He is hot-tempered, vicious, arbitrarily violent, and unpredictable. If he is simply out for whatever he can get, he is ruthless and brutal. If he is committed to the spread of evil and chaos, he is even worse. Thankfully, his plans are haphazard, and any groups he joins or forms are poorly organized. Typically, chaotic evil people can be made to work together only by force, and their leader lasts only as long as he can thwart attempts to topple or assassinate him. Chaotic evil is sometimes called demonic because demons are the epitome of chaotic evil. Chaotic evil is the best alignment you can be because combines self-interest and pure freedom. However, chaotic evil can be a dangerous alignment because it represents the destruction not only of beauty and life but also of the order on which beauty and life depend.

Race:
Humans are the most adaptable of the common races. Short generations and a penchant for migration and conquest have made them physically diverse as well. Humans are often unorthodox in their dress, sporting unusual hairstyles, fanciful clothes, tattoos, and the like.

Class:
Wizards are arcane spellcasters who depend on intensive study to create their magic. To wizards, magic is not a talent but a difficult, rewarding art. When they are prepared for battle, wizards can use their spells to devastating effect. When caught by surprise, they are vulnerable. The wizard's strength is her spells, everything else is secondary. She learns new spells as she experiments and grows in experience, and she can also learn them from other wizards. In addition, over time a wizard learns to manipulate her spells so they go farther, work better, or are improved in some other way. A wizard can call a familiar- a small, magical, animal companion that serves her. With a high Intelligence, wizards are capable of casting very high levels of spells.

Find out What Kind of Dungeons and Dragons Character Would You Be?, courtesy of Easydamus.
---
Detailed Results:

Alignment:
Lawful Good ----- XXXXX (5)
Neutral Good ---- XXXXXXXXXX (10)
Chaotic Good ---- XXXXXXXXXXXXX (13)
Lawful Neutral -- XXXXXXXXXXX (11)
True Neutral ---- XXXXXXXXXXXXXXXX (16)
Chaotic Neutral - XXXXXXXXXXXXXXXXXXX (19)
Lawful Evil ----- XXXXXXXXXXXXXXXXXXXXXX (22)
Neutral Evil ---- XXXXXXXXXXXXXXXXXXXXXXXXXXX (27)
Chaotic Evil ---- XXXXXXXXXXXXXXXXXXXXXXXXXXXXXX (30)

Law & Chaos:
Law ----- XXX (3)
Neutral - XXXXXXXX (8)
Chaos --- XXXXXXXXXXX (11)

Good & Evil:
Good ---- XX (2)
Neutral - XXXXXXXX (8)
Evil ---- XXXXXXXXXXXXXXXXXXX (19)

Race:
Human ---- XXXXXXXXXXXXX (13)
Dwarf ---- XXXXXXXXXX (10)
Elf ------ XXXXXX (6)
Gnome ---- XXXXXXXX (8)
Halfling - XXXX (4)
Half-Elf - XXXXXXXX (8)
Half-Orc - XXXXXX (6)

Class:
Barbarian - XXXXXX (6)
Bard ------ XXXXXXXXXXXX (12)
Cleric ---- XXXX (4)
Druid ----- XXXXXXXXXXXXXX (14)
Fighter --- XXXXXXXXXXXX (12)
Monk ------ XXXXXXXXXXXX (12)
Paladin --- XXXXXXXXXX (10)
Ranger ---- XXXXXXXXXXXX (12)
Rogue ----- XXXXXXXXXX (10)
Sorcerer -- XXXXXXXXXXXX (12)
Warlock --- XXXXXXXXXXXX (12)
Wizard ---- XXXXXXXXXXXXXXXX (16)

Life Got In The Way
08.27.2019
It's been close to 2 months since I had an update here. Although I normally post hobby related pictures and tidbits, the last 2 months have been more of life getting in the way.


Remodelling
My biggest "in the way" was some remodeling that I thought was going to happen closer to Christmas happened a few weeks ago. It all started with Prime Day. I had planned this year on Black Friday to get myself a "I turned 50 and paid off the house this year" present of a big honking TV. I contacted a guy about adding on a theater room for a big honking TV, and the estimate for that was about what I paid for the house. My fallback was to have the (non-functioning) gas insert fireplace ripped out, which would gain me some floor space and give a good spot to mount a TV. I had planned for an 85" TV, but it seems that wouldn't fit. Fine. 75".

From last year's Black Friday browsing, I had a range for what a 75"-ish TV should cost come this Black Friday. Prime Day gave me a gauge for this, and my estimates were about spot on. Then Costco jumped in, and offered the brand and size I wanted for $300 below the low price I was expecting. Never one to pass up a good deal, at worse I could buy it and just keep the TV in the garage until I got around to remodeling. So that became my plan. My only point of worry was when I saw Costco was using CEVA to ship the TV. CEVA was responsible for eventually getting me a bed 10 years ago. I waited a week past the "call us to schedule delivery" date that I had to hunt down, and when I did CEVA said they were handing off to a 3rd party for final delivery which they would deliver today and get tomorrow, then the 3rd party would call me to schedule a time. An hour later the 3rd party called me, evidently shipment in hand, to set up delivery the next morning. CEVA Logistics. Somehow in business 10 years later.

While doing all this, I contacted Contractor Craig about some extra stuff that I'd like to have done while he was ripping out the fireplace. Some fresh paint. Replace my broken back storm door. Little things a house needs after 10 years since the last concerted upkeep effort. Craig found some other things that needed some love - some cracks where the ceiling meets the wall from the foundation settling some. He read my mind a time or two: What about the living room ceiling fan, do you want to replace that? Yes, I do. I've been hoping that fan would die and it's why I've had it run constantly for 20 years.

The one big change I wanted to make with all of this was to cover the wall that the TV had always been against with shelves. The wall has a high (vaulted?) ceiling and I've always wanted to use the wasted space above the 5 ft or so that had cabinets with DVDs and a TV. I've been looking at Ikea shelves, the kind with cubes, and envisioned stacking them to cover as much wall as I could, which would give me more storage space. I always like more storage space. Over the course of a couple of weeks I put together an online Ikea order. It took 2 orders to get everything I wanted - the Ikea website isn't that great, but 2 orders with $180 shipping is a lot cheaper than a trip to Atlanta/Memphis and then figure out how to haul 1000 lbs of shelves back.

Over a week and a half, Craig ripped out the fireplace and patched in the wall and ceiling. Walls were painted. Floors patched/installed. Ceiling fans (I couldn't decide between 2 for the living room, so I opted to have 1 replace the bedroom fan) replaced. New TV mounted. Once he was finished I moved things back in to the living room and computer room and decided what to change. 4 days later my Ikea delivery showed up, which took up about 1/3 a car space in the garage. Then I spent a Saturday and put shelves together. Ikea shelves are heavy! The shelves got built, moved in, and stacked. I've got doors to add to the shelves, but there's 89 doors for me to install and I'm in no hurry. This is just my way of saying there'll be more updates about this later.


Hobbying
My last/latest hobby project has been taking a whole lot longer than I imagined, even without all of the life interruptions. At last report, I had 3 Walking Dead houses that I had added colored walls to thanks to Behr paint sample cards. Since then, I added some carpet to a house.

I'm not sure why/when/where I got the idea to try and use felt as carpet. I couldn't remember seeing it anywhere, and yet every rental house I grew up in had beige carpet. So I gave it a shot on 1 of the houses. I started by attempting to make a template of the floor plan with all the walls in place - having the felt run through doorways would be the most durable. The floorplan template took a couple of tries to get flush with the walls like I needed, but using it as the template to cut the felt worked perfectly. The only other tweak I made was to install the doors upside down, as the top hinge is a little longer than the bottom and that would allow for a little more clearance for the felt.

I got a little carried away adding textures (thank my mediocre 3D graphics background for that - fine, playing with Poser!). All the doors got actual door textures added. Window blinds in windows. Shutters on the outside of windows. I was sitting in front of the computer pondering "what does every room have" trying to figure little tweaks I could add. I looked at the light switch. Aha! And an electrical outlet. Aha! Then I leaned back and looked up and the air conditioning vent. Aha! I normally print out various wall decorations of framed whatnot to add onto walls. I would add these things too.

Once I got the felt and printed wall decor added to the 1st house, I didn't want to keep futzing with it all. I went old school and printed out some hardwood floor textures and added it to the other 2 houses. I left off there, unsure how far I'll go with putting stuff on the walls.

That last thing I have to do for 2 of these houses is make a roof. The roof that came with them is flattened on the top and makes them look like convenience stores. I'm going to try to make a traditional, steeped roof. I made a little template/pattern, but no idea how well it'll work out. It's next on the list, though.


Everything Else
And lots of other things happened. I had a batch of doctor visits: what looks to be the start of annual bloodwork, eye exam (new glasses, just because I'm tired of wearing what I've got after 4 years), colonoscopy (short version - I followed directions and wasn't cleaned out enough so I'm supposed to reschedule another one with a 2-day prep). I had an annoying sinus cold after the colonoscopy.

Right after this, Pawpaw was in the hospital for some upper GI bleeding which just didn't get any better, then he passed away after a week. He was 98 ½ While sad, it wasn't a surprise. Even though I was worried about my grandmother, they'd been married for 74 years, she held up better then I did. Which is what she does.

There's an old story from when I was little (6 or 7?) and Pawpaw stealing one of my Hot Wheels for his children's sermon. I'm leaving that just vague enough for anyone to ask me to tell them the story next time we're talking, because it's an in-person & talking story :)

I finally got a paint shaker for my paints. I was supposed to make one with a reciprocating saw, some clamps, and unsure safety measures. Instead I got a tattoo ink shaker/vibrator that does a spiffy job. Overpriced for $80 just to shake paint, but I've accumulated a lot of paint over the years. A lot of it on sale, to where I probably saved more than $80 on paint.

Life is also beating me up more. I bruise easier, evidently a side effect of my attempt to take my blood pressure medicine on a Regular Basis VS When I Think I Need It. I'm going to convert back to When I Think I Need It to see if a couple weird physical issues clear up. When putting the Ikea shelves together I manged to get a good knot on my shin (that hasn't happened in a couple of decades), not to mention some impressive bruising on my upper arm from just lifting a damn shelf. Granted, it was a 125 lbs of shelf. And awkward. And I may have been wrestling with it more than lifting.


Paint shaker in action:
Things are starting to settle back into normal now. There's still some wrapping of of the remodeling I have to do. I've picked up a side-website to work on (more about that later). Keith needs some 3D printing printed. And I have to finish those blasted houses....

Permalink gaming miniatures hobbies random renovation/remodelling