The Mid May Update
05.16.2016
I've been quiet for the better part of a month. As such, it's time to play catch-up.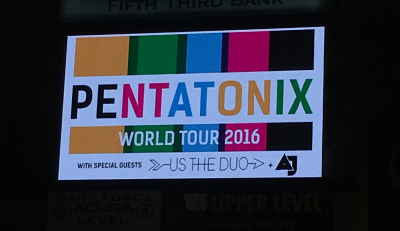 Last week I journeyed to Nashville and saw Pentatonix with Dr Blondie. I haven't been to a concert since Prince (and that's likely been 10 years), mush less a mostly acapella concert. There were 3 acts - the opener was a 17 year old kid. He had a real name, but that's the part I remember. The next group was Us the Duo, a husband and wife team. Lastly was PTX themselves.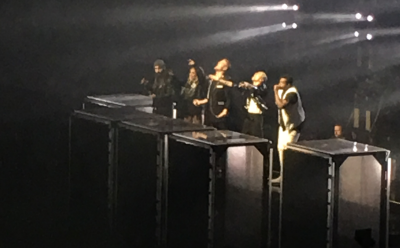 I don't know why I found this the most interesting, but for each performer before each song they would say "the name of this song is __________, and it's about ___________." I have no idea why that stuck out in my head, except it felt like the way I was taught to write a paper in high school - minimum of 5 paragraphs; 1st paragraph into saying what you're going to say, 3 paragraphs of content, last paragraph summarizing what you said; a paragraph has 4 sentences - 1st sentence says what you're going to say, minimum 2 sentences of content, final sentence summarizes what you said. I haven't written that kind of paper in 30 years and yet those instructions have stayed with me.
Work office wall decoration continues, especially since we're getting ever closer to moving since our lease extension is nearing an end. The Nick Fury poster on the right I've had since the early 90's. I bought it from the Tattooed Lady Comics, which was the only place I could find it (in the days before the internet). It had been thumb-tacked up on walls a couple of times before I got it, and I may have added a couple of holes afterward. Overall it's held up well for 20+ years.

Underneath those 2 posters are pages from a Star Wars picture-a-day calendar Gina got me for Christmas. There was a 2-week run of retro styled vacation destination pictures which I thought looked pretty cool. I've seen some of them for sale as posters, but I already had these pictures in calendar form! Thanks to Hobby Lobby's sale schedule for frames and mat board I was able to whip up a passable display (just don't look too close, you know how I am with straight lines).
In the mid-90's, while going to Athens State, I discovered a Taco Bell kids meal was a perfect snack for a college kid. Even better, they had Tick toys packaged in with the food, and I loved me some Tick. The above has been on favored work desks off and on ever since. Yet another thing that I don't know how or why I've kept up with for 20 years, but now my little spinning Tick keeps me company while he guards my monitors from evil.

Permalink action figures/toys random road trip


Birthday Revisited
04.03.2016
This past Wednesday I found myself in the greater metropolitan Nashville area. It wasn't by mistake, it was all part of a plan. For the past few years I've taken my birthday off of work and made a shopping pilgrimage to Nashville. This year, I was not in the mood to do so on my birthday. I had feared my tradition had run its course. It turns out my tradition was the victim of a slight calendar adjustment that took a couple of extra weeks to kick in.

The shopping high point of my trip this year was discovering that the Opry Mills Polo Outlet has a Big & Tall section. I've wandered into the store before but never gone past the "Mens" section by the front door. Hidden squarely in the center of the store (but behind shelves that make free standing walls like the designers of Polo departments like) is not just a Big & Tall section, but a spacious Big & Tall section!

Since my (now plateaued) weight loss began, I've stuck mainly to off/store brand clothes I didn't know how long I would be wearing a given size. Why pay $125 for a Ralph Lauren Polo shirt, even if I really like the way they wear/feel, when I can get a shirt from Khol's that's good enough for $15 ($8 on sale at one point)? Now that my size has evened out, I miss the nicer clothes, though. I've caught a couple of good sales to where I picked up a (Polo) shirt or two in the past year, and the quality is still there. But still, that's a chunk of change for a shirt when there's less expensive alternatives.

Enter the Polo outlet. The sign on the front said the entire store was 40% off the ticket price. The ticket prices were cheaper than what I've seen in department stores - most ticket prices where the sales prices I had been getting at Belks and Dillards. On top of that, the cashiers would putting in coupon codes that dropped the total discount to 50%. My size was in stock for lots and lots of things. Deciding I could get all my clothes shopping for the rest of the year done in 1 fell swoop, I grabbed everything willy nilly so I wouldn't have to waste countless trips to Belks & Dillards over the next few months.

When I checked out I had 9 shirts and 3 shorts for just over $330. This should last me until I need a different size (hopefully smaller!), and wasn't $660 or more like it would have been at home.

I swung by a couple of other stores and scored some good deals. Mostly it was random stuff I wouldn't normally by except my head had a "it's my birthday" mentality going on.

Afterwards I had dinner with Dr Blondie at a Chuys where she discovered Ranch dressing. Well, not straight Ranch, but it's the base they use for a jalepeno dip. Next she's on tap to concoct her own version since I mentioned Hidden Valley Ranch lets you mix your own dressing.

It was a good Nashville trip - traffic was only backed up in directions I wasn't going. That was the topper for the day, since traffic is my bane. It was also my first road trip in the new car farther than Florence.
So what happened in the past month?
01.26.2016
Normally my family lives by the mantra "no news is good news". My quiet over the past month has not been so much in that case.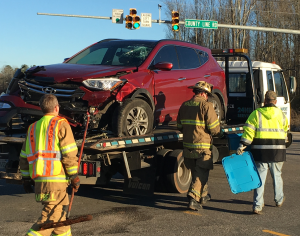 My First Wreck
Dec 18 was the first wreck I've ever been involved in. I was going straight though an intersection. The guy coming towards me was in the turn lane turning to his left. We both thought we could make the light. We were wrong.

The details of what happened a month ago have steadily been trying to fade. I cut my hand when it flew forward into the windshield, poking a hole into it (I punched a hole in a windshield, now that's the version I tell!). There was a nasty looking bruise from the seat belt holding me in that lasted for a little over a week. The other guy seemed to come through ok, which oddly enough was really important to me being as I generally don't care about how other people I don't know are doing (harsh, but honest). I headed to my doctor after the weekend and got a tetanus shot for the cut, plus the doctor said there was a good chance I had gotten a mild concussion but was out of the danger zone.

The next step was waiting on the accident report from Madison PD. Gone are the days of exchanging insurance info, now it's all done through the police department. The accident report took 5 business days, so I got it on Christmas Eve when my State Farm office was closed. After the weekend I got a call from Allstate (other guy's insurance) and started the process of them accepting blame/liability and all the phone calls that go with that. Somewhere along the way I rented a car from Hertz in Athens, which is really a nice place (I'd heard horror stories about Enterprise in Athens, which is where everyone seems to go). Hertz went the extra step in getting me into something comfortable and taking care of Allstate paperwork instead of forcing me to pay and then go through Allstate myself.

After New Years, I got news from Allstate Car Looking Guy that my car was totaled. In Alabama, once repairs reach 75% of a cars value it's considered totaled. He got to $23K without looking too hard. The next step, which is still in progress, is Allstate coming up with a payoff amount for what the replacement value of my car is. Their first valuation was right at the payoff of my car, but they didn't include some after market additions I had. After talking to them this morning we'll see where their offer goes next.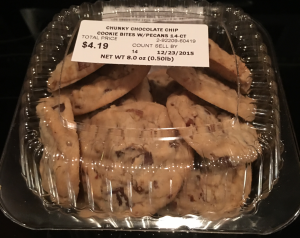 My First Cold In 2 Years
On Christmas Day around 3PM, I had one of those sneezes that loosens up your sinuses and says "you're about to have a sinus cold". I haven't been properly sick since before my gastric surgery 2 years ago. Being sick sucks. Stopped up, sore throat. Blech. Took a week to get over, which I attribute part of all of this to stress from the wreck and all the crap that came with it. In the middle of it all I had some chocolate chip cookies for comfort food :)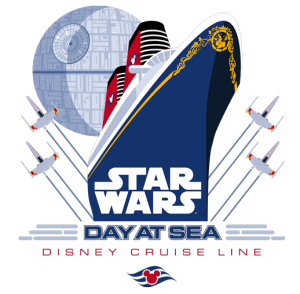 My Second Cruise
Jan 8 I set off with Gina, Jacob, and Megan to Florida for a Disney Cruise with a Star Wars Day thrown in. This had been planned months and months ago, and even though the timing sucked it ended up being good to get away from everything, especially the internet for a week. It's amazing how relaxing that part really was, and looking back I think it was my high point.

I learned from the cruise that I should not go on cruises, especially cruises with lots of children. My personality as developed as I'm now the old man that doesn't like crowds and screaming kids bouncing off the walls. And lines. You could tell it was a Disney sponsored event because you were always in a line. Granted, with 3500 people on a boat there are going to be lines. The days of travel that book-ended the cruise didn't really help either. Nothing went wrong at any point of the trip, but I always felt like I was waiting.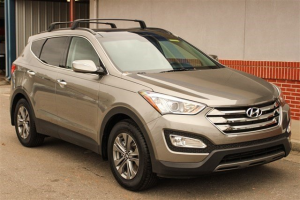 My Second Hyundai
When I bought my 2014 Santa Fe, my goal was to see if I could drive it for 10 years (Hyundais have a really good long term reputation). Mine lasted 18 months. With that said, I'm now a staunch advocate of Hyundai safety features. The steering wheel and knee air bags deployed during my crash. Forward of the windshield was all messed up. The wrecker guy told me the axle was bent. It sounds like a hell of a wreck that I walked away from (above cuts and bruises notwithstanding). I liked my car, so I decided than in the likely event it would be totaled (this is what wrecker guy first told me, since the axle was bent) I started looking for a 2016 Santa Fe Sport with Technology Package.

There aren't a lot with the Tech package. The only other hangup I had is that I wanted (1) a beige interior and (2) not another red car. Searching from Nashville -> Florence -> Huntsville -> Birmingham -> Atlanta, there are 3 2016 Santa Fe Sport with Tech Package with beige interior. The one in Atlanta is red, so mark it off the list.

There's one in Hendersonville, TN that is Platinum with the options I want. I called and chatted with a nice man about it and told him my situation.

There's one in Florence with the options I want but it has a grey interior. It also has 5000 miles on it. Florence is running some kind of really good dealer discount on this model that make it almost exactly what the payoff is on my 2014 (wrecked) car. I talked to a nice man in Florence and set up a test drive that Jacob took me to.

Now I have a 2016 Grey Santa Fe Sport with a grey interior that already has 5000 miles on it. I'm ok with that.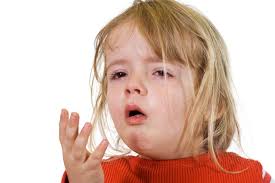 My Second Cold In 3 Weeks
On the trip back from the cruise, I coughed in Atlanta. The cough quickly grew worse and worse over the next couple of days. It was accompanied by the usual sinus crap that one might find when starting the day at 80° and ending it at 34°. It's gotten gradually better (after a week); At least now when I cough it doesn't feel like a jagged blade is being pulled across my throat while my lungs try to break my ribs. Theoretically.

I've gotten some good drugs and am on the mend, but I'm still taking it easy.

Permalink conveyances road trip


Raw 11.18.2013
11.20.2013
This past Monday was my first post-surgical road trip of note, at least the first trip that I stayed overnight. Seeing has how road trip meals were one of my favorite past times, it was a little weird not to stop and pick up some fast food when hitting the interstate.

The main purpose of this trip was to see Jason as WWE Raw hit Nashville. A little over a year ago (or maybe a year and a half), I cut back on my wrestling-watching when I got rid of cable. I catch the abbreviated version of the Monday night show about 90% of the time, but that's more to stay up to date in case anything important happens. Usually, nothing important happens. When I saw that Raw was coming to Nashville, I saw my chance to see Jason and catch up a little not because I was the wrestling fan that's known worldwide as the keeper of Russellmania, but because I knew where he was going to be and it was within easy driving distance!

Gina was tagging along, so this added the previously mentioned overnight aspect as we would stay in Nashville and get a little shopping in (which I owed her from taking care of my butt after last years surgery). Since Jason was going to be busy "working", we didn't try real hard to get to the show when it started at 6:00. In fact, I picked Gina up around 6:00. And then we were off to Nashville!

... for about 10 minutes, when Gina remembered she had forgotten the candied/chocolate apples she was supposed to take Jason. We were already on the interstate, so we had to trek 8 miles before we could turn around and pick up the apples. So around 6:30, we were off to Nashville! Again. Which was all fine since Jason was "working".

We made it to the arena in Nashville around 8:00, at which point security wouldn't let Gina in with the apples. We could leave the apples, or someone from inside could come get them. Thanks to Jason's high ranking stature in the company and some liberal text messaging, he was able to send a lackey to fetch the apples, and us along with them. Sometime around 8:30 we made it all the way inside to our seats.

For the next hour and a half we watched some wrestling and Jason would come talk when "work" slowed down. Once everything was wrapped up for the night, I think we stood around talking for another 30-45 minutes. This was the best part of the night, as Jason is one of those guys I wish I could just hang out with and talk to because he's so interesting. Of course, that would run the risk of him finding out what a nerdy dork I really am behind the cool and studly facade I'm able to fake during the moments I'm around him.

After all of our hugs goodbye Gina and I made it back to the hotel and I got to hear about what a cutie pie Jason is. It was similar to how I heard about what a cutie pie he was 2½ years ago at Wrestlemania in Atlanta. He is a cutie pie, so I'm pretty sure I was just adding on to everything she was saying (Jason is lovable, I can't help it!).

The next day brought on shopping at Opry Mills and REI. Unfortunately, I started the day with some new Dr Scholls inserts that I shouldn't have been using (they were poking my feet in the wrong places). Halfway through the day I trashed the inserts and hobbled through the rest of the day. Gina racked up on her post-butt-care prizes as she scored some shoes and another purse from the outlet stores.

When we got back home, I was worn out. I thought I was worn out from my feet hurting from those damn inserts, but this morning on the scales I saw what may have been a better reason. While gone, I didn't have any protein shakes and my eating schedule was off kilter, plus I wasn't drinking enough water. On average, I lose ½ pound per day, so weighing in at 357 on Monday should have me at 356 Wednesday morning. Instead I weighed 352 this morning, losing 5 pounds instead 1. While this is good for those weight loss numbers, it's 500% of my normal over the past 4 weeks. Today I've been focusing on drinking more, and fully expect to wake up tomorrow with a scale hovering in the 355 range.

Or maybe cutie pies make me lose more weight?
The Big Move
07.16.2013
This weekend my grandparents wrapped up moving to their new apartment after selling the house they've been living in since 1965. That's 48 years in the same house. The apartment, according to Google, is 0.8 miles from the house. That averages out to moving 0.1 miles every 6 years. That part tickles me.

The move went without too much incident. They don't have phone service yet as AT&T is claiming there's a problem with the physical line. It's on AT&T's end, so they're (supposedly) working on it and it will hopefully be up and running sometime Wednesday. I needed a little more excitement, so I broke a jar of pickles on the apartment kitchen floor. There's a story that could go along with what happened, but leaving it to your imagination makes for a better story.

I wonder if next time I go to visit I'll forget and go to the old house?