2020 Hobby Prep
01.10.2020
2020, the start of a new year, the chance to get shit done anew, and the chance to dwell on what I didn't get done last year. Well, not dwell too much. My joy of hobby organization and progress is the spreadsheet I've been maintaining for the past couple of years. My pseudo bane is how the details of what I've been tracking kept popping up as incorrect every couple of months. I halfway joke that I've got so much to paint and build I'm not going to get it all done before I die. The truth is I've accumulated more stuff over the years that I'm not interested in doing anything with, and don't really want to do anything with it in the foreseeable future. With that, the 2020 Hobby Project list has gotten pared down to what I want to work on, conceivably, over the next year or two. Maybe three or four.

I spent a weekend and looked at what I've been working on, what I think I will continue to work on, and the things I'd like to work on. From there I tweaked a copy of my hobby spreadsheet to include only those things, and then I double checked the count (my bane) on those things. Now, I've got a list I can trust!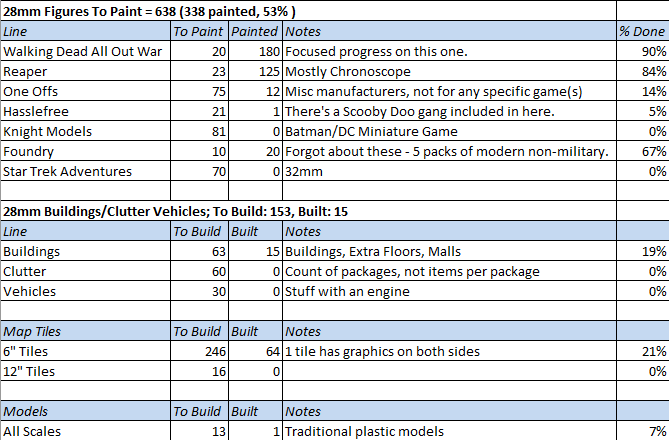 The new 2020 tracking list! Walking Dead, Knight Models, and Star Trek are still on the list. Most other things have gotten combined. The Reaper count is now Chronoscope + the other lines I get random assortments of. One Offs is for the brands that may not go with a game, or I get 2 minis from some company.

This is to be my year to focus more on buildings and scenery. Normally I've been tracking this stuff half-assed by manufacturer, as I was doing minis. Once again, I decided to combine into meaningful categories. Buildings, Vehicles, and Clutter. While Clutter can be almost anything, I've bought some packs of clutter over the years and found out I'd forgotten I even had about half of them. A lot of the clutter goes along with buildings - there's a pack of bank accessories for the TT Combat library that I was planning on turning into a bank.

The last 2 things listed are mainly so I don't forget that they're there. My project in converting my 7½" map tiles to 6" map tiles keeps stalling out - because I forget to do it. The same goes with plastic models. I've been picking up models I think would be fun to make over the past couple of years. I've made 1 - a tank - shortly after I got my airbrush last year. I used to crank out a model in a couple of hours when I was 10. While I don't have to speed build, don't leave stuff in a closet in the shrink wrap for years at a time!

For fun, here's how some of the worksheets are laid out.


Subset of the building list: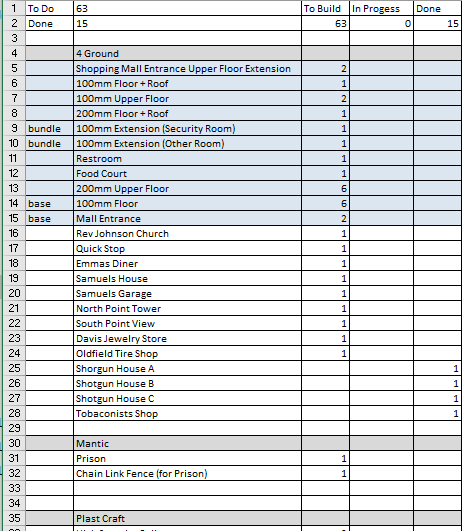 Foundry minis, mainly showing because the last batch to complete these is primed:


Plastic models: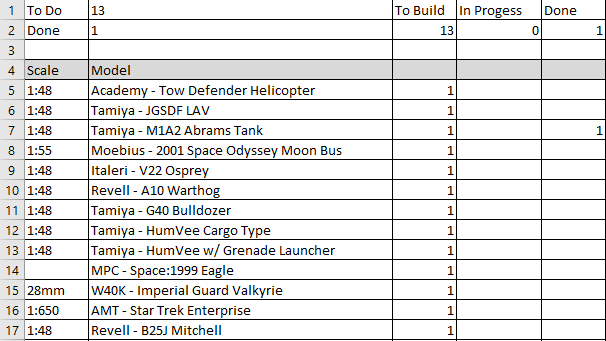 Subset (I think) of the One Offs, formerly a bunch of worksheets with a few entries on each: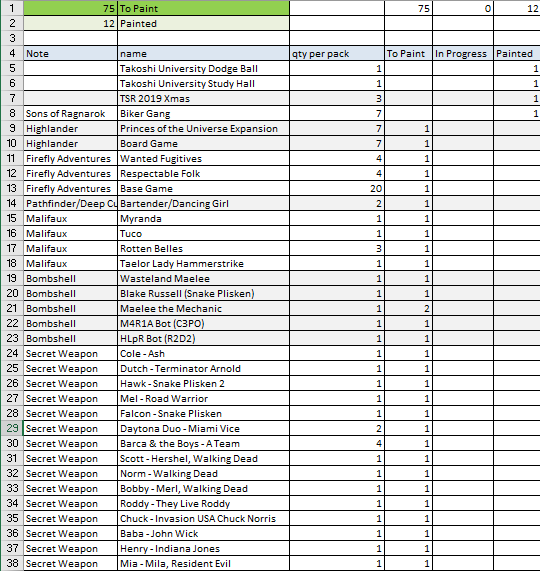 Most of what's left on the various Reaper lines. There's a couple minis that are pretty well dedicated to being technique/color tests that will never get finished: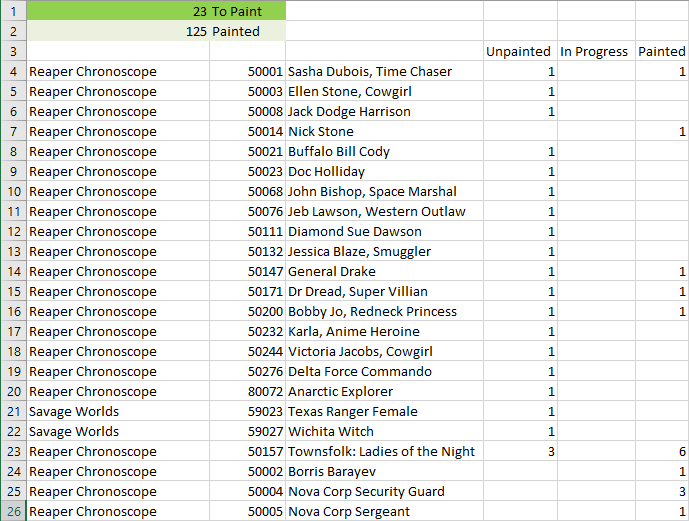 Vehicles:

Remainder of Walking Dead boosters:

My big project for the year is the 4Ground Mall. Between 2 sales I acquired enough mall-stuff to build a 2 foot long mall with 2 stories. The bundle 4Ground sells for the mall creates a 1 foot, single story mall. I'm ambitious, it appears. More than half the fun is going to be branding the stores. Instead of printing out and gluing in the graphics that 4Ground provides, I'll scour the internet looking for a Chess King sign to replicate.
Since this, all of this, is for fun and not supposed to be a chore, I whipped up a fun little blueprint for the mall as an alternate way to track what I build along the way. Additionally, I had to go over measurements for what the 2nd floor needed as support just to make sure I'd gotten the right kits to make.
There's other things on my "fun in free time" list. Jerry and I are using Gaslands Refueled as an excuse to play & pimp Hot Wheels cars. I finally played a video game besides GTA and enjoyed it. I have plenty of video games through Steam I've never played, many of which I attribute to a steep learning curve. I've invested enough in base game + dlc that it's time I finally commit to conquering that curve on Arma 3 and Cities: Skylines. A good FPS and another Sim City replacement.

There's other things on my plate for fun, but those are the biggies I've mapped out for the year. Or four.

Permalink 4ground 4ground-mall gaming miniatures gaslands hobbies reaper chronoscape