CEVA
12.26.2009
One of my xmas presents to myself is a new bed frame. I've been sleeping atop the basic metal frame since getting the super comfortable bed years ago. As part of being more grown up it would be nice to have a real headboard/footboard, maybe even something that doesn't slide around the floor a little when I toss and turn throughout the night. As such, I found one I liked on Amazon and promptly ordered it Dec 13th. Amazon tracking had the bed scheduled to arrive Dec 23rd, so I would have my new bed frame by Christmas! Or so I thought.

The bed was being delivered through CEVA, yet another courier I've never heard of that would have to figure out where I lived. I checked the tracking and everything seemed to be on track come Dec 21st.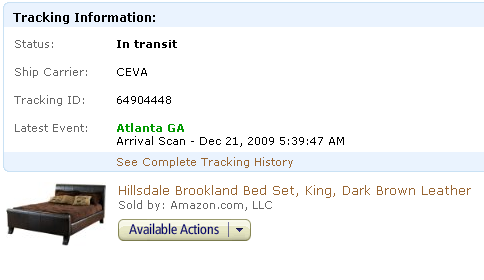 That was the tracking status Dec 21st. The bed had made it to Atlanta, 3 hours away. Looking up the tracking info on the CEVA site, they actually had it scheduled for delivery Dec 22nd. I expectantly waited for the bed to show up on the 22nd. And 23rd. And 24th. By dinner time on the 24th, when everyone except convenience stores have pretty much closed up shop, I decided to ask Mr Amazon what was going on. I could find no way to contact CEVA in Atlanta outside of signing up to become some type of customer, which in essence I thought I already was since I was waiting on them to deliver my crap!

Christmas afternoon I got a nice reply from Mr Amazon telling me (1) Mr Amazon was sorry for the inconvenience, (2) CEVA is a threshold delivery service which will deliver my parcel to my door but I'm responsible for construction, and (3) the number for the Atlanta office is 404-968-1200. That, dear internet reader, is customer service. I got everything I wanted from Mr Amazon.

It was about this time that I thought CEVA may have tried to call me, and I wasn't sure what phone number I had on file at Amazon. I went and checked my account and found my old phone number, the one I haven't had in 2 years, was still marked as active. If CEVA had tried to call, they wouldn't have gotten me. Slowly this was all starting to make more sense as to why my bed had been sitting in Atlanta for 4 days. Today I called the number Amazon had sent and got a friendly enough guy in Atlanta. I told him I wanted to check on my package and gave him my tracking number. After about a minute he told me that my package was still on the truck and would be transferred to Birmingham Sunday night. Once it got to Birmingham it would switch to another (local) carrier which would bring it to my house. The local carrier would call me to schedule a time to bring it.

I didn't blurt anything out, but it's still on the truck? And it was going to be on the truck for 2 more days before switching to another truck? I thought FedEx had problems when I had ordered my Accounting textbook, but they just delivered to the wrong address.

In the midst of all of this, I found out that my old phone number was the listed contact number for my package, so I got Mr Atlanta to update that for me. Now with any luck, I'll get a phone call to schedule delivery for my bed. I'm hoping this is just a late Christmas present and that it's not going to turn into a birthday present as it sits on a truck for another 2 months.
---
Update!
I called back Tuesday morning after the status hadn't changed and was quickly put through to an "agent" to schedule my delivery for Wednesday between 12 and 4. At 5:30 the bed got here. Now to see if all the parts made it.
I am a male adult!
12.22.2009
Monday there was a flurry of activity on my stoop. Within 20 minutes of each other I had a delivery from FedEx (not from Amazon), a delivery from UPS (from Amazon and Newegg), and a failed sales attempt by a little guy selling cleaning products which you could also drink (at least that was what I got from his little demonstration on the stoop).

After all of this was done, I went back to the interweb and looked at my Amazon account to see what else might be coming my way. I'll look at my account and open up the tracking tab to see where things are and when they'll arrive. Whenever I click on something that's been delivered, it usually has a message like "Left on porch" or "Left by door". Today, there was a different message.
Since I'm usually not home when things are delivered, the above option doesn't show up much. I'm just a little amazed that the tracking (and capturing of data) goes to the level of detail that it does. I'm all for that level of detail. That's just the right level of detail. "Delivered to overweight male adult that could really use a shower" would be too much detail.
Christmas Vacation!
12.21.2009
Ah, Christmas vacation. 2 little words that mean so much. Primarily, no going work. No going to work, good. No going to work and still getting paid, gooder!

For the past couple of years, I've taken a week's vacation in addition to the company provided week between Christmas and New Years to enjoy quality time at home and try to get shit done (henceforth to be referred to as "GSD"). The key part of GSD is making a list of what you want to get done, then see if it can realistically be done. Those factors affecting if it can be done include but are not limited to:
How long does it take to do? Writing a novel would not be easily done by me in a 2-week period. Cleaning the bathroom, that I could do.
Factor in extra time for real life. If something takes a substantial amount of time (more than an afternoon seems the standard for me), add in time for breaks, eating, going out and doing the normal running around I do on a day-to-day basis.
Is there anything that has to be done at a specific time or with someone? This will limit the schedule!
When will I be in the mood to do it? For example, I don't want to come home and work on websites right after work.
It's a good system, it seems to work for me. As such, I've been making a list of what all to do on my vacation. Here's how the first Friday through Monday has worked out:
Instead of doing anything truly constructive Sunday, enjoy a Kevin Costner triple feature of Waterworld, Postman, and Mr Brooks. The first two I had never seen, the last I've seen at least twice before.
Revamp home PC setup

Setup dual monitors
Setup little monitor as monitor #3.
Setup my network storage so I can share files between computers. (So far I'm having a hard time with drive #4, so I may have gotten hold of a bad drive).

After the drive and network thing are working, finish setting up the Slingcatcher
Go shooting with Jerry and Shaneva. I haven't been shooting since my brithday. I didn't shoot as well as I did back in March. Maybe it was the peer pressure of Jerry and Shaneva being there.
Still to do tonight - Go watch MNF at the boss' house as an excuse to play the vibrating football game his two best, dorkiest employees got him for Christmas. If there had been more dorkiers he would have gotten the one with lights.
There's still more to do this week. In fact, Wednesday is Muchachomas with Jerry as he babysits me while the car is off getting the nav system and splash guards installed. That leaves Tuesday a little open, but that's scheduled mainly for laundry as it stands. Tuesday also has a batch of Amazon parcels coming. Maybe there will be something note-worthy there? Hmmmm, tune in later to find out!
Xmas Vacation!
12.18.2009
Today after work (which I'm hoping will be about 3:00) I start my Xmas vacation. If there are no emergency calls, I won't go back to work until Jan 4.

I wonder if I can remember to go back :)
Teaser for Jer
12.10.2009