Mini Mart and Coffee Shop
06.30.2018
It's been almost 2 months since I first mentioned working on the TTCombat buildings. Beleive it or not it hasn't taken that long, I just keep going back and tweaking things.

The TTCombat buildings are more of a budget line of MDF building. That's not a bad thing. While I really like the 4Ground buildings, they can get a little pricey. Nice, but pricey. TTCombat would give me a chance to exercise my skills at nicing up some buildings. The first 2 commercial buildings in what constitutes my zombie apocalypse thus far.

At some point I'm going to have to explain the setting for my scenery and how it's not just for The Walking Dead.

The first building I worked on was the Convenience Store, well really a Mini Mart. I was shooting for a 7-11 color scheme thanks to a batch of spray paint that I picked up when Hobby Town USA was closing up. Honestly, how often am I going to get to use orange? I primed the interior and exterior white, masked off the middle and added some accent stripes of red and orange. It turned out pretty good. I then got cocky and tried putting a red strip along the top of the interior. Either I didn't mask it properly, or the paint just decided to bleed. It did not turn out well. I decided to go work on the second building while mulling over how to turn a messy red line into a happy mistake.

For the Coffee Shop I wanted to go with the overplayed Starbucks color scheme. The problem I would have to avoid is using too similar a green that I used on the Mini Mart roof. I thought I was going with a lighter green with the can of something Dodge Charger Green something something. I was going with a brighter green. Way brighter. but at least it wasn't the same! I stayed away from masking frenzy on the coffee shop. I started having fun adding printed out what not to the walls - a menu, random coffee propaganda. The kit came with a counter, table, and chairs, and it fleshed out the interior really well.

I returned to the Mini Mart after the coffee shop was done, and there may have been a sale at Hobby Lobby. To cover up the bleeding red line, I picked up some clearance duct tape that was lacking most duct qualities. It didn't stick very well. It was a decorative dark red. It was thin. No wonder it was on clearance. But it suited my needs as a replacement stripe to go along the top of the wall. I'd also been 3D printing shelves to go along the walls. I tweaked the settings of the shelves - I'd learned when getting furniture printed for the houses that the default "real" volume makes everything take up too much room. The first thing I did was change the shelves from 15mm depth to 6mm. Yes, that's tiny, but I wanted something with just a little relief on the walls - honestly I'd been thinking of just printing a picture of shelves to glue to the walls until I thought it'd be cool to use that printer I've got! The best part is... it worked! It took a while, as I printed out 15 shelving units that took anywhere from 2 hrs to 8 hrs (I was learning how to tweak things!) to print. Once they were primed, I figured grey was a good shelf color, and the random products painted I used the sticky tac to hold it all against walls or floor, where appropriate. I've got plenty of sticky tac as that's what I use to mount minis on blocks to hold when I go to paint them, yet most people use it to hold up posters. After the walls were lined with shelves, I decorated the otuside with some random sales propaganda. The Mini Mart turned out a lot better than it was looking when the coffee shop started.

I really need to work on some proper map tiles for these 2 stores. Parking with an entrance, and how to deal with the footprint of the buildings. I've been meaning to work on this for a while, but I keep putting it off.

Permalink 3D Printer gaming miniatures hobbies ttcombat


Nashville Trip
06.24.2018
Nashville has long been my close/weekend getaway spot, but last week said location became the target of a business trip. Is training business? It think it is.
Back in March I took a class in Nashville to become a Certified Scrum Master. This time I went back to become an Advanced Certified Scrum Master. Same venue. Same trainer. I even managed to stay in the same hotel room.

Advanced Scrum Mastering involves a lot of facilitation. Since March, I've learned that was a skill I was especially lacking. Besides being the second of three certifications on my current career track, learning how to (better) facilitate made me want to take the class RIGHT NOW. So I did.

I learned a lot in the 2 days of class. I learned things I was doing wrong. I learned I was just not doing some things that I thought I was - the difference between coaching and mentoring sneaks up on me faster and harder than I would have thought. I lucked out again with class and was with a good group of 20 people. Within that group I found that with any problem I thought I had coming into the class, at least one other people shared. It wasn't always the same person, and in a way that made me feel better.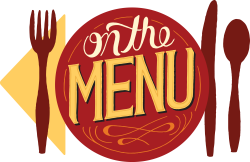 As with any multi-day trip to Nashville, Dr Blondie is in charge of my evening meal selection as long as she's in town. Class was scheduled for the right week and she was, indeed, in town. I give Dr Blondie a very specific rule for dining selection: No nation-wide chains. The local joints ruled again as we went 3/3 on good eats!
The Grilled Cheeserie - Sunday found us at a hipster grilled cheese based eatery. You can get a basic grilled cheese or have them add some oomph. I had a Buffalo Grilled Cheese. You can go look at the menu for what all was on it, but basically it was buffalo chicken/sauce in the grilled cheese. It was tasty, but the texture of buffalo sauce + grilled cheese was a little off. Not the toughness of chicken wings I'm used to with buffalo sauce. I'd go back, but get something different. Dr Blondie enjoyed a Spinach & Artichoke melt.
Fogatas - Mexican food so authentic there's no website. So authentic I'm sure out waitress understood any English. I went out of my Mexican comfort zone and ordered pork carnitas. Tyler gets them all the time so I felt safe. I'm pretty sure these were better than what Tyler gets here in town. As a bonus, they served a glass bottle of Mexican Coke.
5 Points Pizza - After a bland and mediocre lunch at training, my final Nashville dinner of the trip was sharing a veggie pizza (with some added spinach) with Dr Blondie. Boonie me classifies this as hipster pizza based on the tattoos and hair color choices of the wait staff. I'm so old.
My personal side trip was to go to McKays to trade in some boardgames. Dr Blondie introduced me to this used Everything I'm Interested In store on my last trip. On the boardgame shelf at work (ie Overflow Storage), the top shelf is mostly taken up by Target/Clearance riff-raff that nobody is going to play, and is not worth the shipping cost for anyone I might be able to sell to online. Various versions of Scene-It, Trivial Pursuit, Jenga, and that damn Jeff Foxworthy Game that got about 3 rounds played. It was an opportunity to free up some shelf space and get some store credit, so I loaded up the car before I left with about 30 of those games. Oddly, it didn't seem to make that much of a difference when looking at the games I left in my office.

I wasn't expecting much for trading in the games, and Dr Blondie told me they likely wouldn't take everything. I bet they wouldn't take Mall World, near the top of my list on bad, uninvestigated impulse buys. But they did take Mall World. They took everything I brought. For the ~30 games I brought, which I admitted were crap (crap in great condition, but crap) I was hoping for $3, maybe $4 per game of credit. By the time they totaled up everything up, I had $212 in credit.

I was overjoyed with $212 in credit.

I didn't spend it all. I barely made a dent in it. Now I've started a list of things specifically to look for on my next McKays trip. DVDs over a year old. A couple of books that they might have that I'm in no hurry to read.

$212!
The day back was a long day. I gave Brenda a heads up that I was going to be in Nashville in case she was planning any trips to Florence. I'd hate for her to fly into Huntsville while I'm 2 hrs away in Nashville. She took this opportunity to find a great deal on flight into Nashville (on Tuesday), then back home on Saturday. I had 4 hours between the end of class and picking up Brenda at BNA. Pizza with Dr Blondie took up part of that, plus she let me use her home internet to take care of a little work that made Wednesday start off a little easier.

I forgot that BNA uses cell phone waiting instead of park & wait at the terminal, and the waiting area was pretty full. I ended up making 3 laps around the terminal when Brenda called to let me know where she was, which happened to be about 20 ft away. She got loaded up into the car, and we got to Florence about midnight. A little after 1 and I was home and in bed. While normally on End of Sprint Wednesday I go in about 6, I slept completely thorugh the alarm and didn't get out of bed until 7:15. Luckily, it didn't make a bit of difference.

Permalink mckays road trip work


Police Force and Pringles Cans
06.08.2018
Branching out to a new line of molds, the Foundry Wargames police (Shotgun Cops and Street Cops) have been added to keeping the streets of Potham safe during the zombie apocalypse. More important, I finally unboxed the 3D Printer.

You're supposed to print some type of calibration trinket right after you plug in a 3D printer. I have no idea how to tweak anything a calibration do-hicky would show needed tweaking, so I went straight to printing something useful. At some point I saw add-ons for cans to make them look like tanks (storage, not armour) for wargames. My favorite showed a Pringles can with a lid replaced by a tank door/end. After looking on 3D file sites for "Pringles Can Tank Top" unsuccessfully, I ended up taking part of a model of a tank and just sizing it (80mm) and printing it. The end result turned out A LOT better than I thought for my 1st print. Even better, work has small can of Pringles that I can take when empty. I had 2 Pringles cans begging for printed material. As such, I printed away.

I've never painted a Pringles can before. It felt weird.
This is the first 10 from the Foundry list to mark off. Still making progress on that list!
Next up are a couple of TTCombat buildings, those same buildings I've been mentioning and putting off. Actually 1 of them is already made, I've just been behind on blog posting. The Convenience Store will a 7-11 motif will pop in to the zombie apocalypse, with the Coffee Shop to hopefully follow soon after. The Foundry version of the A-Team is also primed and ready for paint.

Permalink 3D Printer gaming miniatures wargame foundry


Hello Laidies
05.27.2018
I'd mentioned previously that I had attempt(s) of a water tower for my zombie apocalypse in progress. The first two, well three, attempts failed horribly. Me and paper mache do not work well together. I'm just going to leave it at that. Before tossing the bevy of whatnot I was using for those failed attempts, I hobbled together 1 last go which would have the minimum of effort & chances for me to mess up. The result is passable enough to use. That may only be due to all the failures that preceded it, so the bar was pretty low.

I also got a batch of Reaper Chronoscape minis painted. 2 sets of Ladies of the Evening (which I just subconsciously typed as Laidies... that would be some branding!) along with a Sheriff Buford. I finally committed to using my high class, snooty Kolinsky brushes and I believe it made a difference.

This time I played around with using Milliput for base filler as Laidies (I'm going to use that all the time now) would seem out of place standing amid the grassy knolls I normally flock. I had mixed results as I couldn't get the rough spots sanded down and even out like I had hoped. An alternate plan for handling that is already in the mix for the next batch of minis.

Just for fun, I made some more scatter terrain with water features. A little spackle for elevation, seal it. Prime it, seal it. Add some flock, seal it. Add more flock to cover the spots I missed, seal it. Add Woodland Scenics water and let it sit for a day. I left off extra bushes/tress so it can be used with different scales.
On the overall lifetime progress chart, this gets me to 248 painted minis! This is another 1% complete from the last batch. I'm blazing through things to paint. Maybe I should go get more to paint?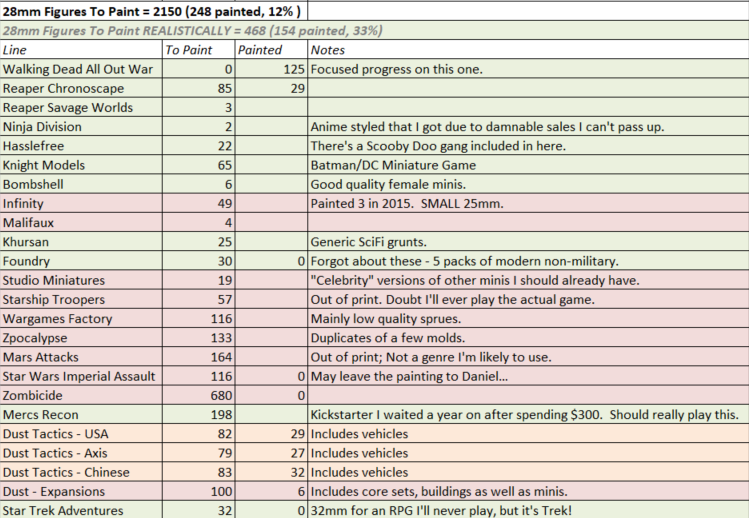 2 More Houses With Garbage Pickup
05.08.2018
After the failed attempts of the last blog I went back to the well with something I was confident I could do without too much trouble. I still had 2 4Ground Shotgun Houses on the shelf, along with some TTCombat clutter that I'd primed a while back. I'd made one of the Shotgun Houses before so my confidence was high!

Last time for the house interior I printed off some wallpaper textures. While that worked well enough, I wanted to try something a little better. I stopped by Home Depot and went to the home paint section... and got lots of paint sample cards. Instead of printing my own, why not try actual paint colors? Most of the cards had too much print on them to be usable, but the Behr sample cards were perfect. In fact, 1 card would cover the vaulted/arched ceiling end wall without any problem.

I still glued some transparency paper between the walls to act as window glass. It's so subtle you can't see it unless you're looking for it, but I like knowing it's there. One of the things I learned from my first go around was to cut the window openings after the paper has glued and dried. In addition, although it was easy to fold back the paper from openings and cut flush with a razor blade, folding back left a lot of white (internal) paper after the cut. Still cutting with a razor, but without folding and just trying to stay flush to the wall/opening helped cut back on that. It still seems to be an affect of cutting this way though.

There's only 1 thing I screwed up on the houses. Well, 1 that I've noticed so far. When gluing exterior doors into the frames, I stuck them so the exterior of the doors face inside. After doing this on the first house I was extra careful to not do the same thing for the second house. So careful that I did exactly the same thing, but this time with great care and precision. At least I got the right side of the roof facing out this time.

Shotgun House C had etched walls to look like paneling, so I eschewed covering them with paper and instead the the easy route of There That's Good Enough.

The TTCombat clutter came from a set of garbage (I honestly don't remember what it's called) and cmaping equipment. The garbage set I got for the wheeled garbage bins - my houses need scheduled garbage pickup! The camping set I picked up to pad my order for the coupon I had, plus I had some other camping bits that would fit with it if needed later on. There's post-accident motorcycle helmet that looks like it's supposed to still have a head in it. That should fit in well with my zombie apocalypse.
Next up. I'm not completely sure. I have 2 versions of water towers in progress, but I'm not feeling confident the end result will be keepable. The TTCombat convenience store or coffee shop are the next buildings in the queue. A few Reaper Chronoscape minis will likely get primed by the weekend for when the painting mood strikes. There's also that 3D printer still waiting to be unboxed.

There's also been an addition to the mini painting backlog.
Adding in 32 Trek figures, for a game I likely won't play AND won't fit into any other game, isn't the smartest thing to do. Smart hasn't been something I'm oft accused of when it comes to either spending money or (not) get minis/toys/games.